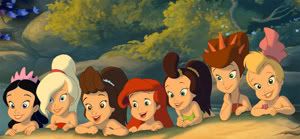 more clips of TLM 3
somehow i'm getting a feeling the movie will be leaked online before the DVD comes out just like
Cinderella 3
. Triton's hair color is suppose to be an intense red like Ariel's? that wasn't so in this movie. a bit inconsistent in my opinion . i love the intro to "I Remember"..very sweet & pretty! i feel iffy about Athena looking so much like Ariel. what about the 6 sisters?

but in a way it explains why Ariel is Triton's favorite
The Dark Knight
i knew it was two-face the moment they mentioned the name Harvey and showed him flipping his coin. i know my batman characters well

although i thought they would have the story about him getting is revenge in the next movie, but i guess not. somehow this whole story about the people turning on Batman is reminding me of Spiderman
one of the things that make the Joker the best villian is he knows no fear and no limits. a plain wacko with a sick mind on how to torture people. his own enjoyment is putting fear in people..creating terror and chaos. don't know how to be merciful. i would be scared shitless if someone like that existed in real life.
Harry Potter and the Half-blood Prince
the movie that i'm looking most forward to has finally released a trailer

a glimpse into the past on probably how Voldemort came to be. very dark and mysterious feel. it should be since the time when Voldemort ruled is the most dangerous time that struck fear in everyone.
Twilight
not as popular as HP, whom has a larger target audience. Twilight audiences range from young adults to adults. but who doesn't love a movie about vampires?

it'll be the first vampire movie i've seen in a long while since Interview with the Vampire

but i was thrilled when the news about a movie version came out


"You can search the world for THE perfect person you've been dreaming, but you'll always be disappointed. However, there is the best person FOR you who may not be everything you ever wanted, but if you can appreciate that then it's a love that'll last a lifetime."
- Priscilla T.