| | |
| --- | --- |
| Date: | 2008-08-05 19:56 |
| Subject: | Newspaper headline gets writers' foot in the door at the Wall Street Journal ... |
| Security: | Public |
It isn't often that a smalltown community newspaper in flyover country gets ink from the Wall Street Journal, but that's what happened about two weeks ago to The Kentucky Standard.

A headline from the newspaper's Commentary page caught the attention of James Taranto, editor of the WSJ's online editorial page and author of a daily column entitled The Best of the Web Today.

Taranto's column highlights stories from across the world published online. He also takes time to mention headlines from newspaper web sites, ranging from silly to outlandish.

Published with two other headlines under the heading "News You Can Use," Taranto highlighted this headline from the Kentucky Standard's July 16th issue above a column by staff writer Jenny Blandford:



"Trust Me, Toe Injuries Can Be Annoying"



While the headline standing alone appears silly at first glance, what Taranto's column really missed was the story behind it. Anyone who's had a serious foot injury knows all too well how annoying they can be.

But is a column about busting a toenail appropriate for the editorial page of a newspaper? While such a topic probably wouldn't pass muster at the Wall Street Journal, most small newspapers allow writers wide latitude in the topics they select for editorial page columns. Topics can range from toe injuries to your dog, from your niece to the next Harry Potter flick.

Staff-written columns help give a newspaper personality and are generally well-read by the reading public -- though that's not a column's only role. Past editors and publishers of the Kentucky Standard have used their column space to also highlight issues and topics that need to be brought to the forefront. They have also used column space to address questions regarding the newspapers coverage of news, or even address rumors floating about the community.

There generally are no hard-and-fast rules when it comes to writing a column for the editorial page. And you would be surprised by the topics that generate the most feedback.

The two columns I've penned that generated the most reader feedback had nothing to do with news. The first column was about my family's purchase and use of then-new green-colored tomato ketchup; the second column detailed my family's reactions to our new state-of-the-art microwave.

While a foot injury might sound like a frivolous column topic, there are some days that getting anything written and published offers a true thrill of victory -- which incidentally, includes writing about the agony of de feet.



-30-

3 comments | post a comment


---
| | |
| --- | --- |
| Date: | 2008-07-31 11:32 |
| Subject: | Mayor Whasisname again? |
| Security: | Public |
In the newspaper world, mistakes are the bane of a journalist's existence.

Invariably, they happen -- and for a wide variety of reasons.

Sometimes you can chalk it up to plain human error. Other times it is due to carelessness or the result of cutting corners in the editing process. The list goes on.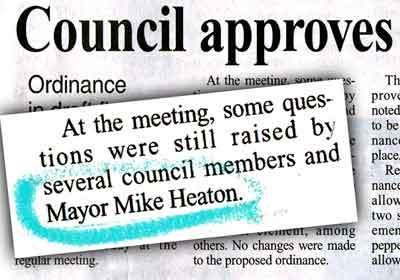 I'm not one to throw rocks at other journalists for the mistakes that get into print, but after seeing the same error in The Kentucky Standard two weeks in a row I felt it worth a mention in this space.

In a story that ran the week of July 13th slugged "Council approves first reading of sign ordinance," the second paragraph of the story refers to the mayor of Bardstown as "Mayor Mike Heaton."

The following week another city council story -- this one slugged "Bid accepted for Town Creek Interceptor project" -- again referred to the city's mayor as "Mayor Mike Heaton."

The wise-acre part of me wondered if Mayor Dick Heaton was on vacation and had left a relative in charge for a couple of weeks.

Heaven knows I have collected my fair share of published errors, both in print and on the web. And the writer who made the mistakes is the newspaper's newest writer, having joined the staff in May, so you generally cut the newbies some slack.

How do mistakes like that get published? The editing process at a newspaper usually includes several stages of editing and proofreading. When the process is circumvented or bypassed, then embarassing mistakes can sometimes be the result.

And readers notice these things, even if they don't say anything.

In the more recent story slugged "Fire halts Tower Automotive production" the second paragraph uses a term that's not in my Associated Press Stylebook in the sentence

"An employee at the factory, 850 Withrow Court, called Nelson County dispatch at 11:25 a.m. after spotting smoke on the Westside of the plant. "

The term is used more than once, capitalized both times. OK, perhaps it isn't a factual error, but to this reader it stood out like a red flag and makes you wonder who else read and proofread the story.

There's a process that works to eliminate such dumb mistakes, and the newspaper has the resources -- and people -- to do that.

As a former newspaper writer, I know all too well that mistakes happen, even when editing procedures are in place. But the majority of readers only see the mistakes and can only question "Does anyone edit this stuff?"


---
| | |
| --- | --- |
| Date: | 2008-04-21 11:07 |
| Subject: | Some of my best friends are Democrats ... |
| Security: | Public |
It's probably as surprising to my Republican friends as it was this morning to Democrats to find content about the local Democratic party on The Nelson County Gazette. All of this came about after my wife and I attended the Nelson Dems' Jefferson-Jackson Dinner last Friday evening at Old Kentucky Home Country Club. The event was sponsored by the local Democratic women's club and the Democratic executive committee.

It was an enjoyable evening, and as you might expect I took a good bit of ribbing from those who knew my politics and party registration. The dinner, the first-ever Jefferson-Jackson Dinner for the local Democrats, was in my mind a must-attend political event.

I have been a big fan of the GOP's Lincoln Day Dinner events for years. The Lincoln dinners honor the legacy of our 16th president, but just as importantly, they are an opportunity for voters to meet candidates and elected officials face-to-face. As a political junkie and journalist, the Democrat event was a prime opportunity to find out what the Democratic primary candidates have to say.

OBSERVATIONS. The man who stole the show was Sen. Wendell Ford. As you might expect, an 84-year-old man who has spent much of his life in politics can still spin a great yarn with great timing and finesse. He also drove home some very good points with his observations about the political process.

His comments weren't totally partisan in nature. He was critical of how partisan politics has become, saying that the parties need to work together. He was critical of the media's role in giving voice to the increasingly partisan nature of politicians. He advocated a return to compassion in compromise, citing Henry Clay's definition of compromise as "negotiated hurt."

There's no doubt the man still has politics in his veins; his voice rose strong and loud when he hit his stride during his address. Age has not dimmed his passion, nor his love for Kentucky and his interest in improving our quality of life.

I took the opportunity to thank him for speaking. His grip was firm, his handshake strong as ever, his smile genuine and warm. After 35 years of public service, it was clear he was man who loved his work.

FORD'S BETTER IDEA. Sen. Ford's comments for bipartisan cooperation should first be implemented here in Nelson County. Nelson County Democrats, please take note.

The Nelson County GOP and a former Democratic executive committee member have repeatedly proposed a joint picnic involving both parties, a kind of mini Fancy Farm-type event. This event would be a gathering where both political parties could invite their candidates to come speak while everyone enjoyed a good Kentucky cookout.

And let's face it -- members of both parties are coworkers, friends and often relatives. Why not hold a family-friendly joint event where we can celebrate our common belief in a two-party political system and recognize that as friends and neighbors we can respect our differing points of view while working toward a common goal.

Local Republican leaders have supported having a combined political picnic with the county Democrats; its been the Democratic party leadership who have turned down the idea. Some Democrats apparently believe a joint event would give the county Republican party legitimacy by acknowledging it exists. Such arrogance flies in the face of everything Sen. Ford said in his comments at the Jefferson-Jackson Dinner.

I call on the county Democratic party to embrace the spirit of bipartisanship that can allow us to improve the political process we all cherish, to respect our differences while we celebrate our common beliefs. As Sen. Ford said Friday, "Change is on everybody's mind today. With some good old-fashioned hard work and by doing the right thing, we'll that's just about the best change we can make today."

POLITICAL REVIEW. Bruce Lunsford was personable and had a good handshake. He worked the crowd at a steady pace, introducing himself but not pushing campaign stickers. In fact, I didn't see many candidates pushing campaign stickers or decals.

In his comments to the crowd, Lunsford was highlighting his early years and his life on a Northern Kentucky farm with his family of modest means. As the leading millionaire in the Democratic primary, he's trying to establish himself as the candidate who is in-touch with everyday life. And despite his party defection -- when he dropped his bid for the Democratic nomination for governor and later endorsed Republican Ernie Fletcher -- he pointed to his loyalty in his unsuccessful run for governor last year when he joined the other losing Democrats and publicly supported Gov. Steve Beshear.

From what I can gather, Lunsford's main Democratic competitor is Greg Fischer from Louisville. Fischer's young looks probably work against him. He seems to be a man with passion, and a man who has found success in business.

I spent some time Friday night talking with David L. Williams of Glasgow (who is not the state Senate president who hails from Burkesville). He and I had crossed paths some years ago during his candidacy for the Democratic nomination for the state's 2nd Congressional seat. I was one of the journalists on the panel during his KET debate with fellow Democrat Pete Tabb.

Williams lost his voice box to cancer years ago, and he relies on a battery-powered electromechanical buzzer to speak. Understanding him if you aren't familiar with this sort of buzzer-powered speech takes very careful listening. The room acoustics and the lack of a PA system made hearing Williams' comments difficult Friday evening.

James Rice of Taylor County used a large hourglass to illustrate the rate at which our country is sliding deeper in debt. He admitted his campaign is low budget, but he pledged that "as long as there are issues, I'll continue to be involved."

Sen. David Boswell and Daviess County Judge-Executive both impressed me as credible candidates for Kentucky's 2nd District. Boswell has the longer resume and greater name recognition across the district. One of them will go on to face Sen. Brett Guthrie in the fall. Guthrie attended the local GOP's Lincoln Day Dinner in February.

From my hill overlooking Cox's Creek, the secret for Boswell's campaign will be to promote himself as a conservative Democrat. He's running in KY 2nd, not Jefferson County, so he's got to do a better job of making himself look both credible and conservative than did Mike Weaver two years ago.

If you look at some of the many bills that the General Assembly considered during this session, you'll find several that were sponsored by both Sen. Boswell and his GOP congressional opponent, Sen. Brett Guthrie.

Many liberal Democrats were critical of Weaver's conservative stance during his primary race; will this fall's General Election see two congressional candidates wrangling over which is most conservative? As one of my college professors used to tell me, "If you have two candidates who agree on everything, you have one candidate too many."

Either way, the race for the 2nd District will be the race to watch in November.

1 comment | post a comment


---
| | |
| --- | --- |
| Date: | 2007-07-19 11:39 |
| Subject: | Are local businesses doing enough to compete locally? |
| Security: | Public |
Unless you've been hiding in St. Joe Cave or on a very long sabbatical at Gethsemani, chances are you have heard something about the release of the final book in the seven-part Harry Potter series.

Despite the criticism by conservative Christians that the books were satanic or would lead children into the occult, the book series has a huge worldwide following. Until I read portions of the first Potter book, I too had concerns. The books are no more satanic that any other fantasy fiction series, including those by J.R.R. Tolkien.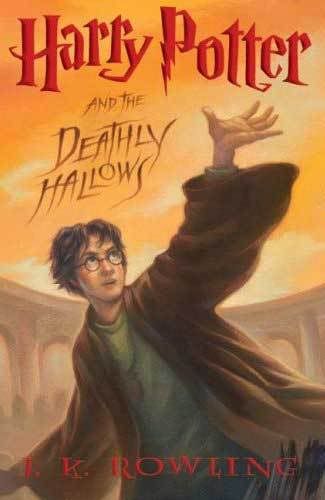 But the topic of this blog entry is about retail, and one of the biggest retail opportunities comes Friday night at midnight, when the new Potter book, "Harry Potter and the Deathly Hallows" goes on sale.

At least three Bardstown businesses are having Potter book release-related events Friday night. Whispering Wheels is having a "Skate with Harry Potter" skating event from 7-11 p.m., with a Potter costume contest. The cost is $6, with accompanying adults free.

The Java Joint will be open from 10 p.m. to midnight as "The Three Broomsticks Tavern," a pub in the Potter book series.

The Java Joint is directly across the street from our locally owned bookstore, Bardstown Booksellers. The bookstore is marking the occasion with a release party from 10-12:30 a.m. They are encouraging patrons to dress as their favorite Potter character, and they are offering treats and games.

As an added plus, the bookstore is offering a 20 percent discount to those who purchase a book voucher prior to the book's release.

That sounds like a very good deal, and I was encouraged to see the local participation in a national -- no, international event. But on closer inspection, I found the discout was not competitive at all.

On my call to the store, I found that yes, the 20 percent discount applied to pre-release purchases. The catch? The discount applies to the list price of the book -- $34.99. This makes the discounted price $28. Not a bad discount, right?

Wrong. In fact, the discount isn't competitive with any retailer I've found that's carrying the book.

Here's the real-world, on-the-street pricing I've discovered:




Wal-Mart - $17.87


Amazon.com - $17.99


Borders - $17.99


Barnes & Noble - $20.99



I realize that these retailers have massive buying power, and can afford loss leaders -- items that sell for little or no profit in order to get people into their stores. The small bookstores can't afford to do that. But in a competitive market -- and with Wal-Mart close by on East John Rowan and Borders and Barnes & Noble only short drive away -- I would have hoped the local store pricing was more competitive.

In fact, the pricing was what prompted my call to the store. I liked the 20 percent discount, but I wanted to know the price that was being discounted. If you give consumers a choice between a 20 percent discount and a 50 percent discount, it doesn't take a wizard to guess which one wins in a competitive market.

We're fortunate to have a family owned bookstore here in downtown Bardstown, and I'm not throwing rocks at the Parrish famly or their dedication and hard work they've put into making their business a success. My daughter -- who is paying for the book with her own money -- suggested that the promotion might have offered a steeper discount -- comparable to the big retailers -- for the first 100 buyers to help build traffic from first-time visitors. Ten bucks is a lot of money to a 14-year-old, and she's planning on a trip to Wal-Mart this weekend for her copy.

I realize that perhaps smaller retailers can't compete on prices with the big retail giants. The unfortunate truth is that for many shoppers, the price point is the difference between shopping locally or going elsewhere.

Here's hoping the Potter book events are well attended. Perhaps there'll be enough retail magic to make every one of them a success. post a comment


---
| | |
| --- | --- |
| Date: | 2007-07-08 19:20 |
| Subject: | Tragic story's ending sad, but predictable ... |
| Security: | Public |
The ongoing saga of 4-year-old Cesar Ivan Aguilar-Cano, who has been missing since June 29th, is coming to an end -- a tragic, but predictable end.

I don't claim to be an investigator, but being in the news business a while, I have my hunches in cases like this.

My prediction more than a week ago was the boy was dead, and the murderer was a member of the family, or at the least, an acquaintance. That's not just my observation, it's the plain, unvarnished truth.

Statements from the family have provided hints to prompt my conclusion. For starters, the boy had only been missing a day or so when his mother proclaimed that she knew he had been abducted. Throw in a bogus psychic (are there any other kinds?), conflicting statements to the media, Christopher 2X, the unemployed minister/deadbeat dad/ex-con/ex-drug dealer who (along with the Rev. Louis Coleman) places himself in front of the Louisville media at the hint of a tragedy or controversy, and you have a first-rate "whodunit."

For starters, Cesar's mother has provided conflicting statements regarding his disappearance. In one statement, she said she was in the shower and he was gone from the house when she got out. In another, she said the boy was "just playing in the neighborhood." Excuse me? You let a four-year-old run the neighborhood? Hmmm.

The family also offered a $5,000 reward privately -- specifically aimed at keeping police out of the loop. A tipster could avoid dealing with police, which was the famiy's concern. This "avoid-the-cops" plan raised more than a few concerns with Louisville Metro police, who later reportedly talked privately with the family of their concerns of this plan.

While it seems the Louisville media don't want to play this up, according to 2X, police told the family Sunday that the body they found was their son. The final determination is to come tomorrow.

And then throw in Joe Arnold, Louisville's worst newsreader, who said not once, but at least twice during tonight's newscast -- with characteristic over-the-top emphasis -- the family is not being investigated in the death. For my money, I'm betting that's the message the police want on the street; I'm betting the message means the opposite -- they are focusing their investigation on the family.

That's how it all looks this eveing from my hill overlooking Cox's Creek. G'night.



-30-

9 comments | post a comment


---
| | |
| --- | --- |
| Date: | 2007-04-16 17:02 |
| Subject: | Sports editor heading back to school ... |
| Security: | Public |
After six years of providing local readers with award-winning sports coverage, Kentucky Standard sports editor Jason Nelson is leaving that post. He submitted his notice at the newspaper earlier today.

Nelson himself told me the news when we crossed paths this morning at Kreso's Family Restaurant in Bardstown. He is working on an advanced degree in communications, and plans to start classes fulltime beginning with the summer semester.

'Once I finish that up, then I'll see where it takes me," he said.

Nelson has been with the newspaper since 2001, when he was hired by then sports editor Josh Givens. Nelson took over as sports editor after Givens left the newspaper.

Few people outside the newspaper are aware that the sport editor's job is one of the most demanding ones.
As a virtual one-man sports department, Nelson has had the unenviable job of trying please the parents of student atheletes competing in three school systems: Nelson County, Bardstown Independent and the parochial schools. On top of that, Nelson (and Givens before him) have had to follow in the footsteps of Ron Greenwell, the newspapers longtime sports writer and Associate Editor.

Balancing coverage of the three schools -- without appearing biased one way or the other -- is a nearly impossible task, and Nelson and the sportswriters who preceded him had to find ways to make it work.

Some of Nelson's best work -- in addition to high school sports coverage -- was in column format, particularly when combined with photography from his travels. His columns on his out-of-state vacation trips were some of the best column writing found in the entire newpspaer.

While Nelson will be leaving, he may not be totally out of the local sports picture. Newspaper publisher Ron Filkins has already mentioned the possibility of freelancing for the newspaper after Nelson goes back to school.

Best of luck in your academic pursuits and beyond, Jason.
5 comments | post a comment


---
| | |
| --- | --- |
| Date: | 2007-04-10 22:29 |
| Subject: | Hospital's close proximity to Bullitt County pays dividends ... |
| Security: | Public |
Flaget Memorial Hospital's move down KY 245 may have had an unintended consequence, at least in the view of law enforcement officials in neighboring Bullitt County.

Individuals who are stopped for suspected driving under the influence can request a blood test rather than submit to a police-administered blood alcohol breath test. In Bullitt County, the local medical center has balked at blood testing for police DUI cases, citing a lack of personnel who are available when a DUI case comes up in court.

Flaget Memorial Hospital, with easy access from Bullitt County and I-65, is quickly becoming the favored location for blood draws in DUI cases.

It makes sense too, though you hope the court cases that the blood draws may require don't strain staffing for the hospital's lab.

Fortunately, there aren't a great many DUI suspects who choose the blood test option, mostly because in most cases they are required to pay for it in advance. If I were the suspect, I would hope I could cough up the cash for the blood test -- and of course, be willing to live with the results.

The best option is to either avoid the hooch, or have a designated driver and avoid a need for a DUI blood test.
3 comments | post a comment


---
| | |
| --- | --- |
| Date: | 2007-04-09 16:49 |
| Subject: | Sonic update ... |
| Security: | Public |
The rumors related to the new Sonic Drive-In now under construction are apparently just that -- rumors.

After visiting with the folks at the Nelson County Code Enforcement Department, the reasons for why the new restaurant is taking so long to build remain a mystery. "Nothing has come out of my office to stop work there," Logan Spaulding, the county's building inspector, said on Monday.

"I've not issued any kind of stop-work order" related to the new Sonic, Spaulding said. "I don't know why they don't have it built yet either."

And while it appears there's no exterior work underway, interior work in the restaurant is ongoing, Spaulding said.

"It general takes as long or longer to finish out the interior than the exterior," he said.

Some observers had speculated that local building officials may have had issues with the construction materials used in the building.

The restaurant was framed up with steell "2x4" studs, which may appear rather "spindly" at first glance, but combined with the heavy exterior sheeting has strength that surpasses construction using wood. Steel studs are very common in commercial construction.

And, according to Spaulding, in a restaurant building the new Sonic, steel studs can save time and labor. The steel studs have cut-outs for electrical and plumbing lines, and take less time for those contractors to come in and get there work done.

"Using steel you can go in and run your electrical and plumbing without notching 2x4s or drilling holes," he said, "And in most cases the cost is comparable to wood."

Spaulding said his office works to establish a mentoring role with builders, rather than finger waving and issuing "thou shalt nots."

The county's five-year-old building inspection program's goal is to ensure quality, safe construction of all buildings and structures.

More queries about Sonic will be forthcoming ...
post a comment
---
| | |
| --- | --- |
| Date: | 2007-04-07 12:41 |
| Subject: | Fast food restaurant construction slows to sub-Sonic pace ... |
| Security: | Public |
The thousands of people who drive North Third Street in Bardstown are probably wondering the same question I have recently: "What's the deal with the new Sonic Drive-in restaurant?"

Commercial buildings like these usually seem to go up quickly. The lot was prepped and automated curbing machinery laid down the concrete curbs around the restaurant's lot.

The foundation was poured and construction began weeks ago. According to the Gazette's sources, a small crew worked quickly to get the building framed up, using metal studs throughout rather than large steel or wooden beams. The metal skeleton was sheeted with heavy sheeting,

But construction ground to a halt, and the uncompleted building simply sat there. According to more than one source, officials from the joint city-county planning commission stopped the construction on more than one occasion.

The main issue apparently has been the construction method of the building itself. The steel "2x4s" don't offer the structural strength of wood or larger steel beams. The heavy exterior sheeting provided strength and rigidity to the structure.

Employees of nearby businesses cited the construction halt as another example of "too much government interference."

"With the problems they've had with the zoning board, they probably feel like Bardstown doesn't like new businesses coming in," one business owner said. "I think I would think twice about coming here too after that."

Work has continuned inside the Sonic building while the exteior remains unfinished.

Interior work on the restaurant has continued. The windows have been installed and electrical and plumbng work is underway or complete. The businesses sign was also brought in and installed -- at ground level.

The exterior of the building remains unfinished, with one partial strip of tyvek moisture barrier tacked in place. Recent winds have blown the barrier loose from the building in several spots.

Many of those who commented on Sonic's problems felt it was another issue of too much government interference. Several people linked Sonic's troubles to those faced by the owner of the Baskin-Robbins franchise in downtown.

While each may business may have certain guidelines to meet, the Baskin-Robbins case centers on requirements set by the Historical Review Board and not the regular zoning commission. Questions raised about Sonic's building appear to be coming from existing regulations governing construction practices. The Sonic location is outside the Bardstown historical district.

Developing ...
20 comments | post a comment


---
| | |
| --- | --- |
| Date: | 2007-03-10 02:36 |
| Subject: | Just what's going on at the Best Western hotel? |
| Security: | Public |
More than one of the Nelson County Gazette's sources have noticed the appearance of Bardstown City Police officers -- and their marked cars -- at the Best Western motel on West Stephen Foster in the evenings.

My sources speculate that perhaps we have some VIPs visiting Bardstown; the question that remains unanswered is why they might require police protection. A recent police dispatch transmission even makes one wonder just whom is being protected from whom.

Late Thursday night, one scanner junkie reports hearing the city police dispatcher request a unit to go to the Talbott Tavern for a reported disturbance. Not long after a city police unit responded to that call, the officer who was on "special detail" (and apparently visiting the Tavern with the Best Western guests) radioed the dispatcher that "everything is 10-4 here," the officer said. "Some of the locals were trying to start a fight with the subjects from the Best Western."

He said he and the Best Western guests were headed back to the hotel from the Tavern.

Off-duty city police officers have regularly been reporting to the city dispatcher they are "10-8 for special detail at Best Western" in the evenings anywhere from 6 to 10 p.m. This writer observed a city officer in his car with the parking lights on sitting in the front parking lot of the motel.

Police officers reporting in for "special detail" is nothing new. Officers routinely show up at high school sports events and local festivals to provide security as "special detail." What this particular "special detail" entails and the identity of our special guests remains -- for now -- a mystery.
3 comments | post a comment


---
| | |
| --- | --- |
| Date: | 2006-11-15 12:01 |
| Subject: | Long time no update ... |
| Security: | Public |
I've neglected my blog for too long, so I'm back for more ramblings from my hill overlooking Cox's Creek.

It's been a very interesting election season to say the least. For starters, this is the first election in recent memory that hasn't featured Democrats crying "foul" over the election returns. This is big news for Diebold and other election machine companies. I've heard too many times how Republicans allegedly "cheated" on past elections; ironically this year there was nary a single soundbite of a pissed-off, ranting Democrat on proclaiming vote fraud.

The reason? I suspect that Democrats across the country were doing what local Democrats did in Nelson County -- watched election returns from their favorite watering hole and turned the bottle up.

Reports from those at the Talbott Tavern that night have mentioned more than one candidate, supporter or media member who was (as we used to say) "feeling no pain."

I don't blame Dems for celebrating, though the Congressional gains by the party were neither a shock nor surprise. The loss of seats by the Presidents' party is historically a given fact for the midterm election in a President's second term. The biggest variable seems to be how many seats will be lost.
Congressional bipartisan cooperation or gridlock?
I've watched Rep. Nancy Pelosi's many press appearances and listened to her talk ad nauseum about bipartisan cooperation. She really has no choice, she has to put that kind of spin out there before the voters. If you want the truth, you only need dig a little deeper in the news to hear what Congressional Democrats are preparing for.

Democrats are gleefully preparing to go after everything they can via congressional committees and investigations. They will call it "oversight," though the term "revenge" is probably more appropriate. It all depends on your point of view, and on which side of aisle you sit.

Congresssional Democrats have -- to the Far Left's dismay -- put a lid on any movement to impeach President Bush. Even Democrats realize the need to keep their own leftwing kooks -- and their radical agenda -- hidden from the voting public.

Most Democrats who ousted Republicans did so by rather narrow margins. The last thing Democrats want to do is to let the far left alienate voters -- again. You won't hear Democrats waving the banner for same-sex marriage much in the immediate future.

Many Democrats who won did so by running as moderates. State Rep. Mike Weaver, who proudly boasted he was a conservative, carried Nelson County but was beaten in most other counties. Weaver, who clung tightly to the conservative label, accepted thousands of dollars in campaign contributions from liberal Democrats.

One contradiction I never heard him address was the notion that he and "40 other Democrats" would not vote for Rep. Nancy Pelosi for Speaker of the House. He said that several times, and on "The Brooks & Ken Show" on WBRT -- while he had Pelosi's campaign contributions in his campaign bank account. Maybe I'm wrong, but if you don't support a person's politics, perhaps you shouldn't accept their contributions to your own campaign.

Those contradictions don't mean anything now. My wife noted how the state press dropped Weaver quickly on Election Night. Rep. Ron Lewis established an early lead in the Second District, and the news stations basically dropped coverage of it. Weaver was a goner. On my way home from the WBRT studios that night I couldn't get any news reports on the radio about the Lewis-Weaver race. I called my wife to get an update, and all she could tell me was that the Louisville TV stations had shifted coverage to the Yarmuth-Northup race. There was nothing left to cover in the Weaver-Lewis race. During their post-election recap, "Comment on Kentucky" (8 p.m. Fridays on KET) spent less than 30 seconds on the Lewis-Weaver race, simply noting that Weaver lost big.

While I don't believe Rep. Pelosi's lovey-dovey bipartisanship is authentic, I do believe Democrats want to push forward with her 100-hour agenda. I suspect we'll see the minimum wage addressed, and I'm hanging onto my wallet to see if the tax cuts are amended or rolled back. I strongly suspect Democrats will advance a very flawed immigration plan that will leave our borders as porous and insecure as ever.
Change in direction
The current issue of Newsweek has an excellent article about how the senior advisors of President George Bush's father -- Bush 41 -- are coming to the aide of the son in order to chart a new course in Iraq. The move of Robert Gates to Secretary of Defense, the work by James Baker on the Iraq question will also likely mean implementing a foreign policy that resembles his father's.

With our country mired in an unpopular war, the Iraq question must be addressed -- for the good not just of the political parties, but for the country. 12 comments | post a comment


---
| | |
| --- | --- |
| Date: | 2006-10-10 10:02 |
| Subject: | Weaver appearance on KET was no debate |
| Security: | Public |
Mike Weaver, the Democrat challenger for Kentucky's 2nd District congressional seat, was featured Monday night in a debate on KET.

Incumbent Rep. Ron Lewis did not participate in the debate. While I initially believed this to be a poor move on the part of the Lewis campaign, a little research revealed that Lewis did not participate in KET candidate forums in 2000, 2002 or 2004 either.

I had no lack of confidence that Lewis could debate Weaver on the issues in such a forum. What I failed to take into account was the panel of journalists who would be asking the questions.

The panel consisted of Warren Wheat from The News-Enterprise in Elizabethtown and a fellow whose name I missed from WKYU TV in Bowling Green.

Warren Wheat's questions for Weaver quickly showed he was very biased toward Weaver. Wheat threw nothing but easy pitches at Weaver, who gleefully hit them out of the park as home runs. Wheat's questions certainly were crafted to allow Weaver to hammer home his central campaign themes. I don't believe Wheat asked a single question that challenged Weaver on any issue.

The journalist from WKYU threw out more balanced questions that did not indicate if he was biased toward one candidate or the other. Wheat did not even try to maintain an facade of balance in how he presented his questions. The point is probably moot since Lewis didn't attend, but as a journalist myself I would have tried to appear less of a Weaver supporter regardless of my personal feelings. A journalist appearing on statewide TV must also represent his company. (The Nelson County Gazette is decidedly conservative, and not a bit bashful about it either.) I don't know if the The News-Enterprise is trying to be impartial in its coverage of the 2nd District race; Wheat made it very clear which candidate he supports.

KET is archiving the debates on its Web site. I watched Weaver's debate again late last night, but was unable to play it this morning. Visit www.KET.org and click on the link about halfway down for "Election 2006: The Candidates" to view the debate.

WHERE'S THE BEEF? Weaver's statements on KET were a return to much of his early campaign stump speeches. There was litle new in his answers, and I didn't see the enthusiast, engaged candidate who sat next to me on Monday's special edition of "The Brooks & Ken Show."

Weaver, who has been to the radio station several times during his campaign, was a different candidate than the man who came here a couple of months ago.

It's hard to quantify exactly, but he definitely carried an air of confidence. During the radio show, he never fell back on his campaign stump statements in answers to my questions or those of Kenny and callers. While I disagree with some of his plans (i.e. repealing tax cuts), he was clearly enjoying the give-and-take.

In fact, Weaver's answers and statements in the WBRT studio provided what I believe to be a much better take on the candidate.

ONLY IN KENTUCKY. I find it so very ironic -- nothing in Kentucky politicis should surprise me -- that Weaver is fighting tooth-and-nail to paint himself as a conservative. Only in Kentucky will you find a congressional Democrat who WANTS to be a conservative, and will argue with you about any other description of his views.

While Weaver claims to be a conservative, Lewis' TV adds highlight some less-than-liberal parts of his voting record in the General Assembly. Probably the most disturbing thing in his campaign so far is that he told WBRT listeners he would not vote for Nancy Pelosi for speaker of the house (provided Democrats win control), while at the same time he has taken numerous donations from Pelosi's PAC and other very liberal Democrats.

Weaver may claim to be a conservative, but he's sure got plenty of liberal friends supporting him financially. And if you compare Rep. Pelosi's "plan" for the first 100 hours of a Democratically controlled House of Representatives (if she's speaker), you'll find that Weaver echoed many of those points in comments on WBRT and on KET.

Weaver is certainly a social conservative, but his views on taxes and healthcare make it clear he's much more liberal than many of the voters in the district. The momentum appears to be going toward Weaver right now, but as I pointed out to the candidate yesterday, four weeks is a very LONG time in the life of political campaign.
post a comment
---
| | |
| --- | --- |
| Date: | 2006-08-11 11:40 |
| Subject: | Fletcher ruling is a setback for Kentuckians, state GOP |
| Security: | Public |
| Mood: | astonished! |
There are few times that you'll find a jaded journalist as myself speechless. Well, this morning was one of those times.

After I turned on our TV, I notied the Louisville TV stations were running a "breaking news" scroll -- and I read in truly slack-jawed disbelief.

Franklin Special Judge David Melcher ruled that Gov. Ernie Fletcher can't be prosecuted on the three misdemanor charges related to the merit hiring scandal while he remains in office. To be prosecuted, he must either be removed from office via impeachment or complete his term and leave office.

Melcher based his ruling from the bench on the defense's argument that the governor cannot be prosecuted for "official acts" while in office.

The General Assembly won't impeach the governor on misdemeanor charges, that much is certain. The governor will complete his term -- and apparently campaign for a second term -- with the indictment hanging over his head. If elected to a second term, Fletcher would remain under indictment.

While Fletcher's attorney's hailed the ruling as a victory, I beg to differ. The development is a terrible situation and a tremendous setback for Kentucky and the Republican Party of Kentucky.

The Commonwealth of Kentucky will be the only state in the union with a governor who will have the dubious honor of having the phrase "indicted-but-not-yet-prosecuted" before his name. And unlike the much-feared political skeletons in the closet, this skeleton is going to be the governor's new best friend. It will follow his every footstep for the next 17 months -- and particularly during his election campaign for an unlikely second term.

Regardless of the spin the governor's office attempts to put on the ruling, the chances of Fletcher being re-elected are zero. Nada. Zip. Zilch. The Big Goose Egg. No Kentucky voter is going to want to send our "indicted-but-not-yet-prosecuted" governor back for a second term -- no matter how capable he or his second term staff may be. The indictment will hang over his head until he's out of office.

For the Kentucky GOP, Fletcher's insistence that he's a viable candidate for governor is fracturing the party -- much to the delight of Kentucky Democrats, who already have a stable of competent gubernatorial hopefuls chomping at the bit to run for governor.

In some ways, I get the feeling that the damage is irreparable -- the GOP has had its turn in the Governor's Office for a while. It matters little who opposes Fletcher for the Republican nomination for governor -- the political spectrum is swinging away from the GOP and back toward the Kentucky Democrats. I believe voters across the state -- particularly crossover voters who backed Fletcher -- will not cross over in 2007 no matter who the GOP candidate is.

Gov. Fletcher has had his moments to shine, but those have been largely clouded by missteps and poor decisions by the governor and his administration. Fletcher's political tailspin is a big black eye for GOP playmaker Sen. Mitch McConnell, who recruited Fletcher in the first place.

As part of the gubernatorial package, McConnell also sent along his chief of staff Hunter Bates as Fletcher's running mate. That fiasco was the first hint of the political disasters to come when Bates was determined to be ineligible for office because he did not meet the residency requirement to run for office. In short, he had spent too much time in Washington working for McConnell and wasn't technically a Kentucky resident.

The rest, as they say, is history.

I don't have a political dog in the fight over GOP gubernatorial candidates; I don't have a non-Fletcher favorite to support. I simply believe the governor should put the state and his party ahead of his own aspirations and withdraw from the race. Even the governor must concede that he has little to gain but political embarrassment with a three-count indictment as a running mate.

The Kentucky GOP may be wounded, but its still an active and growing party. While I have doubts about a Republican returning to the Governor's Mansion, I have little doubt that the GOP will be sending quality men and women back to statewide elective office in 2007.



-30-

8 comments | post a comment


---
| | |
| --- | --- |
| Date: | 2006-07-24 00:44 |
| Subject: | THIS JUST IN .... |
| Security: | Public |
Rumor mill reports back with differing account of stabbing incident ...Monday, July 24, 2006, 12:30 a.m. -- The Sunday, July 23rd edition of The Kentucky Standard carried an item on A14 about a stabbing incident last Thursday.

The Standard story reported that Martin Taylor, 53, of New Haven, was charged for stabbing his nephew, Richard Taylor, near the kidneys.

My sources are were telling me that the name and relationship of the victim and assailant weren't correct as reported. My sources have told me the stabbing victim was Dave Taylor, owner of Dave's Woodworking (located on the left side of the road just past Balltown on New Haven Road, right as you start down Helsinki Hill).

The rumor mill further reports that Dave Taylor is the assailant's brother rather than his nephew. If the victim was indeed Dave Taylor, his age would be fairly close to that of his brother Martin, about 50.

The dispute that started the incident reportedly began over how a family member or visitor had parked his or her car in the yard.

I can't vouch for the accuracy of the information, but there's certainly been a lot of buzz about this incident.

UPDATE: Rumor mill confirmations ...
Tuesday, July 25, 1:15 a.m. -- According to my sources, the victim in the stabbing was indeed Dave Taylor, who remains in the hospital recovering from his injuries.

-30-
15 comments | post a comment


---
| | |
| --- | --- |
| Date: | 2006-07-16 17:27 |
| Subject: | Hopefully lightning won't strike the same place twice ... |
| Security: | Public |
| Mood: | grumpy |
If there's anything that's humbling, it's having Mother Nature take you back to the 19th Century with a well-aimed lightning bolt.

That's exactly what happened at my house early Friday morning.

Lightning and thunder woke me up about 3:55 a.m. After several nearby lightning strikes, the room was illuminated by blinding white light and the crash of thunder nearly rolled me out of bed. The power was out before the rumble of thunder was complete. I got out of bed, making my way downstairs by the intermittent flashes of lightning in the windows.

My options were limited. I couldn't really check the TV weather. I found a flashlight and then located my police scanner and weather radio. No warnings for Nelson County.

From our house, we could see what appeared to be a tree or a utility pole burning north of our home. Our lights were out, but my neighbors had power. I called Salt River to report the outage.

After about 90 minutes, the power was restored. The lightning strike had blown open the circuit breaker up on the high-voltage feed to the transformer at my house. When the lights came on, I surveyed the damage. Everything seemed to work. At nearly 6 am, I crawled back to bed for a while.

My son woke me up a few hours later to report that the Internet wasn't working, and my computer was dead. After investigating what he was telling me, I found that he was correct -- and there was a lot more than wasn't working.

My computer was hit, as was the kids' computer, two printers, the network hub, the cable internet modem, and every telephone we have.

So far we don't have anything else to add to that list, but that's certainly plenty of damage.

To update my blog, I'm actually using an old PC that my kids used to have for their games. It was the only PC that wasn't damaged since it wasn't hooked up. Go figure.

I don't know if insurance will cover any of this stuff or not. I'm inclined just to replace it, though the computers will get deeply into our pockets. I can operate using this one temporarily, but I'm not much good without a printer.

It could have been worse, I guess. It's been really odd -- for lack of a better term -- to have no computers and no home telephone. I did find a good deal on a phone at Radio Shack in Bardstown, so at least I have one form of communication. And thankfully none of my ham radio equipment was damaged either. The damage appears to have been limited to whatever was connected to telephone lines and the cable TV stuff.

I probably shouldn't complain. Living on a hill for the last decade, we've only had a couple of things damaged by lightning -- usually telephones and cable modems, come to think of it.

The city of Bardstown was good enough to replace the modem Friday when I took it in. I'm just thankful I can get online -- imagine going a week without e-mail or the Web?? Now THAT would be tough!

---

The Brooks & Ken Show will be moving to a Tuesdays-only format once Bonnie Drake returns to WBRT full-time. Bonnie and Kenny Fogle will conduct a program on Thursdays in the 11-to-noon time slot, and that program was delayed by Bonnie's recent surgery.

What's the view from Cox's Creek this afternoon? Hot - hot - hot!

-30-
post a comment
---
| | |
| --- | --- |
| Date: | 2006-07-06 11:46 |
| Subject: | Rep. Ron Lewis visit to Bardstown ... |
| Security: | Public |
| Mood: | chipper |
All the stars and planets must have been in alignment yesterday, as luck was with me in my battle against Murphy's Law.

Whatever could have gone wrong Wednesday morning did, with the final problem before lunch showing up while I was driving to town. My cellphone buzzing in my shirt pocket while only minutes from town was truly a bad sign -- a plumbing emergency back home forced my illegal u-turn and threatened my chances to hear U.S. Rep. Ron Lewis speak at the Bardstown Rotary Club's lunch meeting.

In spite of the set-backs, the timing of my arrival at the Talbott Tavern -- with which I had little control over -- was perfect. I took a seat as outgoing Rotary Club president Matthew Hite prepared to start the short business meeting.

Judging from my past visits to the Bardstown Rotary meetings, this one seemed lightly attended. I'm not sure if it was due to summer vacations, the Fourth of July holiday or the political persuasion of the guest speaker. The tray of Rotary member name tags next to the door appeared to be nearly three-fourths full.

Guests at the Rotary meeting included state Sen. Dan Kelley and state Rep. David Floyd, who had the honor of introducing Lewis.

Notably absent was Kentucky Standard publisher Ron Filkins, who had stated in his column last week he planned to ask Lewis about the Congressman's recent mailing. Tom Isaac, PLG-TV 13 news director, told me that Filkins was out of town and unable to attend. Tom asked Lewis about the mailing and franking privileges, but Lewis' response was limited to comments about Filkins' column. Lewis didn't address the franking issue.

A reporter from The Wall Street Journal was traveling with Lewis, apparently to observe what issues 2nd District constituents have on their minds. The reporter asked if he could tag along to WBRT studios to listen in on "The Brooks & Ken Show." I agreed, and the group of us walked over to the studio. We were several minutes late and we joined Kenny Fogle as the show was in progress.

As the more liberal half of "Brooks & Ken," Kenny Fogle asked Lewis to respond to his questions on lots of issues -- tax cuts, the death tax and more. Lewis never batted an eye.

Several listeners called in, though there were likely fewer people listening because the impromptu show ran from 1-2 p.m. on Wednesday, which was outside its usual 11-Noon slot on Tuesday and Thursday. Lewis was unable to come to Bardstown for the radio program on its usual day and time. The program with Lewis was taped and broadcast this morning.

The partisan pundits who believe Lewis is in lockstep with President George W. Bush are clearly ignoring where Lewis stands on issues like immigration. Lewis said Wednesday that he supports reducing the U.S. troop levels in Iraq, and contends correctly that its time for the Iraqi government to take control of its own destiny.

In short, you come away with an impression that Lewis takes stands he believes in. And he's wise enough to keep a sense of humor about the partisan salvos fired his way.

Some Kentucky liberal blogs have been saying that Lewis' poll numbers must be in trouble due to the fact that Vice-President Dick Cheney is coming to campaign for Lewis in Owensboro on Monday, July 10th. There's still a lot of time between now and November, and in politics, even two weeks can be an eternity. But barring a major faux pas or a shift in public opinion, Lewis remains on track to keep his seat in Congress.

From the look of things from my hill overlooking Cox's Creek, if there's a groundswell of anti-Lewis opposition in the electorate, it's still out there on the very liberal fringes.



-30-

9 comments | post a comment


---
| | |
| --- | --- |
| Date: | 2006-06-18 00:21 |
| Subject: | State high court justice appears to give Fletcher "Get Out of Jail Free" card ... |
| Security: | Public |
Kentucky Supreme Court Chief Justice Joseph E. Lambert appears to have given Gov. Ernie Fletcher's legal team a clear indication of his view of where any sort of criminal or civil action toward a sitting governor must take place.

According to a footnote in one of Lambert's opinions in an unrelated civil case, Gov. Fletcher is immune from prosecution unless tied to impeachment proceedings by the General Assembly.

In other words, the special grand jury has no power to indict the governor, only the General Assembly can seek impeachment and a trial on charges against the governor.

The Governor's trial on three misdemeanors is scheduled for November. A pre-trial conference is set for next month, and already its rumored that Fletcher's defense team will try to get Attorney General Greg Stumbo's office disqualified from prosecuting the case. I figure the defense will also try to get the charges dismissed, using the arguments presented by Lambert's opinion.

There's no way to know how the entire high court will view what Lambert said. I suspect we'll see a flurry of motions next month by the defense team, with dismissal of the charges the top priority.

Should Fletcher have the charges dismissed, look for him to really begin campaigning in earnest. Is he electable, even if he's cleared of the charges (or the charges get dropped for whatever reason)?

How committed are rank-and-file Republicans to a Fletcher reelection bid? If we see the Kentucky Congressional delegation re-embrace Fletcher as a gubernatorial candidate, then we'll know that all has been forgiven within the GOP.

Until we reach that point, everyone's keeping the cards close to the vest.

All of this will make the annual Fancy Farm picnic quite a spectacle (as if it wasn't already). Who wants to ride down with me?

1 comment | post a comment


---
| | |
| --- | --- |
| Date: | 2006-05-12 02:04 |
| Subject: | A Bad Day for the Commonwealth ... |
| Security: | Public |
The Joe Elliott talk show on WHAS 840 radio Thursday night was devoted mostly to the latest news out of Frankfort -- the indictment of Gov. Ernie Fletcher, the first Republican governor of Kentucky since 1971, and the third governor of the state to be indicted while still in office.

Fletcher's political career -- for all intents and purposes -- is finished. His approval rating among voters was already low, though he did fare well during the recent session of the Kentucky General Assembly. This year's session will long be remembered for the state's funding for education.

Republican supporters (this includes the many cross-over voting Democrats who backed Fletcher as I did) can still argue several points about the indictments.

For starters, the indictments are only allegations. There's been no trial, and the Governor is innocent until proven guilty in court.



It doesn't necessarily mean Fletcher won't beat the charges, and prove them to be the fruit of a political vendetta by Attorney General Greg Stumbo.
Unfortunately for Fletcher, sitting governors aren't required to receive due process from voters who'll be talking about the indictments in the local minit mart parking lot, the Hardee's breakfast counter or over coffee at Hurst's Restaurant. His campaign promise to clean up the mess in Frankfort rings hollow when you realize that his administration only swapped out one party's corruption for his own.

It's a sad day for Republicans in the Commonwealth too. Sure, there's many who'll proclaim that the indictments don't damage Fletcher's political standing, and proudly pledge their support. I admire their loyalty, but I suspect that inside they're feeling as disappointed and betrayed as Democrats did when President Clinton began asking what the definition of "is" is.

Yes, Gov. Fletcher hasn't been convicted -- at least not in the courts. In the court of public opinion, the indictments sound the death knell for the governor's shot at a second term.

It's interesting to note that the Governor's legal team was apparently anticipating his indictment. Within 90 minutes of the release of the indictments (4:30 p.m. Thursday), the Governor's legal team had already filed 19 pages of legal documents in a motion to disquality Attorney General Greg Stumbo and his entire staff from further involvement in the indictments.

The copy of the indictment posted on The Herald-Leader's web site has a fax date stamp of 11:58 p.m. Sunday, April 23rd, which may indicate the media -- and Fletcher's counsel -- was anticipating the public release of the indictment. I would expect that as a back-channel courtesy to the sitting governor, even the attorney general of the opposition party would give him a heads-up he was about to be slammed. Or maybe its simply a case of the Herald-Leader's fax machine date being off by 18 days.

I can't help but wonder if Personnel Cabinet Secretary Erwin Roberts' resignation announced Friday, May 5th was at least partly done in anticipation of the indictments (Roberts spoke at the local GOP's Lincoln Day Dinner earlier this year).

As more details come out about the indictments, it seems less likely that this is simply a case of an "Attorney General Gone Wild." (I recommend readers visit the Courier-Journal or Herald-Leader web sites and view the Adobe pdf files of the indictment and related documents).

It's a sad day for all of us who believed in Fletcher and his campaign. What may be even worse is that for Fletcher his political career is done. Even if acquitted, the chances of a comeback for winning the governor's race in 2007 is a longshot.

I suspect officials of both parties are vetting potential gubernatorial candidates (if they haven't been doing so already). U.S. Rep. Ben Chandler is a natural pick -- provided he wants it. Reports I have been hearing indicate he's very happy working for Kentuckians in Washington, and is probably feeling the sting from his loss to Fletcher.

The indictments make it a wide-open race, and it will be interesting to see potential gubernatorial candidates jockeying for position. This, my friends, will be the real Kentucky Derby.

That's the way it looks tonight from my hill overlooking Cox's Creek.



-30-

3 comments | post a comment


---
| | |
| --- | --- |
| Date: | 2006-04-27 11:48 |
| Subject: | Mea culpa time ... |
| Security: | Public |
Yes friends, it's mea culpa time here on my hill overlooking Cox's Creek.

I've been guilty of taking some tongue-in-cheek jabs at developer and Bardstown native Rick Hill. In the past I compared him (in jest) to the Professor Harold Hill of Meredith Wilson's "The Music Man."

The reason? Hill's vision of what Bardstown could become sounded so fantastic, so outlandish, it seemed truly unbelieveable. My training in cynicism (a subset of journalism) led me to wonder if this was not $94,000 worth of smoke, mirrors and hyperbole. Condos in downtown? A specialty grocer? Surely this has to be a joke.

Trust me, it is not.

I'm as guilty as the next resident of not allowing myself to think outside the "Historic Bardstown" box. Bardstown is Bardstown is Bardstown. Period. Who in their right mind would invest in new development in the downtown? Besides, who would want to live downtown?

If Hill is right, quite a few people will.

Hill's presentation was a fascinating trip through the streets of what Bardstown could become. Not what it will be, but what it could be IF there's enough cooperation from local government all the way up to the developer and property owner.

The general public -- those who did not attend any of Rick Hill's sessions -- are probably as skeptical as I have been. I would suggest that NCEDA and its partners and the media -- particularly The Kentucky Standard -- create a campaign to better educate the average citizen.

How?

Make use of what newspapers are good for -- detailed explanation of complicated issues. Show the public in words and pictures an overview of Hill's vision. Perhaps NCEDA could pay for a double truck or four-page section devoted to the plan -- in four colors no less.

Wow, that's expensive, right? Yep. But with the backing of some of the community's leading businesses and lending institutions, the cost wouldn't be prohibitive.

Why do this when you can get the plan for free at the NCEDA office next week on paper, CD or the Web?

I love the Internet and using my computer, but when it comes to serious reading on an issue, gimme paper. Give me photos. Give me analysis. Give me facts, charts and more. And give it to me on newsprint. Give it to the readers of Nelson County in The Kentucky Standard.

Is it really necessary to worry what Ma & Pa Resident really think about Hill's plan? They aren't the ones who are going to be developing the properties or buying the condos that might be built.

True, but this isn't a conversation limited to developers, investors and property owners. It needs to encompass the community in a way no other issue has. What we need next is "buzz" about the possibilities outlined in Hill's plan. And who knows? When Ma & Pa sell their farm, they'll want to find a place that's cushy, comfortable, close to amenities and low maintenance. A downtown condo, perhaps?

Maybe, as one local businessman told me afterward, the plan really is little more than "Disneyland" thinking -- a fantasy world that can't be achieved in real life. Challenging residents and property owners to consider new realities of what Bardstown may become is certainly something that's been worth the price of admission. And in the same Disneyland example, even Walt Disney's original concept of the theme park has continued to evolve and re-invent itself. Disneyland isn't a bad analogy when you think about it. Hill's plan challenges Bardstown to think "what if?"

If we keep doing what we've always done, we'll never get different results. If nothing else, we owe it to ourselves and our community to open our minds to the possibility of change ... change in a way we've never considered before.

That's how it looks this morning from my hill overlooking Cox's Creek.



-30-

9 comments | post a comment


---
| | |
| --- | --- |
| Date: | 2006-04-26 16:24 |
| Subject: | Friends, we've got trouble, trouble right here in river city .. |
| Security: | Public |
| Mood: | curious |
No, no, that's the wrong pitch man -- you're thinking of Harold Hill from The Music Man. This pitch man named Hill hails from right here in Bourbon City, and he's going to explain our troubles -- troubles as defined in the future of downtown Bardstown.

I think I heard a chorus of "me too's" when downtown subscribers opened their issues of Sunday's Kentucky Standard. If you read between the lines, Hill appears to be arguing against the restrictions put on downtown by historic zoning.

He seems to lay the blame for the coming "trouble" -- the move of the hospital, courthouse and soon, the library from downtown -- squarely on the shoulders of those in charge: our elected officials.

But what's done is done. You can't undo history -- but what Hill seems to want to do is to change the direction of the future.

How will businessowners (and property owners) react to Hill's "suggestions" that certain areas need to be "retail" and others not? For example, if you are the owner of the consignment shop in the old A&P building on North Third Street, how would you feel about Hill's recommendation for changing that to retail? Doesn't a consignment shop count as retail?

One thing is certain -- downtown retailers want to see more retail business downtown and not offices. Despite the good work that Hospice does, the entire first floor of the old Newberry building should be devoted to retail. Put the offices someplace else. In some cases Hills' ideas makes sense, but they aren't new. I've heard retailers cry for "more retail space downtown" for years.

I'm not sure any city or county government can dictate use of a building -- unless they own it ... can they do that by zoning? Hmmm.

I think Hill's ideas for adding condos south of Stephen Foster Avenue are good, though I don't know how you'll get the property. Do you really want to legislate Bardstown Mills out of business in order to build condos?

I'm hoping to go to here Hill talk about his preliminary plan. I'll have more to say after I hear more. It's going to be an interesting evening away from my hill overlooking Cox's Creek.



-30-

6 comments | post a comment


---