Sunday, March 27th, 2005
---
11:13 pm
Sort of in shock. I find it disturbing that I am so shell-shocked by the final episode of Carnivale. It may or may not come back. HBO has not signed it up for a 3rd season as of right now. The second season had some flaws but overall it is my second favorite show on tv right now. Well I have an awful headache all of a sudden so this will be short. Just want to close up by saying that Dogfish Head Chicory Stout if fucking awesome.
Monday, March 21st, 2005
---
12:20 am - God and stuff
Flipping through the channels at midnight pisses me off. For some reason this time of day the program guide doesn't work on tv and worse yet, every fucking station has preachers throwing their hands up in praise. It isn't Sunday anymore. I mean no disrespect to god or those who worship but I am so sick of this crap. Why is the resurgence of faith and the decline of the left's power making news? And I am a bit angry. I know it may sound a bit odd but in some ways being an atheist has lead me to hold faith and religion in even higher esteem but at the same time I have less tolerance for those who have blind faith, lazy faith. Am I crazy to think the way I do? Does this even make sense? See I lost my faith because I questioned my own beliefs thoroughly. Even though it causes me so much pain, I don't regret it. I really do believe that one day my faith will return. My only reason for believing in God is the fear of death and I refuse to degrade god and religion by believing in something just because it makes me feel better. Don't ask me how I can feel the way I do about something I don't believe in. Just one of my crazy quirks.

Oh while I am on the god subject, I should share on St. Patrick's Day. Well I may be stating the obvious but being in NYC on St. Pat's Day is a little crazy. The train coming in there were tons of hoochie mamas and papas decked in green and giddy with anticipation. It was amusing but the train ride home was crazy. Everywhere I looked, people were bleary eyed and rowdy. There two groups of drunks that were screaming "Hapy st partrick's day" across the train at each other. The one group being teens who couldn't be much more than 18, the other group were 40-50 something old business men.

I'm tired so I am blabbering a bit. Next up- Carnivale was great. I won't disclose too much since my sweetie probably hasn't seen the episode yet. I really hope there is at least 1 more season coming. I just love the characters so damn much and I do think it was a brilliant idea to create a show with that biblical feel to it during the depression, just a perfect fit. I could see the next season focusing on Ben trying to find that missing manuscript that the one guy wanted from his dad. I'm really starting to appreciate Libby, she has become a strong character. The only one I am not thrilled about is Sofie. I liked her at first but sometimes I really do feel like the writers screwed her up a bit, she is too much of a pawn in the story her movement doesn't seem to be natural at all. I mean her going to brother justing isn't totally crazy but they should have maybe worked it in a bit better. Yes she was never totally comfortable with her powers but I don't understand how that would make her a holy roller out of nowhere.

So Six Feet Under is going to have its last season, Luckily Deadwood should have a good number of seasons, I'm thinking maybe 5. Carnivale may have at most 1 more coming which leaves little good original programing on HBO. This is devastating. For the past 8 years or so, it has been consistently good and plentiful. There has always been at least 1 show on at a time that I like and now the programming is starting to slow down a bit. I wasn't able to dig up much about the original programming to come. I know that there is a new series being done with BBC on Rome. I am skeptical but hopeful, I thought that deadwood and carnivale were going to suck and I was so wrong. There is another show about a Mormon and his three wives, sounds as crazy as 6ft under so I am looking forward to it. And then there is another series, "A girl in the cafe" or something like that and I found nothing about it. So who knows. The thing is, the Rome show comes out in sept and that is the only show that has even had a teeny bit of exposure in the form of 1 commercial that shows very little. That means that the other shows must be even further down the road. So what the hell are we going to watch this summer? Well the last season of 6ft will be on but what else? I must say I am so disappointed with unscripted, entourage, and the wire. I really think HBO is better than those shows. I don't care if George Clooney was envolved, unscripted sucks.

current mood:
tired
current music: Clem Snide- Sweet Mother Russia
Tuesday, March 8th, 2005
---
1:45 pm - I am miserable
I don't think I could hate my life much more than I do at this moment. I am so horrifically unhappy right now. I wish it were night so I could just crawl up in bed and sleep. I am pissed that I have hours to go before I can end this wretched day. Not that it really matters, I know that nothing will change when I wake. I will still be a poor grad school student looking at another 3 years stuck in this hell. My brother and father are disgusting disrespectful pigs. All they care about is cunt. My dad gets some sick charge out of the idea that his son has a chance at some hot ass. It doesn't matter that he has a perfectly lovely gf. I am being forced to witness the downward spiral of my brother and I can't escape it. I love him, he is my little baby brother. I changed that fucker's diapers. I want him to be happy and getting hiv cause you cheated on your gf is not the path to happiness. Nor is jumping from chick to chick for the rest of your life and living as a bachelor.

current mood:
disappointed
Monday, March 7th, 2005
---
1:40 pm - The Love of Money is the Root of All Evil
First my My Itunes Shuffle

Section 18 (Everything Starts At The Seam) The Polyphonic Spree
Together We're Heavy Cake
New York Girls Mooney Suzuki
Tits on the Radio Scissor Sisters
Sex Symbols On Parade Ima Robot
The Twist Metric
Shh Frou Frou
Captain Jack Billy Joel
Losers The Cardigans
That Day Poe

Auf Acshe Franz Ferdinand
Love Song Ben Lee
Could Have Gone Mad Poe



Maybe not all evil but an awful lot of it.

I must admit that I am a super dark shade of green the past few days and that is thanks to my desire for the big c. My cousin Amir has been ushering a close friend (Omid)all around the country and they have been shuttling between the W in NYC and my home. As always, Alexander is a delight to all and Omid has been showering him with cash and gifts. It feels pretty awful to be reminded that in this world, intelligence, character, and compassion are valued less than good looks and charm. I suppose I shouldn't feel to bad, my mom's around the clock catering to our distinguished guest had brought her nothing either except the promise of "something." Still, that is more than I have been promised. I may as well be invisible. So why the hell should I entitled to a free ride on this gravy train? I don't think I am entitled to anything and I wonder if that may be why that is exactly what I get. I am a cynic and an atheist but every once in awhile I wonder if maybe there is at the very least a sort energy to this world some weird magnetic force in which you get what you expect. My brother expects to get his every wish and whim fulfilled and he does, I expect to always "get by" and I do. Even though I want more, I don't expect it.

I think it may be the obscene amount of money being dropped that does make me want to stick my hand out. He has spent about 40k on this trip, not including first class airfare for two and he has wired for another 20k. This weekend they went to fine restaurants and The Crow Bar and Bunglaow 8. At the later he shelled out 1k for a vip table and then ran up a 3k tab. The man spent about my whole wedding budget in a fucking weekend. Still, I fight with myself, I must remind myself this isn't my money, it isn't my business and he doesn't owe me shit. But somehow that doesn't make me want something any less.

current mood:
grumpy
current music: itune shuffle
Friday, March 4th, 2005
---
1:20 am - Leaving on a jet plane.....
At approximately 12:30 AM Martha Stewart was released from prison. A car drove her to the airport, stopping about 20 feet away from a corporate jet. As I watched the spectacle I was filled with disgust, the greedy, creepy media monster rubbing its hands in glee, the lame jokes poking fun at the odd juxtaposition between her role as both inmate and super homemaker. Still, I was watching, wasn't I? I am glad I did. While the cameras weren't able to get a close up on her face, from a distance she looked radiant. Not just happy and smiling- she glowed, her hair had bounce and shine, her figure was slim and her outfit stylish.

Was Martha guilty? Maybe but so many men have done way worse (enron and hasbro are the first few that come to mind) and I hate to use the sex card but consider it thrown on the table. A woman is a hell of a lot easier mark, she tried to be part of the boys club and this has taught her for sure. She is a bit of a maverick and maybe she was a bitch on wheels but she had some integrity and class and for that she has won my admiration. I, like many of my fellow Americans, love a person on the rebound. I can't wait for her reality show to come out.
Wednesday, February 23rd, 2005
---
1:05 am - Lots of stuff
Take the quiz: "Which American City Are You?"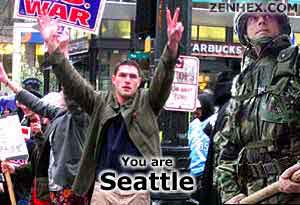 Seattle
Your dark exterior masks a caffeine driven activism. You'll take up a cause and you'll get ugly to advance it.


Is anyone really shocked?

So much is going on and not going on all at once. I need to do a thorough update but for now this little piece of bullshit will do.
Tuesday, February 15th, 2005
---
12:31 am
"Anne's circle of exotic women and exotically pretty boys seemed impenetrable to me. She spent most the evening talking about what a sensation her two handsome proteges, Stepehn Low and Brad Gooch, had been back in New York at the St. Mark's Poetry Project."

-Sam Kashner from "When I Was Cool, My Life At the Jack Kerouac School"

I had been wanting to read that book for some time. I had hear the author interviewed on NPR and he impressed me, all at once humble, honest, and funny. I have also been curious about the school, part of the fist (and only?) Buddhist University in America. I stumbled across the book yesterday at The Montclair Book Center and threw it in with my purchases of a book for my popular music studies class, the Norman Mailer biography of Marilyn Monroe, and the magazine Bust.

As I read, I found myself occasionally glancing over to my battered old copy of The Portable Beat Reader, torn between my desire to re-read my old friends "sunflower sutra" and "America" and to plow through the memoir before my school week began again. I also found myself toying with the idea of e-mailing the professor who had taught a class on the Beats at Willy P and suggest that he check the book out. I did find it a bit annoying that my professor seemed to downplay not just Anne Waldman's place amongst the Beats but also how close she was to Ginsbergs, Corso, and Burroughs. But when I came across that passage, I found it even more curious because my professor was Brad Gooch.

I wonder why it brings me such a thrill to know that my former professor has such tenuous claims to fame. Whenever I happen upon an article written by him, or see him in a appearance as part of some lame panel on cable tv, I glow. He wasn't a great professor, he isn't a great writer but his little piece of notoriety somehow delights me, as if those ripples of fame may one day touch my shores, small as they may be.

Sweetie and I celebrated V-day pretty much all weekend long. Saturday he took me out to dinner and we watched Shakespeare in Love and Mailer on Mailer, Sunday we had breakfast at Park West Diner followed by our aimless wanderings through Montclair and Wayne. I am so damn happy.
Friday, February 11th, 2005
---
12:28 am
There was nothing special about today, nothing at all except that it just felt lovely. I dragged my chunky ass over to the gym for the second time in a week, not great but an improvement. While working out I realized that for the first time in literally years I was exercising and not feeling exhausted. This isn't just about my fitness, this means that my health is improving. I know that my thyroid tests came back with good levels and my hair stopped falling out but other than that I was feeling pretty much the same and I was beginning to loose hope. I know being overweight wears you down but my mom is more over weight, exercises less, is older and yet she has more energy than me. So anyway, I didn't feel exhausted working out and when I walked out of the gym, I actually felt a little energized! My train ride into the city was simply blissful. The days have finally gotten long enough for the sun to still be out on my way over and I just soaked up the sun and views. Everything just looked beautiful, even the craggy old shells of metal things against the wild grasses. Class was amazing-stimulating, fascinating, the time just flew by. We tackled some of THE BIG QUESTIONS. The nature of art, art movements, academic movements, high vs. low art. My wheels were just spinning round all night. Also (applause) I did not grab junk food on the way home. Woo hoo!

One final thing and this is more for George than anyone else... Zach B. will have a little part on Arrested Development. YAY! Also, remind me to give you my UTNE, village voice, and if you are interested, I'll loan you my Entertainment weekly mag so you can read the Carnivale review. It hits on some of the things we've been discussing.

current mood:
happy
current music: Bright Eyes
Tuesday, February 8th, 2005
---
12:09 am - odd and ends
While a good part of our population were watching the super bowl yesterday, I watched The Puppy Bowl and I am a bit embarassed to admit how much time I devoted to the program that was playing on a loop all day and night. The show consisted of assorted puppies playing on astro turf in a mock football stadium filled with toys and waterbowls, one of which contained a "puppy cam" that allowed viewers to see a puppies paws and tongue as they lapped up water.

I also watched Carnivale yesterday. The show has been a bit of a disappointment this season. George and I have concluded that they show was picked up for only one more season and they are now rushing to reach the epic battle the viewers know is inevitable. We are also begining to grow tired of the lead character's lack of development. He performs the actions he must almost robotically. Yes the fate of the world seems to rest on his shoulders and all but he doesn't express real concern all that often. It is more like he is following a command. Still the last season was so wonderful and I feel like I have invested so much into the show, I can't step away. I can't help but wonder how the show ended up going so wrong. I am also beginning to get disappointed in HBO. Sopranos has been sucking the past few seasons, Sex in the City sucked about half way through and the conclusion was horrible, Six Feet Under will be soon laid to rest, most of their new shows just leave me cold(unscripted, entourage). As far as I can tell, all they really have going for them series wise is Deadwood, a stellar show but who knows what their sophmore effort will be like?


I think this may be my first update since I began the spring semester so I'll fill you all in. I only have two classes as of right now, the third begins March. My intro to popular music studies seems promising. It came highly recommended and we haven't really gotten to the meat of things but I think we are about to. Don't laugh, that class will actually be pretty intense, 4 short papers, 3 books one that is over 400 pages long, and a final paper of 20 pages and course is deeply grounded in cultural and media studies, lots of theory.

My other class is a foundation class (iow-required) and I am not exactly loving it. Foundations of Media Design which is pretty much what the title suggests. It is a class to prepare students for production courses in all the tracks: video, 16mm, audio, and web design. It seems that my professor is going to focus on web design though since that is his area. That sort of sucks since I wanted to check out sound since I am considering it as a track. Not only that but so far it seems like the prof does a shit job of explaining things and our assignments are bullshit work, submit questions we have on our readings and do lots of still life drawings. It is total bullshit busy work.

current mood:
accomplished
current music: TV On the Radio
Wednesday, January 26th, 2005
---
12:14 am - Messopersia
Doesn't have the same ring to it as Messopotamia doest it? But that doesn't matter to Bush and his cronies. For a "Christian" man he seems to have no problem offing people left and right, helping the rich while ignoring the poor and destroying the environment in the name of the almighty greenback. Now of course he has set his beady little eyes on my father's country. As Jon Stewart pointed out, it is conveniently located smack dab between Afghanistan and Iraq. Gee, while your in the neighborhood...
Of course the US forgets so easily that it was our fault that Iran's first and only democratically elected leader was removed from power by the good ol USA. oh and that we helped get rid of the shah and put that fucking religious freak in his place. Even if the US choice to ignore all that, how can ignore that Iran is on the brink of a regime change and given the appropriate nurturing in the next 5-10 years as the youngest and largest demographic in Iran matures, there could be a successful change? Is it possible that is actually what the US is afraid of? I hate to be a conspiracy theorist but what else am I to think? How can the gov't possibly think that bombing a country will get it to turn to democracy? Does the US actually want Iran to join Iraq and Afghanistan, nations in which we have created an environment that fosters terrorism? Of course it is possible that the New Yorker article is wrong, bad sources, jumping to conclusions but I still have a little bit of fear. Iran is not a weak nation, we can't just bomb them and expect them to welcome us with hugs. It didn't work with Iraq and they were a weak country. Worst of all, if the US were to take action against Iran, it would push those who wish to modernize away from democracy and good relations with the west in support for their country. It has happened in the past. Iranians will have a cause to bind them together and this will reverse the slow and steady westernization that has been taking place. This fucking sucks.
Wednesday, January 12th, 2005
---
12:05 am - A litttle Queer
Tonight "Queer Eye for the Straight Guy" broke new ground. As always the Fab 5 come crashing through the life of another man but this time we find them in the home of a soldier about ship off to Iraq. The dance we observe is honest, painful, and sometimes funny. Show's like tonight's really drive home that "Queer Eye" deserves more than casual study. For once the Queer Eye Guys treat their subject with the utmost delicacy, catering to his needs, constantly checking with him about what he thinks he needs. They somehow manage to beautifully express their appreciation and respect for his role as a military man without endorsing or criticizing the war openly. It is only until the very end, when the fellows are all gathered around the tv to watch their pupil on his wedding day that they seem to express an opinion on the war and even then, it goes unspoken. The quiet rage that is expressed in the eyes of a few of the fab 5 was unmistakable and chilling. These are real people, this is a real war, and there are real consequences.

current mood:
aggravated
Friday, December 31st, 2004
---
12:12 am - the eve of the eve
New Year's day will be here in less than 24 hours and I have no special plans for it. Just going to hang with my sweetie, watch some DVD's and maybe make him dinner. It has been a New Year's tradition for us, doing nothing, and I can't say I mind it too much. It would be nice to have something exciting to do but as broke ass people with a limited circle of friends we have few choices. It is a bit unfortunate that my favorite people happen to work as waiters/bartenders and so they aren't free. Every year I tell George and myself that next year we will do something special. I didn't even pretend this time around. I think the only time we actually did something was for new years 2000 and to be honest, it wasn't all that spectacular and I had to be at work at 10am the next day. I so love retail.

In other even less spectacular news, I now know my grade for research methods in media studies- B+ I'm pretty satisfied with it. Still waiting on one more grade I predict a B but i am hoping for a B+. I'd really love to pull a 3.5. Not so bad for my first semester especially considering I was miserable the first month and did not apply myself 100%

Speaking of school... I am trying to decide if I should e-mail a Thai classmate of mine to send my best wishes for her country and family. I don't even know if she would receive it. She didn't mention whether or not she was planning on returning home for the holidays. I can't imagine what she is going through right now. It is 911 time 10 for those countries that have been affected. And I can't believe the US is insulting them by just giving 35 million.
Sunday, December 26th, 2004
---
1:41 am - PS
I can't help but report with much joy, my pol com class grade has been posted and I managed to get an A- woot squared to infinity. This was my most challenging class and I did much better than I anticipated so I think I should be pulling in a 3.5 for the semester- YAY!!!!!!!
12:49 am - Merry X-mas
It has been a long time since I last felt the way I do in this moment. I meant to write about my x-mas day and all the lovely gifts, the typical Monfared holiday fights, etc instead... I am in a different state. I..... ugh I have typed and deleted the words a million times right now. I am hyper aware of ... as corny as it may sound... I am so aware of my non identiy. my non being. and my belonging to humanity. Of unity. And no it has nothing really to do with Christmas. It's watching "Control Room" for the second time and that god damn buddhism crap rattling round my empty little head. This thing I feel is whatever is lacking from those in the world who fail to measure life with the weight it deserves, those who fail to place themselves in the shoes of others. Why can I do this? Why can't so many others do this? It is such a simple thing and yet I think it may be the very thing to save our world. I am so damn tired of the pain my empathy causes me and having it is what makes me feel so ashamed of wanting to turn it off. Tonight as all my lovely Christmas gifts are strewn around my room, unsure of their place, as my parents sleep in peace in our lovely new home, as my brother parties with friends, as the love of my life rests in perfect safety and peace, as my sister experiences the joy of her first christmas as a married woman, as all who I know dream with no real worries, as all of this is being taken for granted by myself and countless other, there are some who are experiencing such pain as I will never know for even one second of my life. and yes it has been uttered so many times before and in ways more eloquent than mine but I still will ask: why? Why, why why? how can I feel so much a part of humanity and yet so lonely all at once? Why do I feel like the only person who wants to know this? Why do I feel like the only person who thinks about this once the tv has been turned off, the newspaper laid to rest?

How can our administration live with themselves? What is going through their minds? I am so fucking tired of rhetoric and politics, I just want truth and reality. Just come clean tell me with your own mouth that the life of an Iraqi is not as precious as that of an American, tell me with your mouth Mr. Bush that you will call up men and women to serve our country and then cut their benefits so you can give tax cuts that only really benefit the wealthiest of our country. Tell me you do this because all that really matters is keeping your rich friends happy. Yes and let us not forget the "Christians" who you confuse with your twisted lies. People whose ideologies so easily lend themselves to manipulation and confusion. And I have begun to understand them better I think, the hate for them has grown so stale and I can see them more clearly now. But it doesn't make it much easier to understand them. They mean well I think, I do believe it. But you mr. bush you and your friends, you can't possibly for one second feel the weight of a dead Iraqi child, the weight of a dead American soilder, you can't feel that weight. If you did, you wouldn't do what you do. And for shame on you. You make me feel a bit sad for being an atheist. I think I would feel a little bit better if I really did believe in hell as I am sure if there was a hell you would surely burn there for eternity for your sins.

current mood:
discontent
current music: various artists- for the lady
Thursday, December 23rd, 2004
---
1:33 am
Wednesday, December 22nd, 2004
---
11:49 pm - The End.... for now
So I am sure all of you are just dying to hear all about the final hours of my first semester at The New School so here goes....

I woke up at 9am, whipped up a balanced healthy breakfast and lots of coffee to get me through the morning. Then I did more research, way too much research. I ended up not needing half of it. The next thing I knew, it was 1pm, my train leaves at 4:37 so I was calling it close. The pressure was mounting. I typed up half the paper in the last half hour. So it is 4 at this point and I realize that I still haven't typed the bibliography. I print up the paper and decide to worry about the bibliography later. I leave the room to grab something and when I come back I find that I had accidentally used already printed on paper. EEks, I run downstairs to the basement, praying there is still comp paper. I scury back up, print up another copy and dash out the door.

I arrive at the train station with just a few minutes to spare and there is a lady trying to charge her tick but the machine won't accept it and it is taking forever. I hear the train coming and there is a woman behind me. Just as I start my order the train pulls up, I yell to them to please wait my tick is printing. I run over and the lady behind me doesn't get the chance to purchase her tick. When the train conductor tries to collect the extra fee she tells him what happened. He is belligerent and rude back to her. I get involved and back up her story. It isn't her fault that this lady kept trying to use her credit card and was holding up the line, it wasn't her fault that radburn only has 1 machine, not enough for the # of customers that come through, nor is it her fault that the train arrived about 2 minutes early today. Then a fellow conductor got involved. The funny thing is, I was unusually calm and even toned. It was a really weird few moments, harder to articulate than I thought it would be. All these people on the train come to our defense and start grumbling about the nj transit monopoly and in the meantime these two guys were practically verbally abusing and harassing us. They were so nasty. Then the weirdest thing happened, the black conductor kind of mumbles something to the chick and she starts to shake her head and smile and the next thing I know it is her stop and she jokes to him as she gets off, making some comment about how it's time to throw mama from the train. I was almost more pissed off at her than them at that point.

So while I was on the train i decided that I would hand print my bibliography and explain I ran out of paper, a half truth of a sort. I do that and show to class. My prof had promised goodies to all those who took that later of two presentation dates and she delivered. We had a bottle of red and a bottle of white wine, assorted cheeses, crackers, bread, and lovely grapes. By the time my turn to present came around I was very buzzed. i think my paper sucked and I rambled but it is over now. As I went to leave and wished her happy holidays etc. my prof kind of did this weird little motion like she wasn't sure if she should par my arm or what so I gave her a half arm hug. I was damn touched cause I didn't think she particularly liked me. When I came home and checked my e-mail she had sent out an e-mail to the class telling us how we were great students and a credit to the program etc. and how she wants us all to keep in touch. It was the first time a prof ever did something like that and I really appreciated it, especially coming from the head of the program. Anyway, as much as I think my paper sucked I don't think it worse than the first which I received a B on so I am not going to have great grades but I figure I'll have a solid B average. Not bad for my first semester. I am just so damn glad that it is over.
Tuesday, December 21st, 2004
---
9:13 pm - Sweet Freedom
Good lord I am so close to the end. It is almost painful. I am slightly ashamed that I have not even come up with a topic for my political communication paper yet. I was going to do it on the effect protesting the Iraq war has had on celebrities but I can't come up with a good thesis for it. Also, I have been researching that topic all week long and I haven't really found anything on it anyway. Just a bunch of news articles. There seems to be absolutely no academic work on it at all which makes it a little more difficult too and any other ideas i come up with are just too damn broad and would require way more research than what I have time for. I don't want this to be a crappy paper because it is the most heavily weighed one of the semester and so far I have a B and a B+ in the class and I would like to get a B+ average. Ugh. What sucks is that she is by far the hardest grader I've ever had and that includes my other grad school classes. Ugh. if there is a god, I hope he gets me through this.

current mood:
anxious
Sunday, December 5th, 2004
---
6:40 pm - Life sucks
something is wrong with my folks pc. The sims2 (which I bought a scant week ago) isn't working. The comp more than meets the minimum requirements for the game so I don't know what's wrong. I'm sad. I will now go do work for school. In the meantime, look at this- of all the gay people to be, she is pretty kick ass.



Which Famous Homosexual Are You?
Brought to you by Rum and Monkey
Wednesday, November 24th, 2004
---
1:43 am - Accidents happen
The cliche goes, "you are only human" well what if you are a cat? Misha shat on my parent's 6 thousand dollar carpet this evening. I am heart broken. It is unfortunate that Misha loves to defecate on very expensive Persian carpets. This isn't his first time doing this. He liked to do his little deeds all over my old house but I was able to forgive him since my family moved to that house while I was away at school and i was not able to properly train him. And once an accident is made it is pretty much impossible to keep an animal from going in the same place. Perhaps it is because he is a Persian cat. Perhaps he prefers high quality, hand made, silk carpets to his little dome shaped litter box. Whatever it may be, this is his first and last offense in the new Monfared home with the new 19k worth of furniture and 12k of carpets. Misha is now doing hard time- a life time sentence in my bedroom.

At first I freaked out at my folks unfairly. See, I keep the litter box in my room upstairs and there really should be a litter box on each floor but my folks weren't keen on the idea of the litter box being on the first floor. Of course, that doesn't matter now. They can never trust my Mish and I don't really blame them. I felt a bit guilty about locking up the Mish but my sweetie assured me it was ok. Afterall, my bedroom is almost as big as a studio apt. I'll just have to buy my little prisoner some more toys, maybe a window seat.

When I was trying to switch my room around on Sunday, I asked my dad to help me pull my cable wire out of this hole it was stuck in so I could move my tv. Well, my dad just chopped of the one end and told me I could buy a replacement for the severed piece at a radio shack. And I stood there, with the decapitated cable in my hand. Holy crap, no tv. It was too late on Sunday to find the piece, and Monday I was running around for school, trying to get a whole bunch of stuff taken care of so I could register. I spent a good portion of this morning cleaning my room, doing laundry, catching up on school work and had just enough time to swing by the mall before my train departed for class. Well, turns out GSP no longer has a radio shack and so I am 3 days without cable. Crazy that I lasted that long.

So I sat in the family room tonight, without the Misha, and watched "family guy" In a rich stroke of irony, the episode happened to be about the dog having accidents. It turns out that Brian was repressing his love for Lois, the mom/owner. Could this be Misha's problem?? Could he be in love with my mom? And would that make me Meg? EWwwww.

current mood:
disappointed
current music: The Shins
Friday, November 12th, 2004
---
3:27 am - A Glutton for Punishment
Why oh why to I procrastinate soooooo much? Now I know many who would be quick to judge me lazy and offer that up as an explanation and I have considered that myself a few times but that is the wrong assumption. You see, I still end up having to do what I have to do and putting it off doesn't keep me from work, just makes it a more stressful and sometimes more time consuming activity. It would have been way easier on me if I would read a few pages here and there of my assigned books at my leisure. No, instead I try to cram them into three days of reading. And to make matters worse, these books are of such importance in my field that I know they will be required reading as some other point, at the very least they will be referred to over and over again. Well to make a short story long, I had to do a simple midterm based on the crap I learned this semester, only 500 words for each of 2 questions. I should have been able to do it in my sleep. The unfortunate thing is that I really learned NOTHING in this class. Yes, I didn't read the books but he never actually assigned readings or a time to have the books read by. Nothing. Just read these books and have fun. I think you can understand my problem with that. To make matters worse of course his lecture SUCKED. Still, my political comm class rocks and my research methods class is decent. I guess one sucky class isn't that bad. I digress again. Well I did my midterm, e-mailed it a day late. I guess I will have to bust my ass on the final.
So I finished my paper at 3am and now I want to party or celebrate or something. Why is it that I have the most energy at the most inappropriate and inconvenient times?

Back to the books. Well at first when I reading them, they sucked but after awhile, I kind of got into them. There are little gems of info buried amongst the esoteric crap. Now I have to find the time to read them for real.

current mood:
accomplished
current music: Erin McKeown
---