9th January, 2005.
11:21 am.

i won't cross these streets until you hold my hand...
I won't be updating for a while. Some stuff is going on that I'd just rather not talk about. So since this is going to be such a difficult time for me, I think it'd be best if I didn't write in here. I don't want anyone knowing my business. I might start updating again when everything is okay again. SO... au revoir for now.
Current mood:
depressed.
Current music: Yellowcard- Only One.
11

Can I be your memory?
23rd December, 2004.
11:54 pm.

FRIENDS CUT!
Most of the people I cut didn't update or switched journals. Just comment if you want to be readded.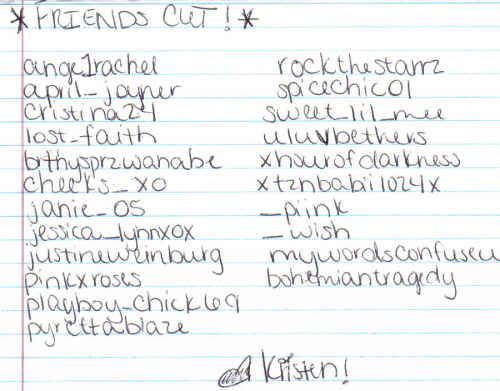 Current mood:
sick.
Current music: John Mayer- Comfortable.
11

Can I be your memory?
5th August, 2004.
11:47 pm.

Friends cut =[
_kristenxo
suspended
mishwish
never updates or comments anymore =[
heart_br0k3n
I have no idea where you went... =\
lilberger
I don't know if you ever updated or commented after I added you.
back2black
Personally, I don't like you.
kidasterix
I'm not on your friends list.
x_just_br3ath3
Where'd you go?
spoiled23702
... Don't remember who you are?
I think that's all for now. If you come back from the dead just comment and I'll add you back!! =]
Current mood:
bored.
34

Can I be your memory?
3rd July, 2004.
11:04 pm.

Friends Only!!

Oops. No peeking!

Rules
01. Be nice. =]
02. Comment & Update
03. At least try to sound educated.

Comment to be added!

♥
Current mood:
excited.
Current music: .
63

Can I be your memory?