Saturday, February 5th, 2011
---
3:09 pm
no motivation to study for macro :)
oh well!

current mood:
giggly
1:17 am - Where Did U Go?
曾看著同星空 閒聊吹風 看日出多心動
曾每日纏一起 傻傻講起 能愛到下世紀
怎麼你俘虜這個心 卻抽身退隱 不再親近
獨自苦等 仍然空等 難藏淚印

看著 電話中短訊
聽著 錄音的口訊
昨天的你哪天再接近

Tell me where did you go?
心聲都不可細訴
Oh tell me baby where did you hide?
辛苦都未被諒解
Where did you go?
數數多久不碰到
我在每夜 徹夜狂想 Where did you go?

而這夜月光中 再見影縱 再獻花多感動
而似蜜甜的心 明明開心 為何又驟降溫
怎麼你一下子抱緊 卻一下子轉身 不再親近
獨自苦等 仍然空等 難藏淚印

看著 電話中短訊
聽著 錄音的口訊
昨天的你哪天再接近

Tell me where did you go?
心聲都不可細訴
Oh tell me baby where did you hide?
辛苦都未被諒解
Where did you go?
數數多久不碰到
我在每夜 徹夜狂想...

Where did you go? Where did you go?
怎會當這刻我需要你 你卻沒在我身邊
Where did you go? Where did you go?
這秒鐘很掛牽 你卻不可感覺到
Where did you go?

current mood:
happy
12:09 am - ♥
This is one of my favourite pictures that I have come across on the internet.
I have no idea where it is from, but it is not my original work.




Although I wish I made something like that.
I wish I could give credit where it is due, because the original creator did give me a different outlook on certain aspects in life.

Thank you :)

current mood:
happy
Friday, February 4th, 2011
---
11:06 pm
:) bioltech 2 midterm is done!

current mood:
happy
Wednesday, February 2nd, 2011
---
11:15 pm - blurty personals!
does anyone else remember blurty personals when they were featured on the blurty front page?
maybe i have been on this site for way too long!

it's funny - i remember reading those when i was younger and i thought that the people who posted on these personals were the smartest and wittiest people i have ever encountered.
smartest and wittiest for a 14 year old anyways.

current mood:
okay
11:07 pm
i dont know what to think of anything anymore.
this last year is really taking a toll on me..
with grad school applications and worrying and everything in between.

hahaha. it seemed like just yesterday when i started this journal in the 9th grade... and now i'm thinking about post graduate studies.
Wednesday, January 26th, 2011
---
1:05 pm
hmm where are you?
i've been trying to get in contact with you for the past while now..
it's so odd for you to not respond :(
Thursday, January 20th, 2011
---
3:02 pm
:(

current mood:
stressed
Thursday, January 13th, 2011
---
10:55 pm - 2011.
happy new year everyone :)

another year for emily and blurty.

current mood:
happy
Thursday, May 7th, 2009
---
1:15 pm - 餘震 - 張敬軒
離去的 如廢墟中得救光榮地脫身
遺棄的 任水深跟火熱撲向一個人
共妳再戀早知是餘震 讓重傷的心再添缺憾
還剩低的寄望最後也犧牲

# 妳的吻 像龍捲風吹過 怎可對抗這吸引
身貼身 如海嘯沖擊我 使我向下沉
再走近 是我完全難自禁
就算知道實在太愚笨 到底一刻也算是緣份 #

天地淪陷 餘震是痛苦中 一絲興奮

懷緬的 如美景一幅那災情未發生
期盼的 是彼此不傷害卻已不可能
共妳再戀早知是餘震 讓重傷的心再添缺憾
還剩低的寄望最後也犧牲

Repeat #

仍然願靠近 誰又理朦朧夜裡 天沉地暗

Repeat #

天地淪陷 餘震是浸沒痛苦中 一絲興奮
餘震是靠在妳掌心 永遠被困

current mood:
okay
Sunday, April 5th, 2009
---
1:38 pm - 櫻花樹下: 張敬軒
樹蔭有一隻蟬 跌落你身邊
驚慌到失足向前 然後撲入我一雙肩
現你腼腆一臉 像櫻花萬千
懷念美好高中兩年 期望你的青春不變 去到今天

還記得櫻花正開 還未懂跟你示愛
初春來時彼此約定過 繼續期待
人置身這大時代 投入幾番競技賽
曾分開 曾相愛 等待 花蕊又跌下來 
才洞悉這是戀愛

未有過的愛情 但有種溫馨
歸家那單車小徑 沿路細聽你的歌聲
沒法再三傾聽 你的感動匿稱
維繫錯的一番友情 無奈已經不可糾正 太過堅貞

還記得櫻花正開 還未懂跟你示愛
初春來時彼此閉著眼 渴望未來
人置身這大時代 投入幾番競技賽
曾分開 曾相愛 等待 跟你未愛的愛
你說悲不悲哀

妙在之間變改 小小世界
眷戀 也許走不破 拆卸的街
仕女亦隨年漸長 走得多麼快

如有天櫻花再開 期望可跟你示愛
當天園林今天已換上 滿地青苔
如有天置地門外 乘電車跨過大海
匆匆 跟你 相望一眼沒理睬
明日花 昨日已開

current mood:
happy
Friday, June 6th, 2008
---
9:45 pm - Phone :D
My new phone is hereeee :D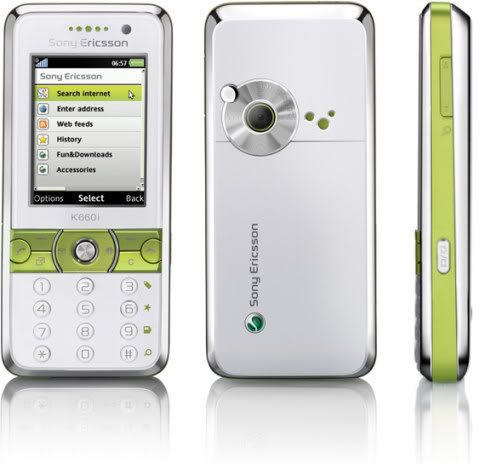 current mood:
ecstatic
Tuesday, May 6th, 2008
---
9:52 pm - Day 2.
A micro-filled day with microeconomics and microbiology!

My prof for microeconomics is pretty awesome.
Javier Cuenca.
It's Spanish! And he has the best Spanish accent, which makes me want to listen more than usual. I love accents! :D

On the other hand, microbiology bored me to death.
The material is interesting, but the prof bores me to death.
I wish I had that class right before I went to bed, it'd make me fall asleep within 10 minutes.

After class, I had lunch with Melanie and we laughed and talked like always :D!

current mood:
happy
Monday, May 5th, 2008
---
3:36 pm - Misadventures.
An 8:30 a.m. macroeconomics class on a Monday morning marks the beginning of my 2B term at Waterloo.
I left early to make sure that I can get a good spot on the first day, since almost everyone goes to class on the first day ;) And I did get to the building about 15 minutes early, only to realize that I could not find an entrance to the psychology building. It took 10 minutes to walk around half of the building, and I finally found an entrance after going down a set of very steep stairs. Needless to say, I spent another 5 minutes looking for the classroom.
Then, I got let out within 20 minutes of a 80-minute class.

Quite a boring day!
But I went to the mall afterwards to get some odds and ends that I needed, which was fun! :)!

current mood:
happy
Saturday, April 12th, 2008
---
1:05 pm - Things lately.
So what has Emily been up to lately, other than counting down to the final days of her co-op placement?
Well, I have been going crazy collecting stats for my work term report and I have been trying to finish that before the end of April, since school starts again in May. I don't think many people understand the whole '4-month alternating between co-op and school' deal that Waterloo has going on, and most people are surprised when I tell them that we have 3 semesters in a year instead of the usual fall, winter, summer inter-session and summer school.

Meet Happy Hen: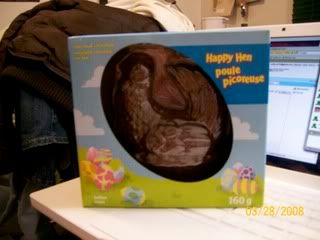 I bought Happy Hen at Shoppers when all the Easter chocolate went on sale two weeks ago, but she has been sitting in my room ever since. The thing is, I am attached to Happy Hen, I suppose if she was "Easter Hen" or "Mediocre Hen", I wouldn't have been attached to her. But I would feel bad eating something that's happy. :(
So I don't know what to do with her.

ANYWAYS.
When my friends and I went out for sushi, we ordered something called "Salmon Lover". We were told that salmon lover was basically rice wrapped in a piece of salmon with mayo and some other topping on top, so we were expecting something like this to be brought to our table: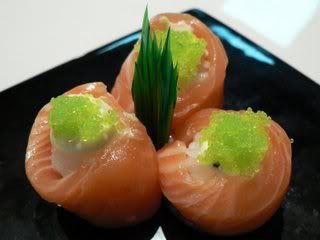 And that looks delicious, doesn't it?! :D
But this is what we got instead....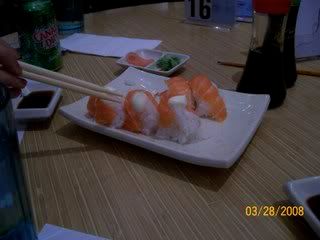 Hahhahaa. Nasty. Needless to say, we were pretty disappointed, but what else is new at Ye's?!
We went to Ye's in Waterloo. It's not that good of a restaurant, but it's always, always packed! I suppose it's the next best thing next to nothing! Since it is the only asian sushi place around here...

current mood:
happy
Monday, March 31st, 2008
---
8:40 pm - Countdown to freedom!
Where did spring go?
It's the end of March and I still see snow piles outside my window. It's dark and chilly and it doesn't look like that any of this will stop soon :(!





This is what I have been looking forward to all my life -- FREEEDOM!

Freedom is actually the end of co-op, I feel as if I have been robbed of all freedom since it started.
I have to wake up at 7:30 every morning and be at work by 8:30. What's worse is that I can't sleep in anymore! Even if I go to bed by 1 am, I find my natural alarm waking me up at 8 am. Awful!

OOOOOOOOOOOh well!
I just can't wait until the end of April :D

current mood:
happy
Friday, February 1st, 2008
---
8:04 am - Happy February!
Good morning everyone!
It's 8 o'clock and the morning and I am the happiest person alive!
( Read more... )
I heard my supervisor talking about a possible day tomorrow and that got my hopes up. But knowing that my life is full of non-happening snow days, I doubted it.
Anyways, I seriously could not sleep last night!
I went to bed around 11:30 pm, woke up at 2:30 am to check if the storm has started yet. There was no snow, but I decided that there was still another 5 hours until I had to wake up, so I went back to sleep.
Woke up around 5:30 am again to check again, still no snow storm!
I mean, I did read on the news that it was only supposed to snow a little bit over night but a lot in the morning.
By this point, I was getting pretty pessimistic, but I still decided to give it another 2 hours until I HAD to wake up by 7:30 am. So after another sleepless two hours, I woke up and checked the UW site, and THAT IS WHAT IT LOOKED LIKEEEEE! So I thought I'd take a screen shot and share my joy with everybody on this snowy February morning.

The snow storm is now here!
And I can't go back to sleep because I am still not over the fact and excitement that there is NO WORK today!

current mood:
ecstatic
Thursday, January 10th, 2008
---
2:53 am - The 10 year plan.
Um.
I am really not sure about anything anymore, and I know I only write when I feel like this.
What is it, really?
What do I believe in? Do the things that I used to believe in still hold true?
If it never did, then why did I believe in it in the first place?

Is there only one thing?
Or many different things depending on what stage of life you are going though?

All I can do is take it a day at a time, even though I have a rough idea of how I would like the future to be like.
But I just can't see anything good happening for me.

I am actually not certain about anything. It's quite depressing, actually.
All I know is that there are certain things that I need to get done and I am not sure if I can still hold out like I used to be able to anymore. I guess I over estimated myself, I over estimated what I can do.

There are people that I am sure of, but I can only take that a day at a time as well.
So, all this basically leaves me wondering why I am taking things one day at a time even though I am sure of what I want to happen in the future.

Talking to Melissa about the 10 year plan really doesn't work well for anybody! Hahaha.
But I talk about it anywayssss.

- emily

current mood:
confused
Saturday, November 24th, 2007
---
6:53 pm - the end!!
to anyone who still reads this, i am sorry for the lack of entries for the past little while.
but this blurty has become obsolete.
it's not personal & will no longer give anyone an accurate sense of me.

i started this when i was 14 & i have been at this for 5 years.

i have outgrown my own writing. i have outgrown this journal.
the entire journal has been wonderful.
being lost and searching for the things that would make me happier than the day before.

thank you for being with me.
i hope to see some of you over at blogspot.

- emily

current mood:
happy
Tuesday, November 13th, 2007
---
8:06 pm