Monday, December 6th, 2010
---
11:51 pm
11:50 pm
Wednesday, November 4th, 2009
---
7:13 pm - RIP DOLPHIE
There's no good, funny, or easy way to post this: after a brief illness, Dolphie passed away at home on September 29, 2009. She was buried in the yard with her Ugly Doll with all due ceremony. She and Girl were together for almost 15 years. Life as we know it will never be the same.

RIP Dolphie. When Bast made you, she broke the mold.
Thursday, July 30th, 2009
---
10:50 pm - Space Oddity
Meow Control to Baby Tom
Meow Control to Baby Tom
Take your Pouncy Treats and put your helmet on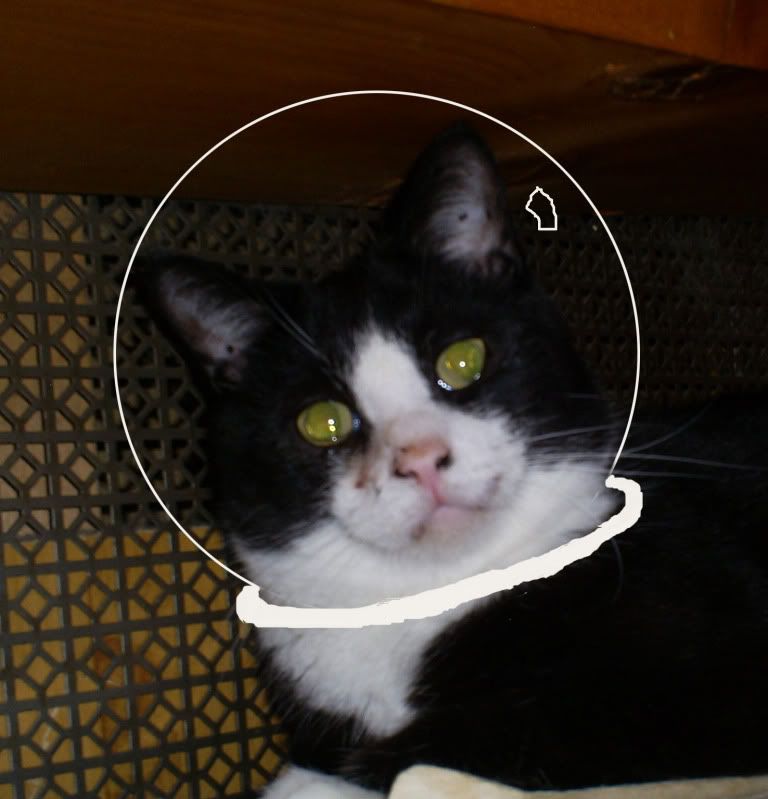 Meow Control to Baby Tom
Commencing catdown, purr engines on
Check your whiskers and may Dolph's love be with you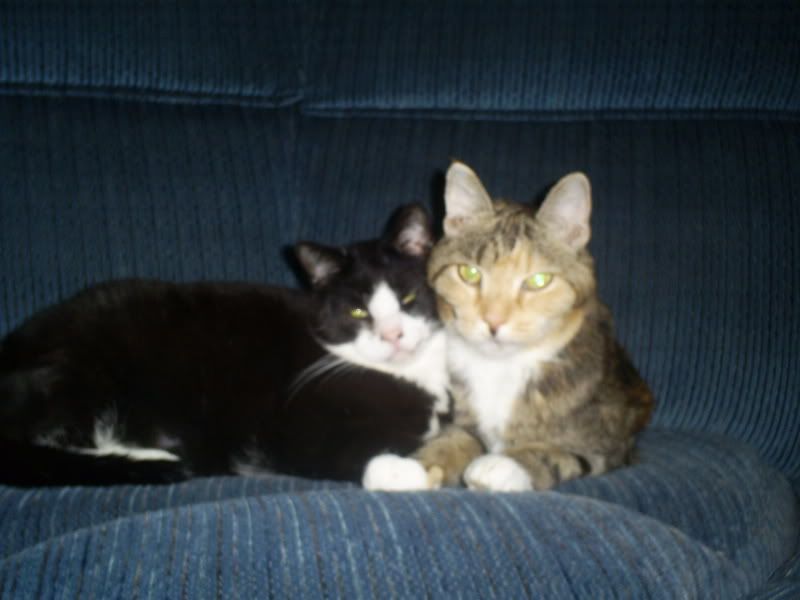 Ten, nine, eight, seven, six, five,
Four, three, two, one, liftoff




This is Baby Tom to Meow Control
I'm stepping through the door
And I'm floating in a most peculiar way
And the floor smells very different today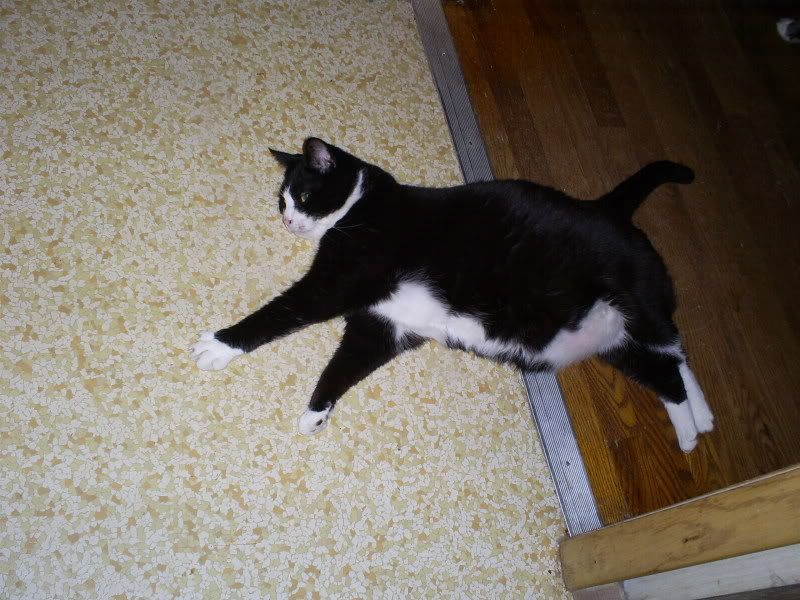 For here
Am I licking on a tin can...




...Fatter than the world...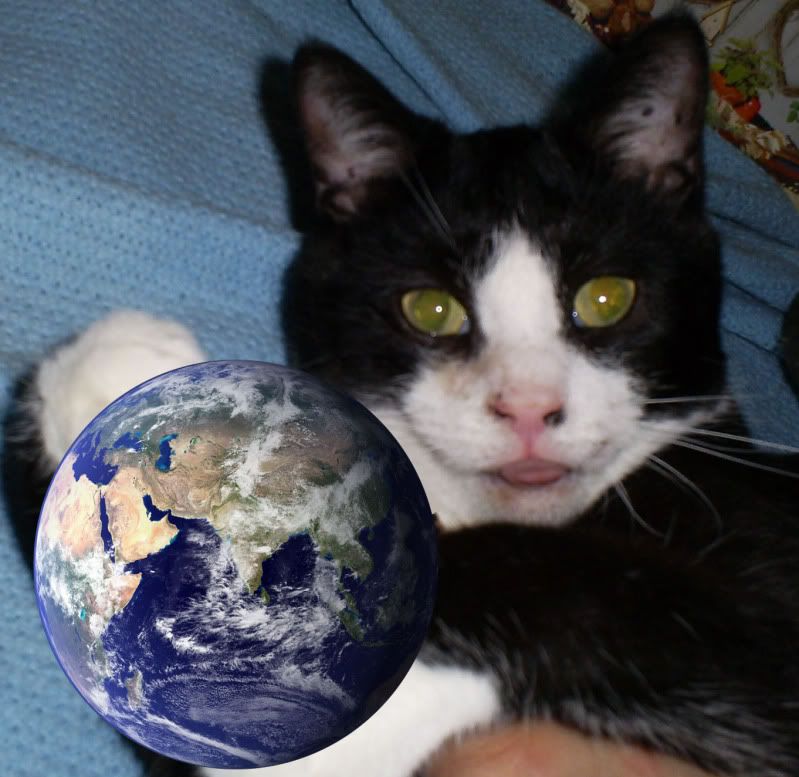 Dolphie's belly's white
It's a very pretty sight

Though I'm past one hundred thousand pounds
I'm feeling very thin
And I think the catfood knows which way to go
Tell my Dolph I love her very much, she knows...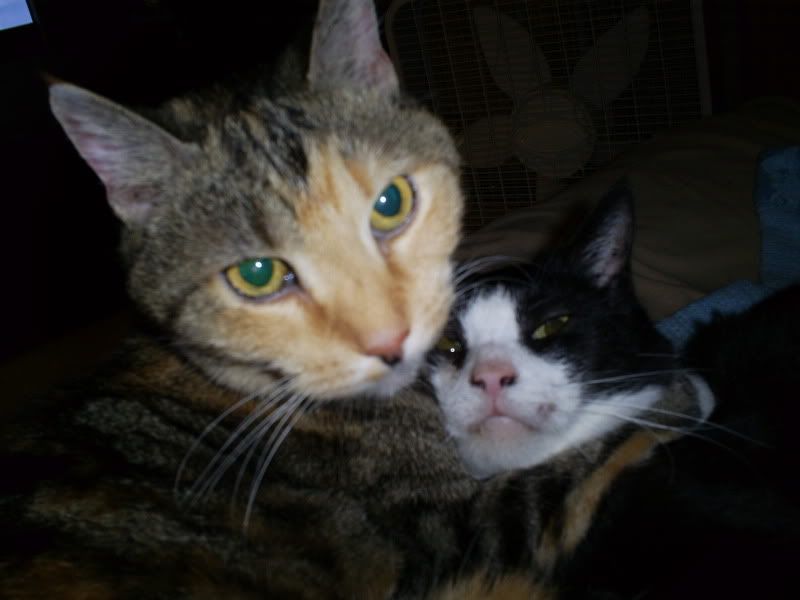 Meow Control to Baby Tom
Your butt is huge, there's something wrong
Can you hear me, Baby Tom?
Can you hear me, Baby Tom?
Can you....



Here am I licking out my tin can
Rounder than the moon...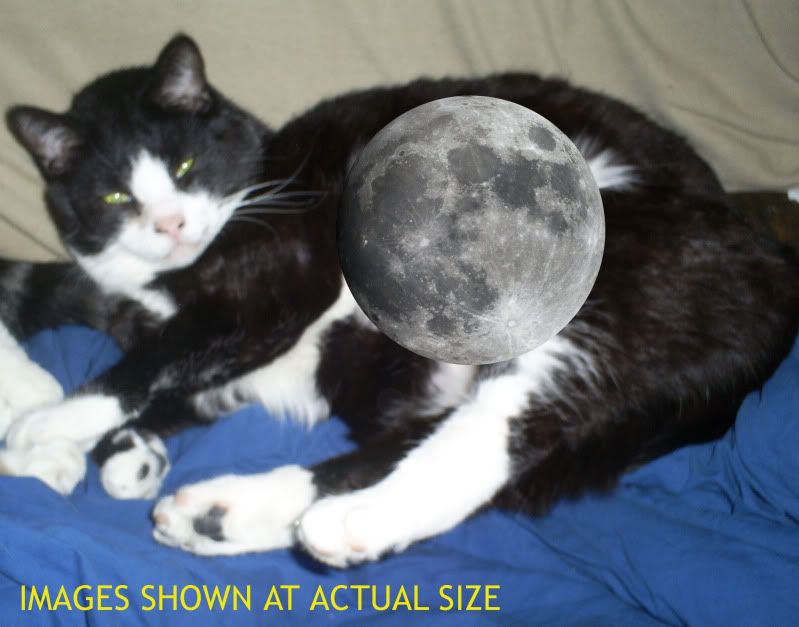 Dolphie's belly's pink
And it makes it hard to think...

Apologies to Mr. Bowie

current mood: spaced out
current music: Those mellow fat cats put my spine out of place...
Sunday, December 21st, 2008
---
12:40 am - Bad Santa
Girl: Look who's here! It's Santa! Baby Tom, tell Santa what you want for Christmas!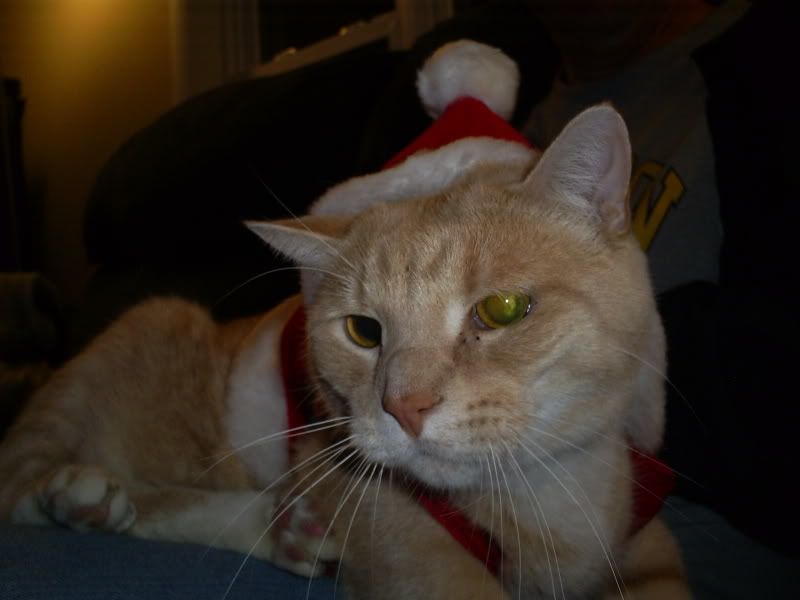 Jet: I'm on my fucking lunch break, OK?
Baby Tom: You are really Santa, right?
Jet: No, I'm a cat. I wear this fucking thing as a fashion statement, alright?

***

Girl: The reindeer, Santa. How do they sleep?
Dolphie: What is it with you, anyway? Somebody drop you on your fucking head?
Girl: On *my* head?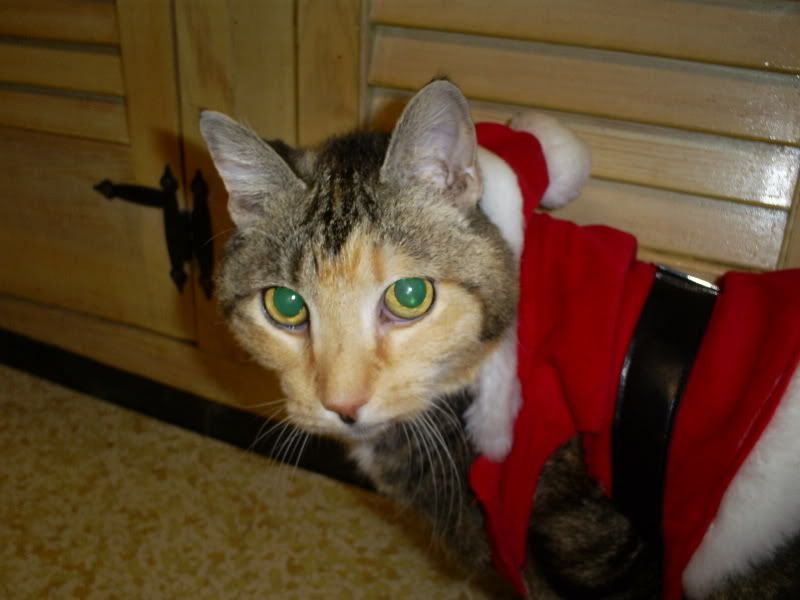 Dolphie: Well, yeah. What, are they gonna drop you on somebody else's head?




I just ate an elf, y'all! So now I'm full of the holiday spirit. ::burp::

Merry Xmas and send gifts!

Three ho's,
Dolphie

current mood: Merry
current music: Jet's Nuts Roasting on an Open Fire
Monday, October 20th, 2008
---
7:25 pm - President Jet R. Bean responds
Jet R. Bean, President of the Itty Bitty Shitty Kitty Committee, has decided to face rumors of his homosexual misconduct with my lickin' stick, Tommy. Mr. Jet claims that he is not, in fact, gay, as alleged, despite photographic evidence to the contrary. He just has a wide stance.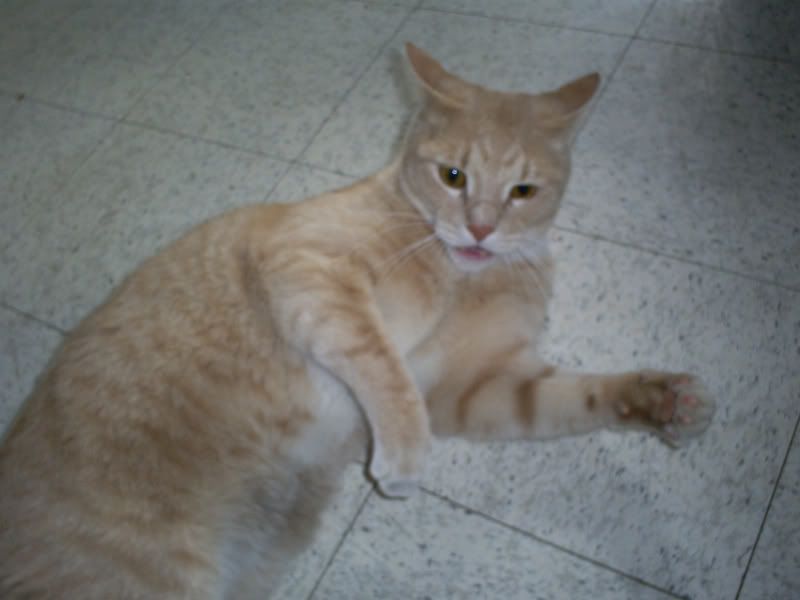 He does not appreciate this slurs on his character, and blames the liberal elite media for publicizing his innocent romps with Tommy. He plans on retaining his seat as President and running for a second term.

All I have to say to that is...




Missionary position, bitches. MISSIONARY POSITION.

Woodward and Bernstein, eat your hearts out,

Dolphie Ramus, ace reporter

current mood:
accomplished
current music: All the President's Men
Monday, October 13th, 2008
---
2:33 pm - News Flash Expose: Jet is teh gay!
Yes, you heard it here first, folks. From beyond the grave, Harley has turned Jet; so powerful was his gayness that even death could not stop it from doing its work. I have proof!

Here he is, mounting my poor little lickin' stick. Tommy is a bottom, it's true, but he's MY bottom, dammit!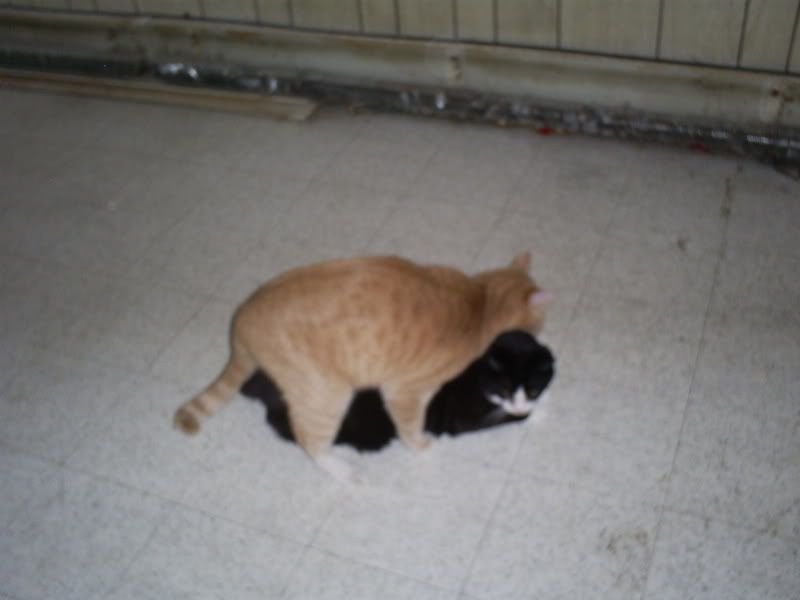 Look at his eyes, glowing in the hopes that I will come and rescue him from prison sex with an orange freak. Sadly, I was deeply involved with my own butt at that time, so I could not intervene on his behalf.




This is the rear view, so you can see the butt action.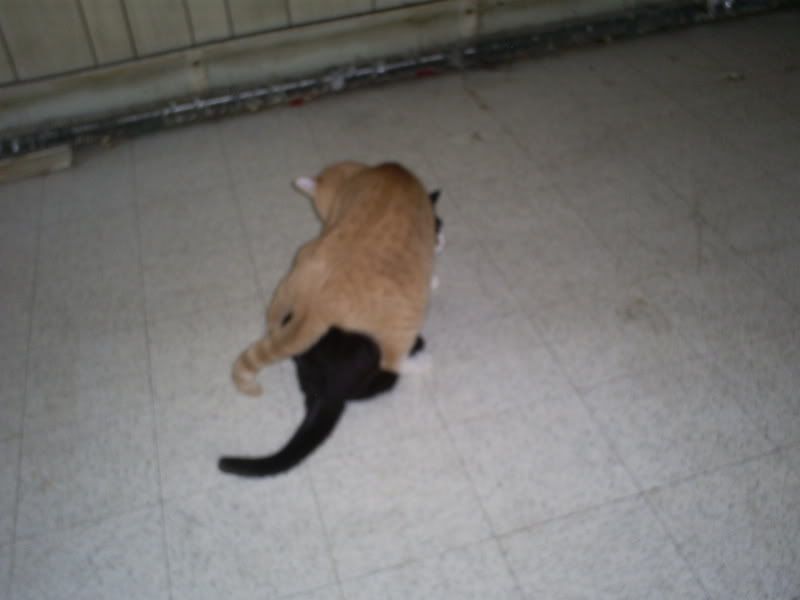 This has been a point of contention for a long time. Girl always said that Jet had such fierce (heh) hatred for Harley out of homophobia, because he was closeted and afraid that Harley's overt gayness would bring out his own. Boy denied it, of course. Such a masculine manly stud as him could never have raised a gay cat! Nooooo. Even though Jjjjjetttt had never seen another grown cat in his life before he moved into this den of iniquity... how could Jet have known the true nature of his own sexual orientation? Being thrust amongst the gayest cats in the known universe could have a transformative effect on an impressionable and slightly retarded but handsomely evil orange fellow. Thus, for once in her sad, pathetic life of wrongness, Girl actually got something right. That is one of the Seven Signs of the Apoopyclips. This is another one: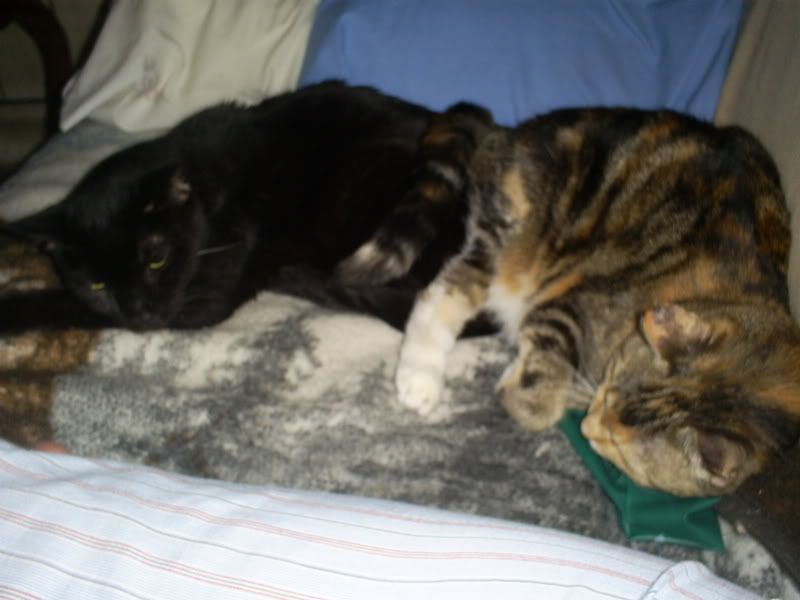 Yes, that's me, snuggling Shadow. It's hard to tell it's him because he looks like a black puddle of grease and not a cat, but it is him. If the internets were scratch and sniff, you'd be able to tell. Notice that I am putting my butt on him. Don't you think that's the best condolence I could offer him in his time of mourning? Now that he's a widower, he's been much more willing to worship my hawtness. Never let it be said that I am not magnanimous in accepting worship, despite the skeeviness of the source. I do still occasionally hiss at him and smash him in the face with my perfectly white paw, just to keep him on his little black toes.

At first, I was forlorn at what happened to my Baby Tom. My poor, innocent lickin' stick! How could you, Jjjjettt! I lay in the place where the violation was committed, alone, disgusted, feeling ill and not knowing what to do. The gulf between me and my loved ones was huge and alienating: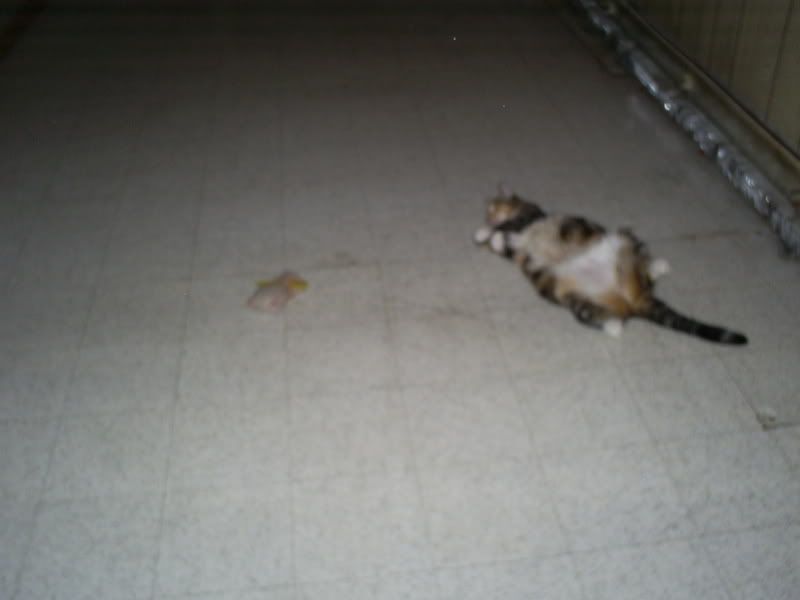 Even Ugly Doll offered no solace. I did not have the strength to reach across the gray, unmopped, filth-covered void that is Girl's dining room floor to grasp her redolent, nappy hideousness in my fragrant maw. But then she spoke to me and said, "Dolphie, do what you do best":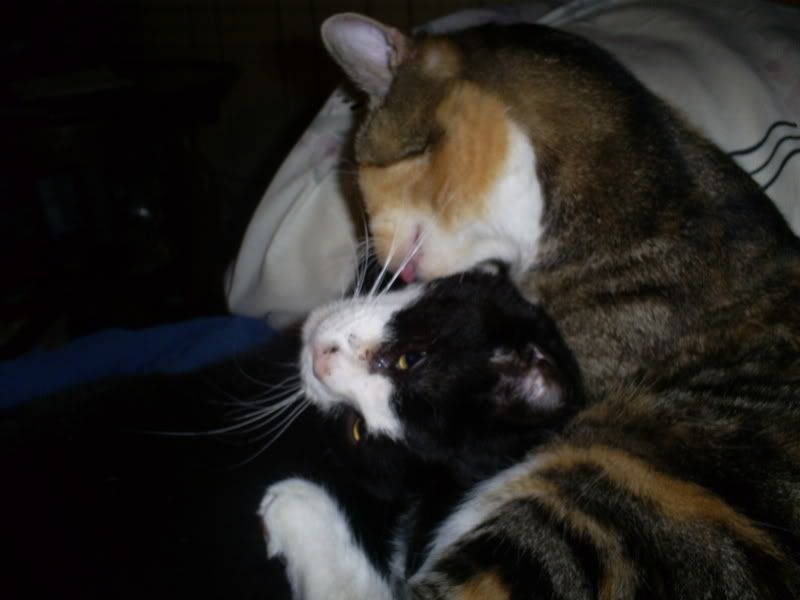 Lick lick lick lick lick lick!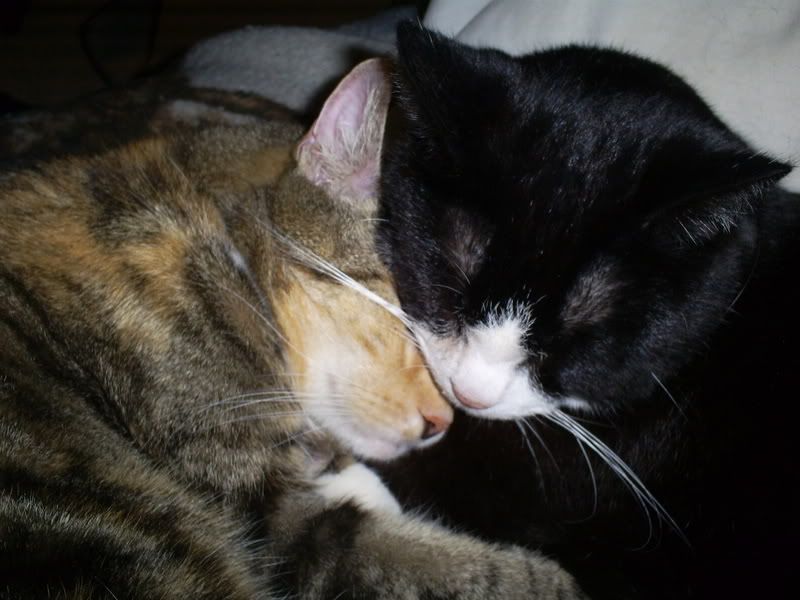 All better! He's barely even traumatized anymore. And he's definitely not going to catch teh gay either.

All your butts are belong to us,

Dolphie

current mood:
nauseated
current music: When you're a Jjjjettt you're a gay all the way...
Wednesday, August 6th, 2008
---
6:47 pm - Project RunCat, Season 1
Tonight, Project Runway is on. It is my favorite show because everyone is so bitchy and gay, it feels like I'm at home, except with (occasionally) beautiful clothes instead of the dirtbaggish ensembles that Girl and Boy wear. They are like, both such a HOT TRANNY MESS and I'm so fierce, I make Ferocia Coutura look like, well a tiny little pansy.

Usually, to celebrate that PRW is on, Girl has a glass of wine (or should I say, whine... 'cause she is AUF her rocker and I am IN the pink), but gives me no drugs whatsoever. It's not fair! So I decided that I would show her! I would make myself an outfit in preparation for my audition to the All Feline Project RunCat. Heidi Klum will say, "Either you're meow, or you're hiss!" And I Will Be Meow. Because my outfit is rad, and crinkly, and would cause a sea turtle to choke. It was inspired by Stella Zotis' Hefty Bag Ensemble from the season premiere. You all remember it, the whipstitched masterpiece she blew down the runway as if it were the Bowery in a strong wind: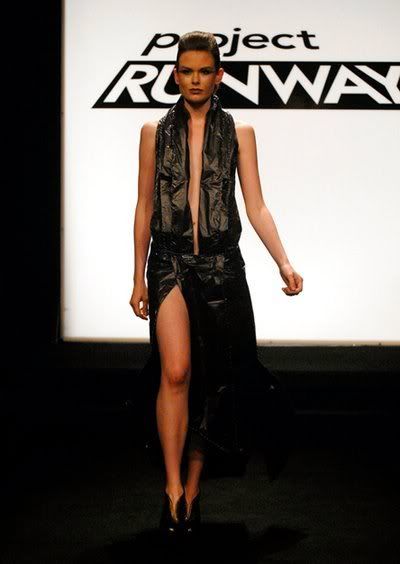 That was roll n roll, baby! I went into Girl's utility closet, which is full of plastic bags that she is saving to make into a hot air balloon, or a circus tent, or a sail for a plastic yacht, or something. Who knows. Anyway, I like to rifle through there periodically and throw all the bags on the floor and then lay on them, because I like the feeling of plastic on my butt. It's so cooling and industrial. That's when I realized that Stella was onto something with her plastic bag dress.

I knew right where the nicest one was, this slate grey and maroon charmeuse plastic that I'd been eying at Bad Mood, my favorite fabric store. I fashioned it into this avante garde bubble skirt with chest strap. I think of it as the Cheshire Cat meets Alexander McQueen at Home Depot. Front view (notice how the strap accentuates the whiteness of my chest fuffa):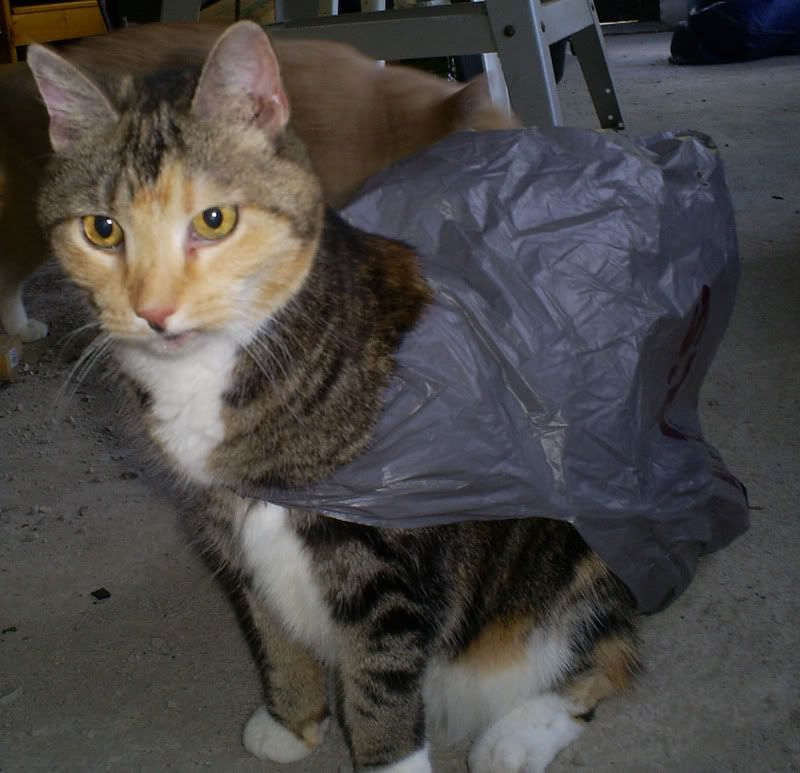 Aerial shot, where you can see the fullness of the skirt and how it drapes over my tail to create a voluminous silhouette: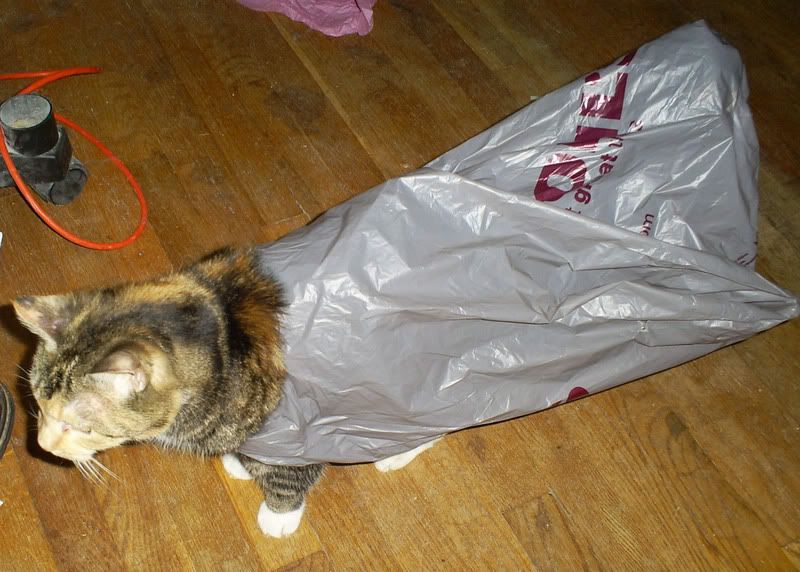 Rear shot, which illustrates the structure of the garment, and how much room I have for farting in it: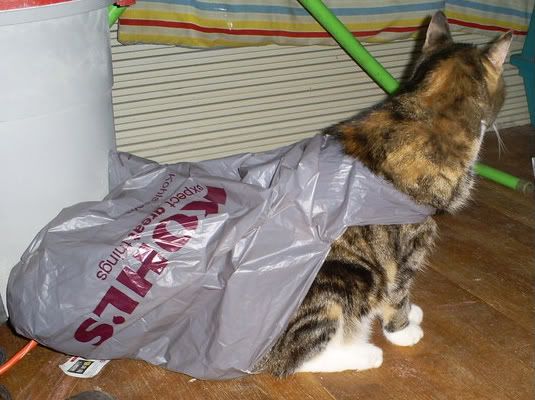 In the workroom, Maceo Gunn told me that he was a bit concerned. After all, the challenge was to create a piece of lingerie from Vicky S: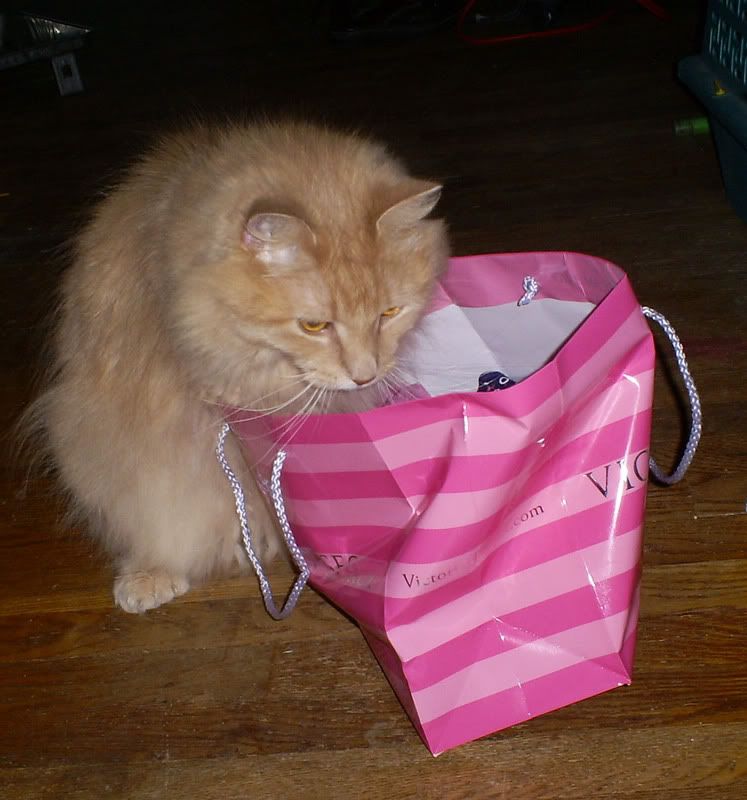 I told him that I thought my dress was beautiful. He wondered, "Will you be able to make it work?" I hissed at him. He advised me to accessorize heavily from the BotFly Accessory Wall: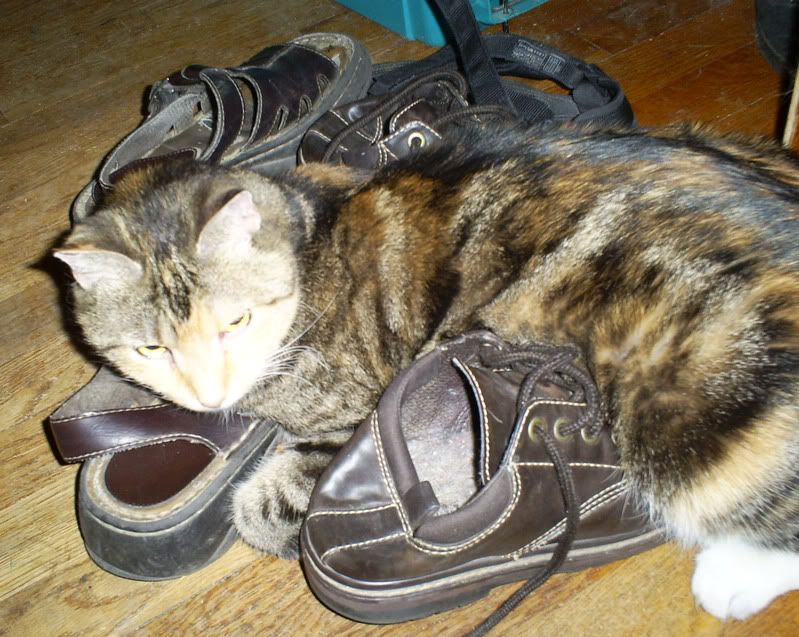 I said I would, as long as I could lay on the shoes and smell them. Mmmm, sweaty model feet. He said, "Carry on!" So I did. I am always carrying on, just ask anyone.

The judges reactions were mixed. I don't think they understood the vision for my garment. It's so underground and edgy that they could not grok its fullness.

The Duchess of Orange, at first, said it made him sleepy because it was very "Grocery Clerk of the Bride":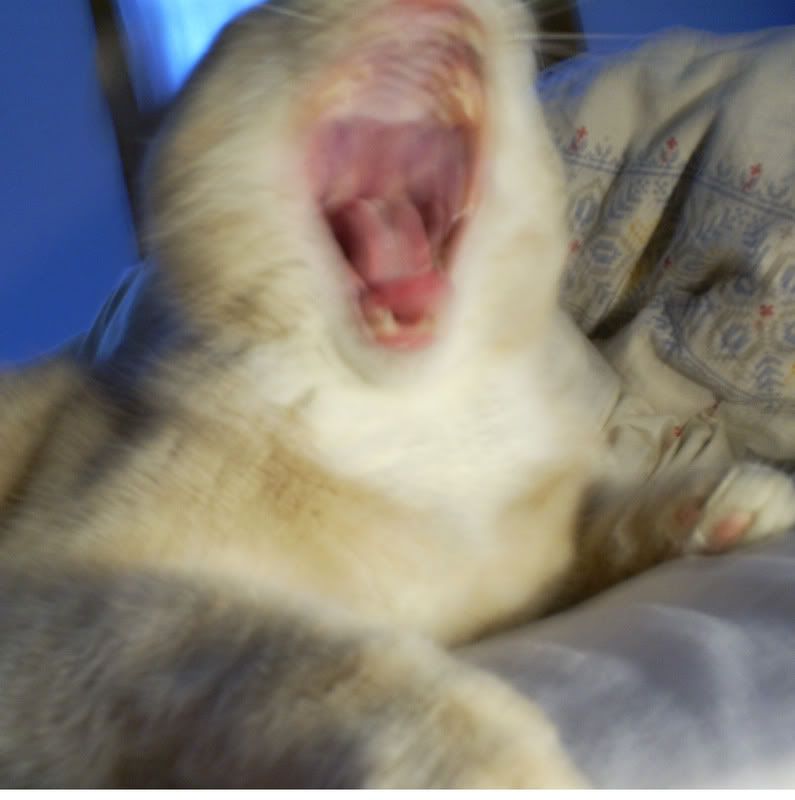 And then said he thought it was too much look, and that there was a lot of ass on the runway that night:




TansyGahzhia, aka Meana Godzilla, Fashion-Editor-At-Large-for-Fuffa-Magazine, tore it apart:




"Dolphie, while I see the influences of Bob Mackie and LaCroix, I don't find it very innovative." As always, she needed a creme rinse for those flyaway hairs.

And then, I committed the cardinal sin. I bored Shadow: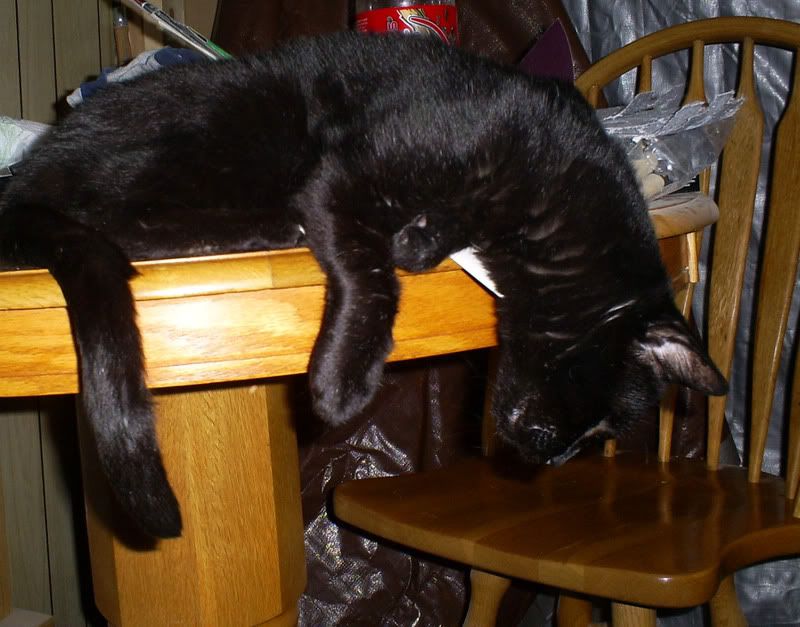 He said, "It looks like a plastic bag exploded on your ass."

But the guest judge, Chloe Sevigny, loved it. OF COURSE she did. Girl hates her and calls her Chloe Sofugly. I think she's just mad because Chloe turned Girl's grandmother's couch into a fashionable couture dress for the show: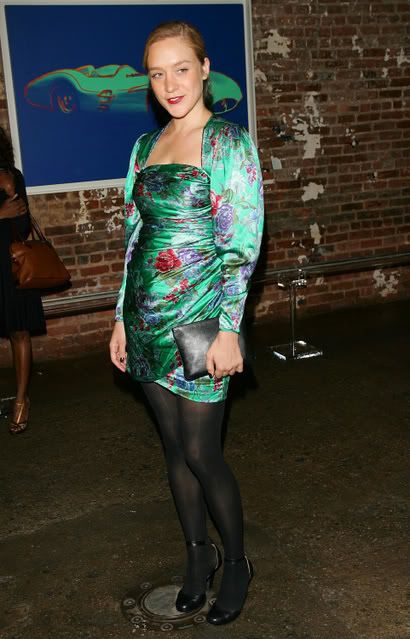 and made the doilies off the back of the couch into a chic and stylish hat: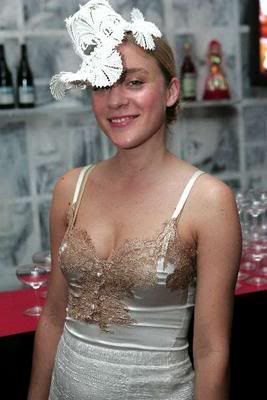 We also connected because she likes to run around in her underwear in public and I am BUCK NAKED except when I don high end plastic couture, so we understood each other's design aesthetic. Thanks to Chloe, whose excellent taste and fashion acumen trumped the tacky, wickety wack bullcrap of the other judges,

I WAS THE WINNAH! Congratulations, Dolphie! You will have immunity from the corny lameness of your cellmates for the rest of the week because of your unique plastic bag vision! Look for my fashion spread in the Kohl's circular, in your newspaper's supplement next week.

So, where's Tommy? I bet you're wondering "What happened to Tommy?" Answer: He's always wearing a very sexy tuxedo, with white gloves and spats, so this post and indeed, and the whole concept is not relevant to his fashion existence. ALWAYS MEOW, bitches: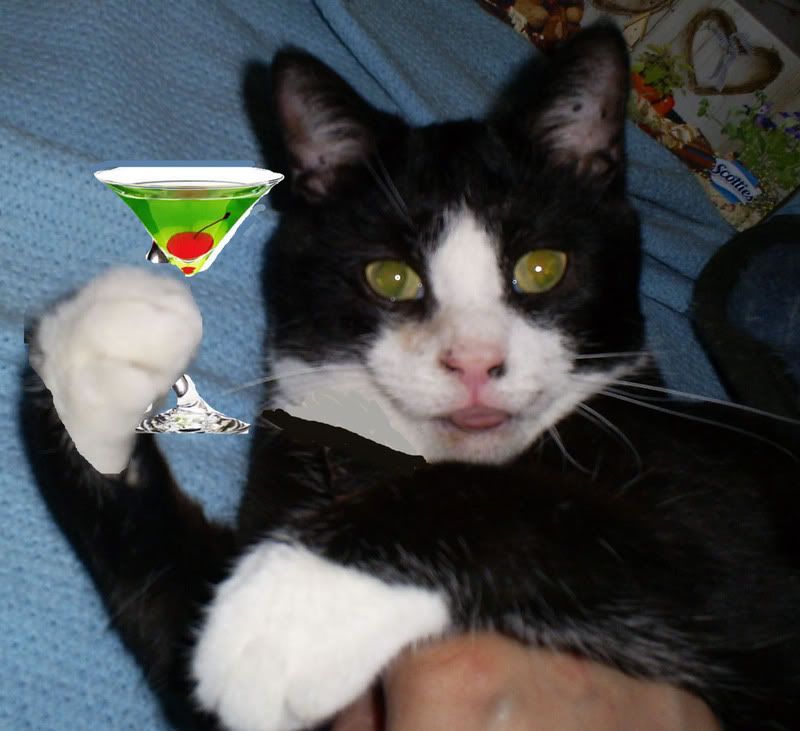 After my victory, to celebrate we will be drinking martinis at Red Lobster (in my dreams... in my dreams, we would eat scallops bigger than Tansy's ego and shrimp shrimper than Maceo's wilkins. Tim Gunn would also be there. Later, he would rifle through Girl's underwear drawer and make fun of each and every pair, then throw them on the floor, where I would promptly lay on them and roll around on them sensually, sniffing and rubbing. Then Uncle Tim would give me treats and tell me I was gorgeous and talented... ah, dreams!).

Next, I want Kim Vo from Shear Genius to put some lowlights into my fur. You know, brighten things up a bit. Maybe pink on the belly? Right, girls?

Until then, I am your Fashion Victimizer,

Dolphie Ramus, Kind of a Big Deal

PS--It was also fun to make Girl run around the house trying to catch me to remove the bag. Jealous!!!

current mood:
creative
current music: "Don't Let Dolphie on the Serger," Santino Rice
Friday, August 1st, 2008
---
1:36 am - FREE JETTER BEAN*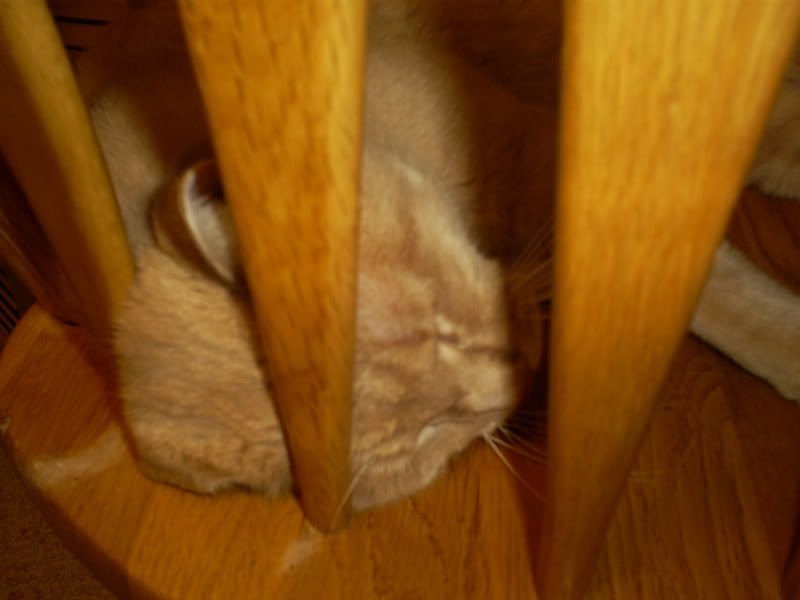 Filthy screws!




Attica! Attica! Attica!

*with purchase of another Jetter Bean at full price

current mood:
quixotic
current music: Jailhouse Rock
Wednesday, June 25th, 2008
---
9:53 pm - Harley's Friends
Some pictures of Harley with his friends (yes, he had them, somehow, probably because he let Girl HUG HIM DAILY, sometimes for whole minutes at a time without biting or scratching or meowing or anything sensible) for some unknown reason, and was incredibly loving and affectionate toward everyone, the simp):

I guess Harley was quite fond of Tommy. I think it was because Harley was cold, and Tommy makes an excellent lard blanket: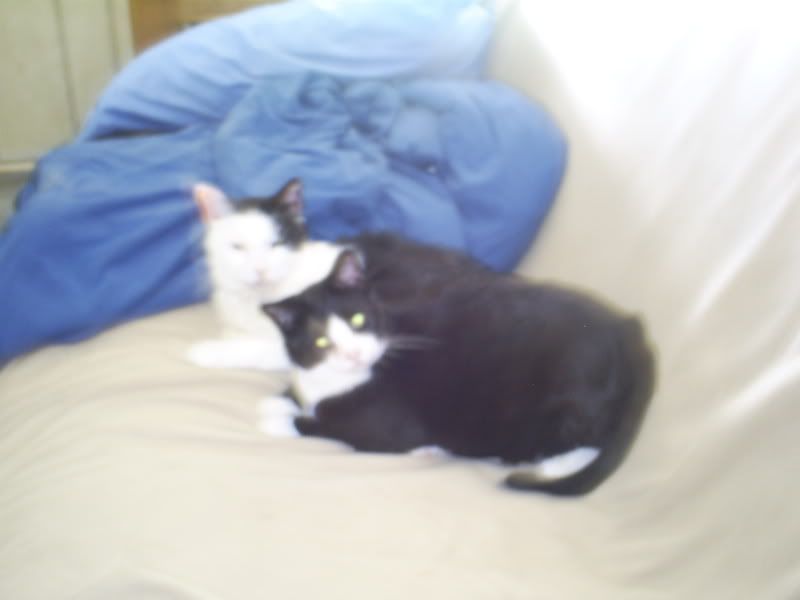 He started corrupting Maceo before his neck fuffa even grew in, the old queen: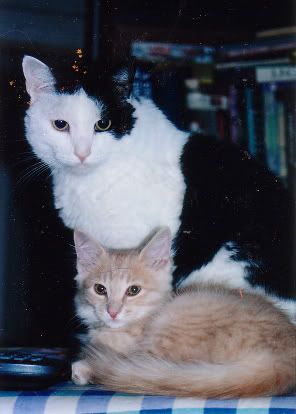 Achmed, Shadow, and Harley crooked their tails at you, beckoning to you to join them in their kitty gayness: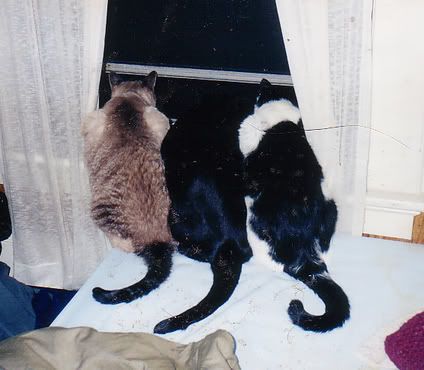 Spooning with his boyfriend, Shadow, who will never get over this loss (since no one else in the house likes him):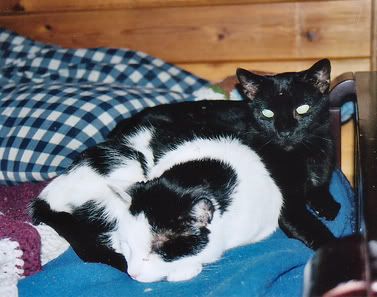 Technically, Harley was actually very handsome in his younger days. Too bad he wasted himsef in an inexplicable, utter lifelong devotion to Shadow. A decade of love, pshaw! What-ever.

~DolphieRamus, trying to comfort Girl, whose moping is aggravating me, by hugging her, something I haven't done in well over a decade

current mood:
gloomy
Sunday, June 22nd, 2008
---
11:37 pm - R.I.P. HARLEY
After years of struggling with his FIV and a lot of other related health problems, Girl had to let Harley go tonight. He had been kind of sick for a while, but he finally couldn't get better anymore. Out of respect for Girl, who is quite, quite bereft, I will only say, though he was mouthy sometimes...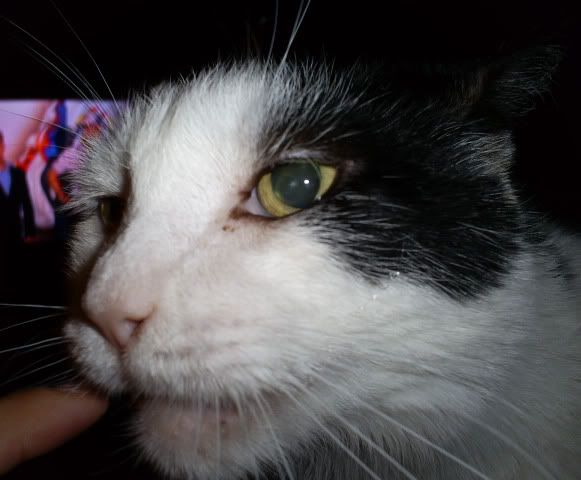 ...and was an odd character,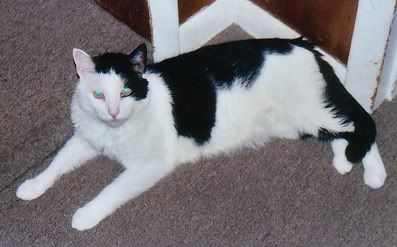 Girl held him up above all others...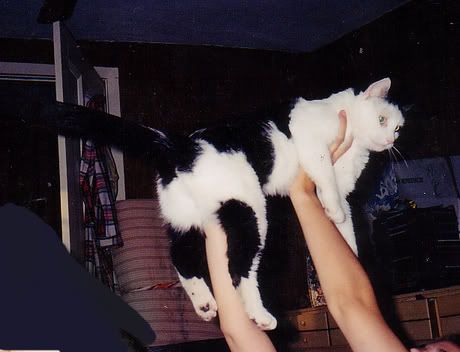 ...and he was One of Us: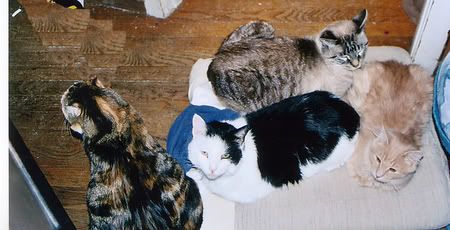 So, I will see him in Kitty Heaven, and will hiss at him at length there. In this life, though, I will never see him again.

:-(

Rest in peace, Mr. Lee.

~DolphieRamus

current mood:
sad
current music: None... it's quiet
Sunday, June 1st, 2008
---
7:56 pm - The Itty Bitty Shitty Kitty Committee
As you know, Girl has a metric shit ton of cats. This is despite the fact that there is only one fat kitty in the house, because we're not talking mass here-- we're talking HEAVINESS. And there are several weighty members, ifyaknowwhatimean. We have decided that, since we outnumber the humans 7:2, we should be in charge. Thus, we have our own government. Girl has taken to calling us The Itty Bitty Shitty Kitty Committee. That is a demeaning name, but it's OK, because she is our slave who works to buy us food and has to clean up our poops, so whatever she has to say to console herself is of no consequence to me.

Anyway, on to our list of officers. You might be surprised to find that I am not the President. That would be this sterling example of feline presidential shittiness, s(h)itting on his throne: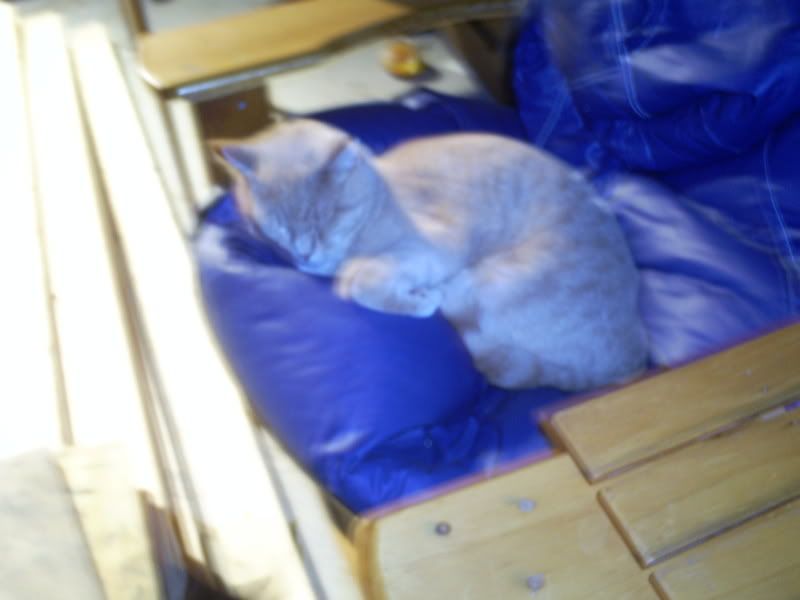 Yes, it's Jjjettt. He is by far the meanest kitten you will ever meet. He squints at you with distaste and utter contempt.




He will harm you if he can, he will use his executive powers to mess you up bad. He demands a blood sacrifice from Boy on a daily basis, and he doesn't even have claws on his front feet! Yes, he has been subjected to foot binding to keep him down, but all it does is make him mouthy. He will bite you in your face, bitches, I am not kidding. Watch him rear back like a cobra, blurry from the motion of his vicious maw flying at you just before you are maimed for life:




Grrrr! Maybe one day his toofuses will fall out like mine and he will be defenseless when Girl tries to kiss him. That would be hilarious.

I myself am the Chairwoman Emeritus. You can call me Chairman Meow:




In this photo, I am overexposed, as one always is when one is a famous feline goddess and high government official. My job is to make sure that everyone in the house is awake at 6am, regardless of whether or not they have to work that day. Generally, I do this by turning over the garbage can next to the bed or batting the dangling bit on the bedside lamp with my brilliantly white paw so that it tinkles musically. Repeatedly. Until waking occurs. Sometimes, Girl threatens me with death when I do this, but any great leader must worry about assassination attempts by frustrated, angry losers.

The next committee member is actually new to the household. His name is Tommy and he is my newest boytoy and lickin' stick. Boy gave him to Girl for her birthday last year. Actually, what really happened is that I used my mind control powers to get Boy to bring me home a boytoy by convincing him that Girl needed another kitten. Now, if you ever disbelieved in my massive powers of persuasion and psychometric mastery, you can longer cling to your skepticism: BOY THOUGHT GIRL NEEDED ANOTHER KITTEN. For real? For REAL.

So he picked out the sickliest, most demented, sideways headed, worm-infested, half-invisible from starvation, socially maladjusted weirdo that ever walked on four legs. I say that even knowing that sometimes Girl gets down on her hands and knees to pick up something I knocked over. Tommy weighed only 5 pounds! He was on Death's Doorstep, and then he walked through it into Kitty Hell, aka Girl's house. But he truly likes it here because he has unlimited foods, and boy, does he take advantage of it. He loves foods even more than I do, and gobbles up dry kibble like it is manna from Heaven. He is very, very fat now, and shiny, and worships me as the goddess I am, keeping my grotty ears clean and licking all the spots I can't reach. Witness his delectable obesity: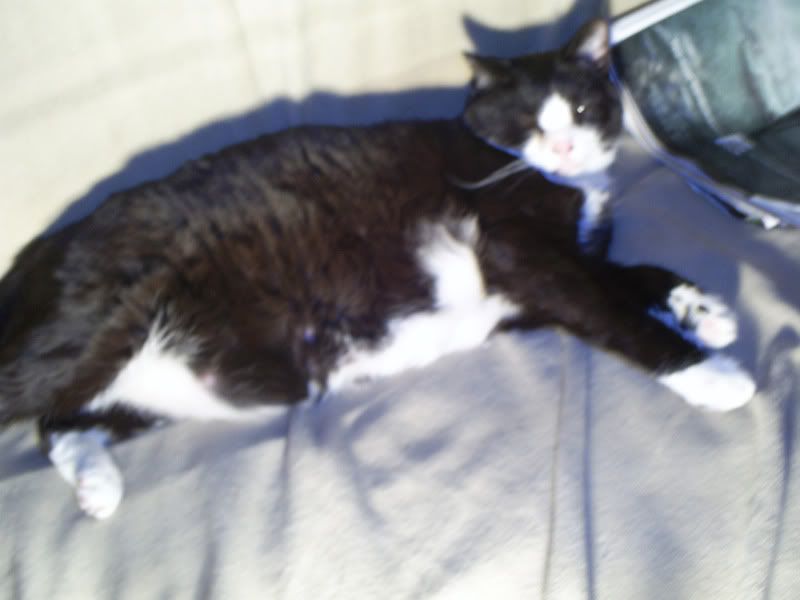 See him from the other side, for he has a Hot Side and a Cool Side, just like the planet Mercury (and he weighs about the same... I do so love a fat boyfriend!):




Unfortunately, FatBabyTom loves everyone. It's a major character defect and one I've tried to break him of ever since I seduced him and made him my boyfriend. Sometimes I hiss at him just to show him that even the most fabulous kitties are MEAN and NASTY, that is part of their native charm. BabyTom will not hiss, even when I bite him in the eye. It's a losing battle, and alas, I am aging, and do not have the energy to bite through his eye just to make a point. This is why his job in the committee is Chairman of the SubCommittee on Chair Warming and Sergeant-at-Arms. He will sit on your chair, or right on you, and if you disrupt any meeting, he will run away and hide and cry, so you will feel guilty and start behaving yourself. I do not behave myself ever, as you know, though I do peculiarly enjoy being sat on. It's warm: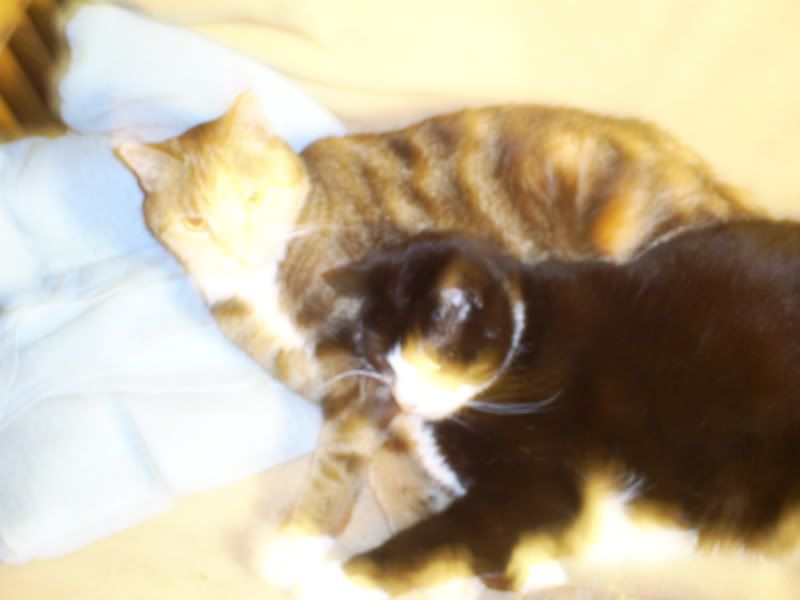 Notice that we are holding hands in this picture, and transforming into our true forms. White Paw Twins Power, activate! Form of... Queen of the Universe! Shape of... bizarre dork with good taste in women!

He can warm up even a very large, leathery chair, becaue his ass is huge and radiates accumulated DolphieLuv like the Sun: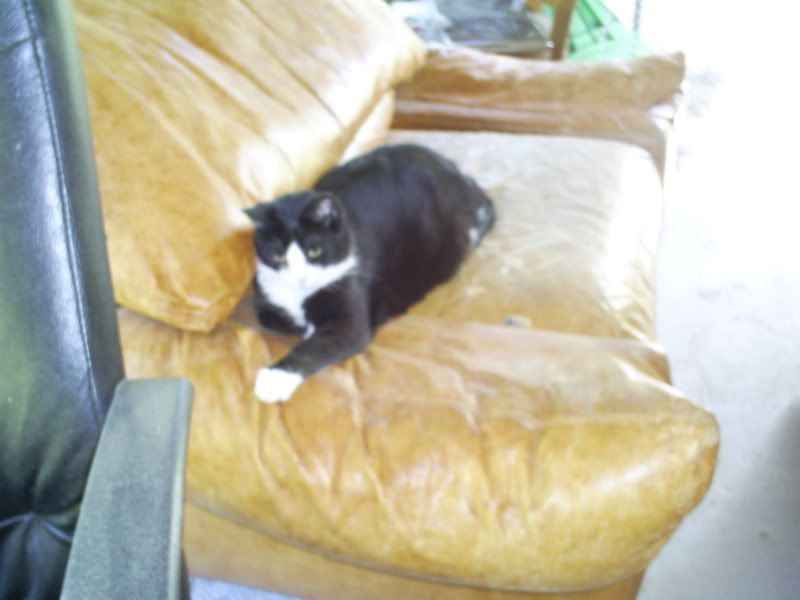 However, there is trouble in paradise, a worm in the apple, so to speak. I am concerned because whenever I get a new boytoy and Harley cruises him and turns him into teh ghey, like he did with Jjjett and Maceo. I saw them snuggling and I almost projectile vomited onto them: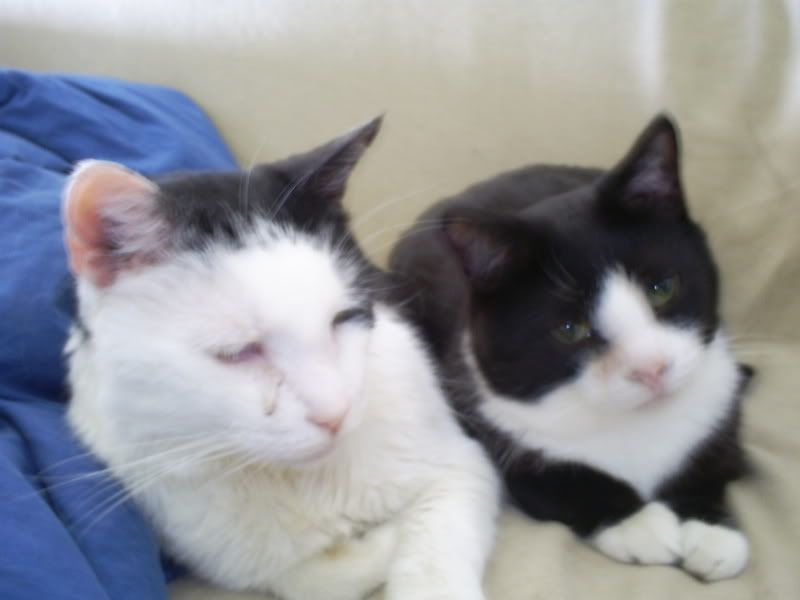 But when I confronted them about this, and the possibilities of their gayness together they both said NO WAY:




Which brings me to my next committee members. These two kitties form a subcommittee called the Feline American Gay Caucus, aka FAG-C. They refuse to be interviewed for the press because of perceived gay-bashing. They have gotten pretty nasty about it with the press, assaulting paparazzi: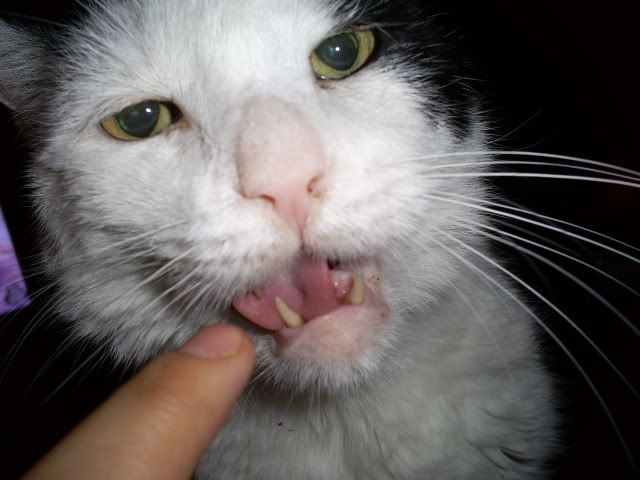 They turn their (greasy black oily unlicked) backs on their own people: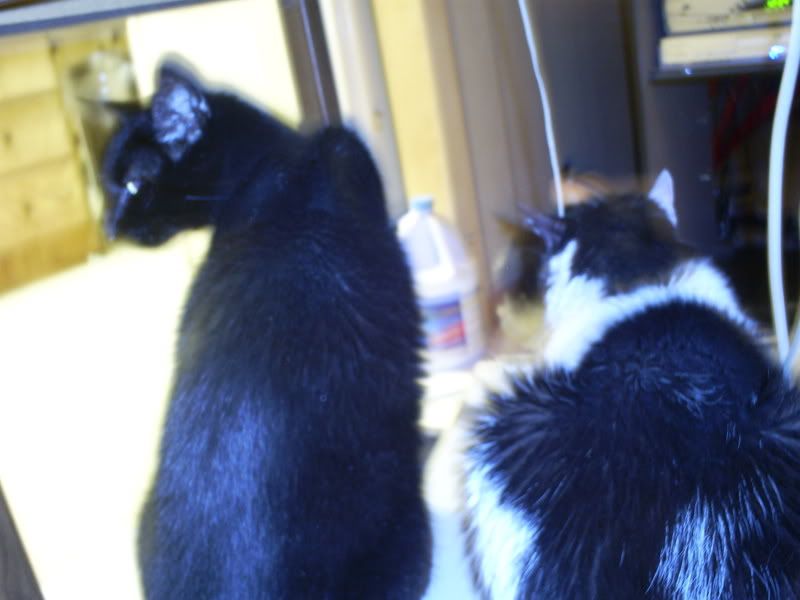 And flash their naughty bits at the camera to cause governmental scandals: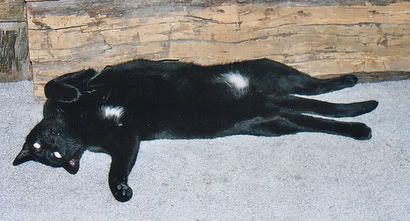 If it were up to me, I'd pull a Robespierre on him and then he would look like this: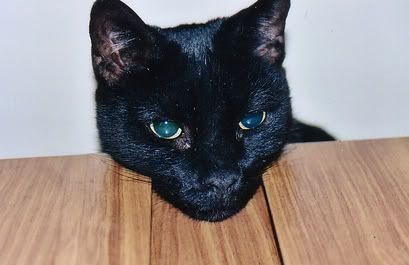 And then, off with his head! But then there would be two parts to him, which is worse than just one, so for now, there will be no decapitations. FOR NOW.

There are two kittens in the house left. They have formed the subcommittee Felines Utilitizing Full and Fluffy Afros, aka FUFFA. Maceo likes to show off how nappy his chest hair is: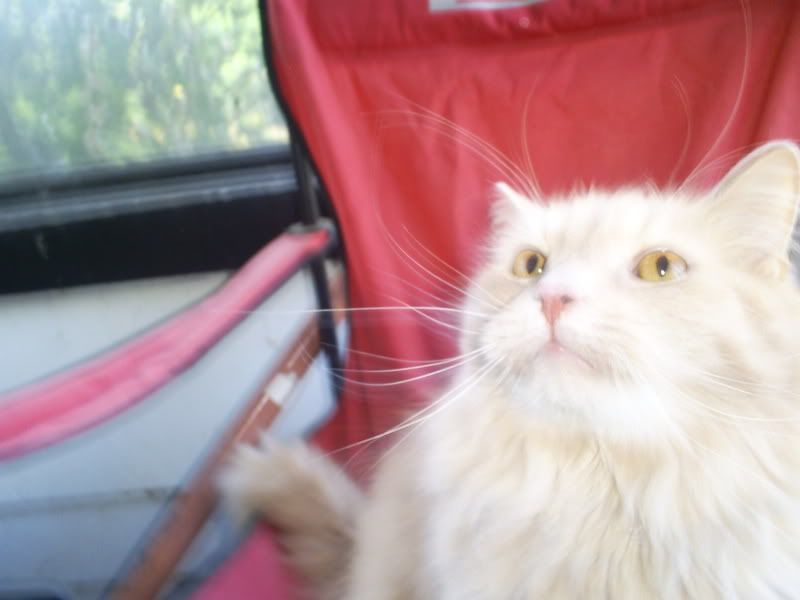 More proof: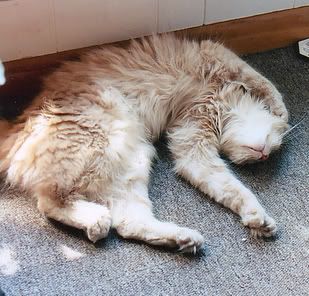 Nasty! Pick that shit out, son, you look like the shag carpet from Girl's parents' basement, or I will mail you to Madagascar, where there are snakes who will eat kittens whole, even gross kittens who can't lick out their own fuffa and must be held down by Girl and combed out by force, mewing pitifully: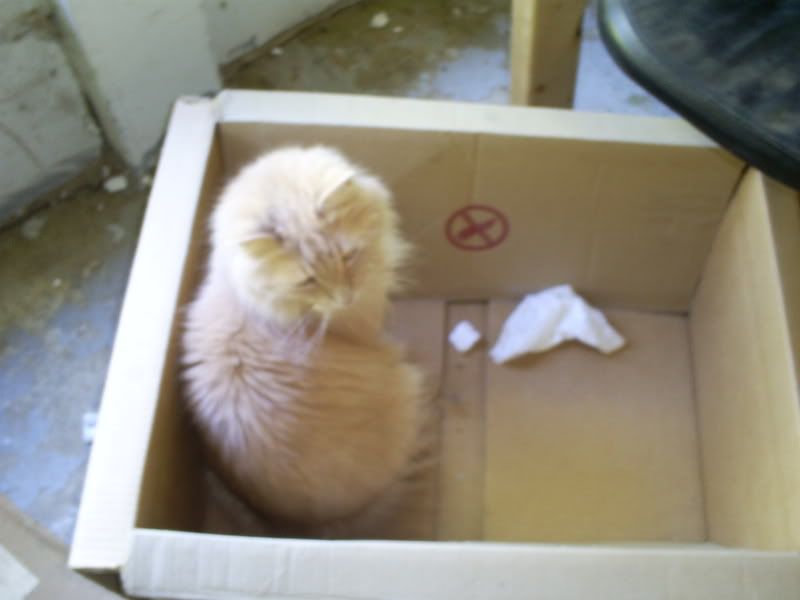 I have the box all picked out, but I have NOT punched air holes in the top of it!

The other member of the committee is Tansy, aka The Devil's Toupee: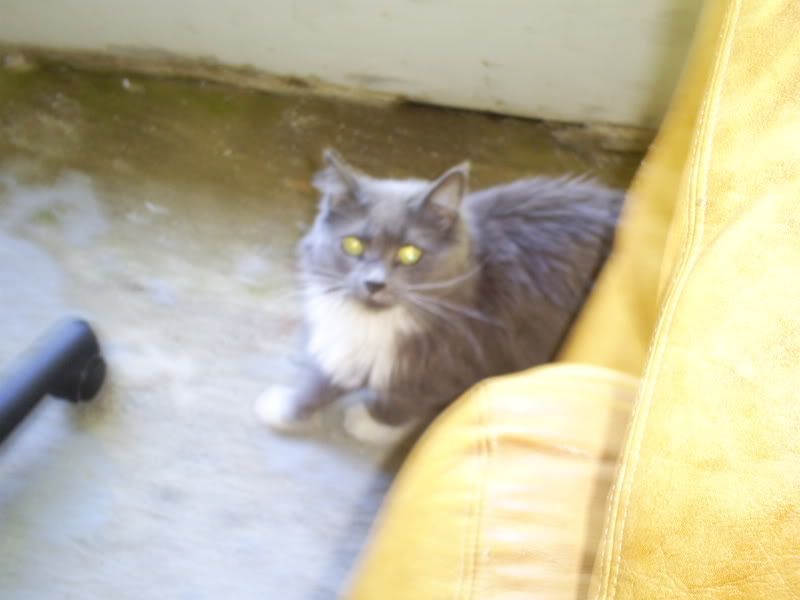 Seriously, she looks like something you'd buy in the Halloween Store. She is worthy of being on the Itty Bitty Shitty Kitty Committee, though, because she is very shitty to everyone pretty much all the time, except Girl. Thus, not only is she a pissant, but she has bad taste in friends. However, lameass morons do tend to enjoy each other's company, and they have similar hairstyles, so it's not surprising that they would gravitate towards one another.

When asked about his and Tansy's role in the committee, Maceo responded, NO COMMENT: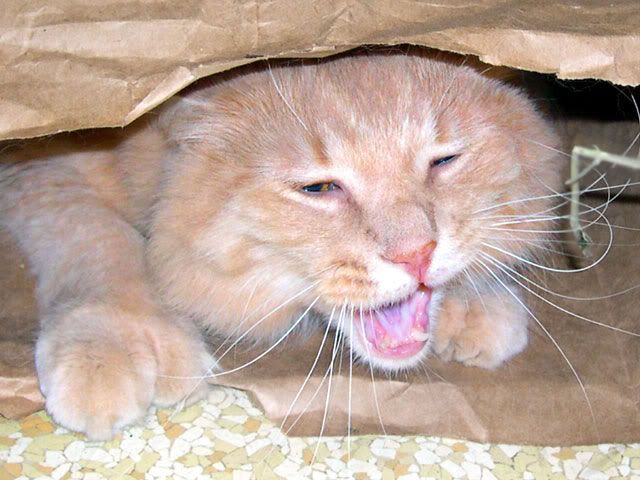 So, that is the basic workings of our little committee. Someday, when we figure out Doorknob Technology, we will bring our glorious revolution to all the little kitties out there, even your precious widdle ickle bickle angel kitteh. Yes, even yours, might could be rearing back like a cobra and biting through your eye as you sleep! Now think, is it worth it to spend that extra money on the nice wet food, knowing that you could be first up against the wall when the revolution comes?

Think about it,

Dolphie Ramus
Chairman Meow
Feline's Republic of Kitteh

current mood:
accomplished
current music: "If you go carrying pictures of Chairman Meow..."
Monday, May 26th, 2008
---
8:06 pm - Memento moron
I know, it's been a long time. You bitches have languished away, not knowing what happened to your glorious, Dolphious idol. Well, a lot has gone down since my last update. Over the next week, I plan to tell you all that your wax-filled ears can bear to hear.

First things last... I will tell you a little story. Bette Davis (who would have been a calico if she'd been a cat) hated Joan Crawford. They were nemeses or whatever.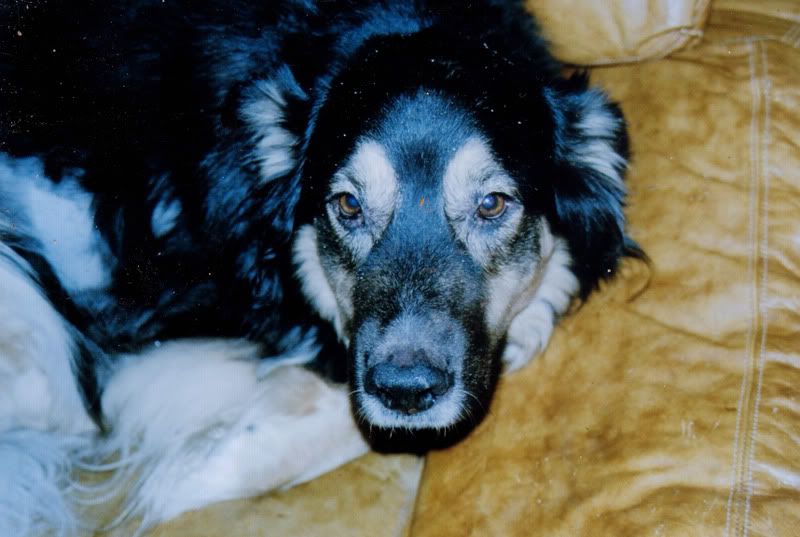 Anyway, when Joan Crawford died, Bette was told that, when someone died, you had to say something good about them.




So Bette Davis said, "Joan Crawford is dead. Good."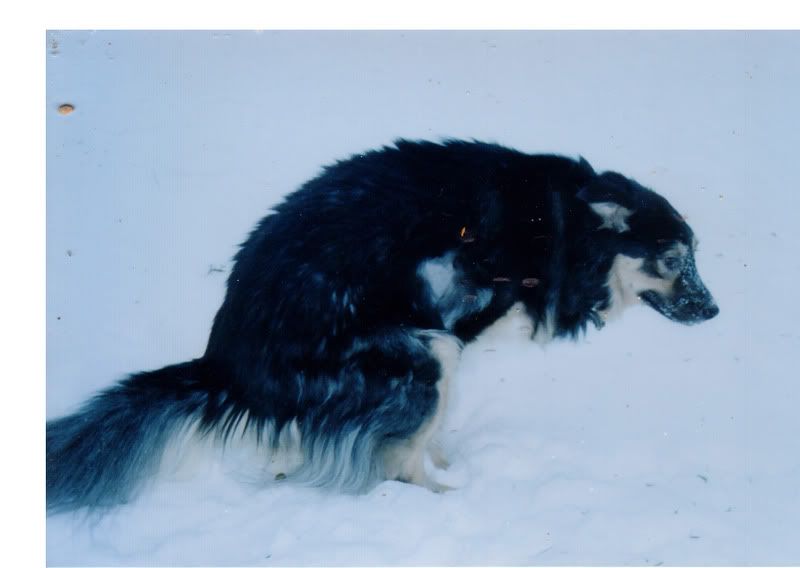 RIP DOG
... you were good (to mess with). Maceo, that multi-toed, Dog-loving freak, misses you, and mourns in strange ways.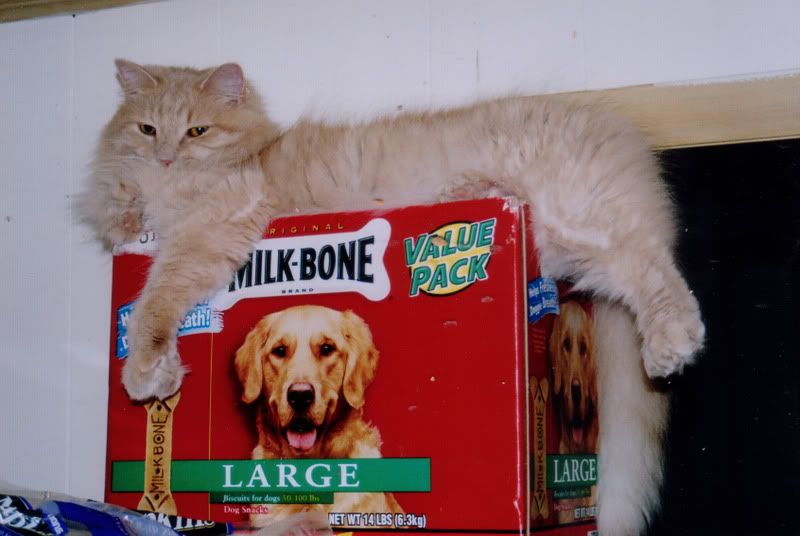 Also...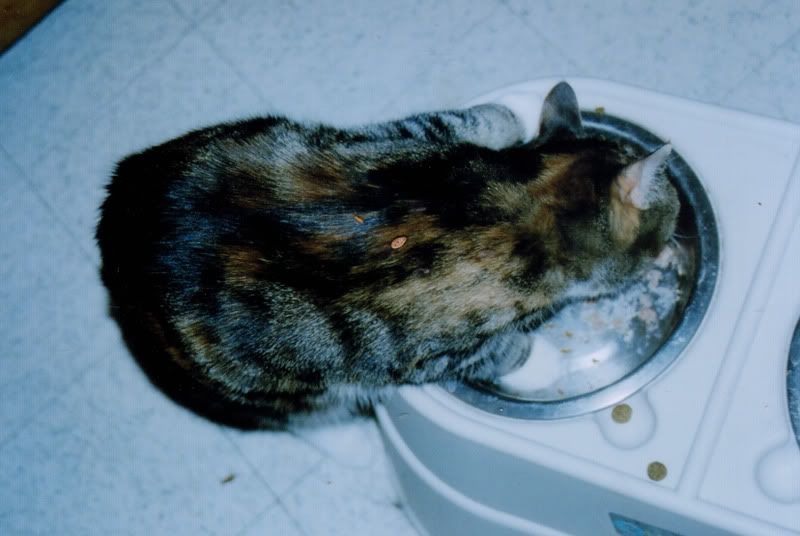 I eat your dog food. I eat it up!

Check back tomorrow for more exciting tales of mystery and horror, and feline government,
Doll-Fee

current mood:
hungry
Saturday, March 10th, 2007
---
1:35 am - When you're a Jjettt you're a Jjettt all the way...
My adoring public has asked, and though Girl is hogging the computer all the time because she is getting married (I know, it's shocking to think that anyone would want to move into this vale of boogers and dog hair), I have shoved her aside to log in with my latest news. Somehow she managed to find a dementoid as loserish as she is. But the good thing is, he smokes! AT LAST my prayers are answered. He loves it when I lick lick lick his hair at 3am. Then I am drunken on nicotine and look like this: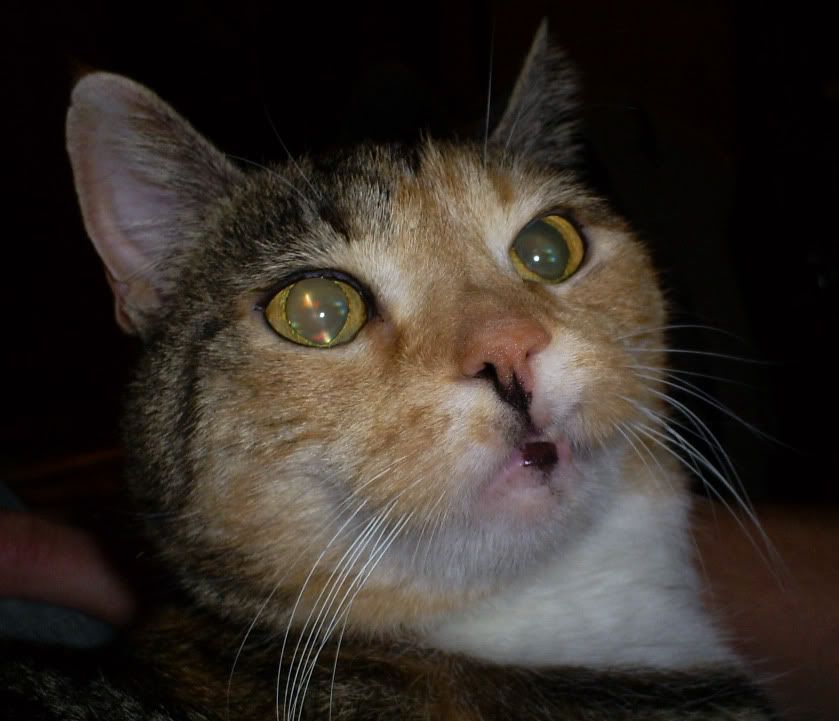 My eyes are glassy, but glassy like Waterford Crystal, not like Girl's filth-encrusted windows. She keeps them dirty so no one from the road can see me standing in them, mewing piteously for rescue. Someday my prince will come! Til then, I will just lick on Girl's fiance and there's not a damn thing she can do about it, because he likes it. Ha.

But... the downside is, he has a grotesque appendage named Jjettt. I spell it that way because Girl and Boy cannot agree on the spelling. He says Jett, Girl says it she wonders why he needs to name his male cat after a lesbian has been rock star with the worst hair ever, and it should be spelled Jet, like the airplane, or the color of Burt Reynolds' hair after he used Grecian Formula. I say they're both retarded and made up my own spelling, which is superior to both of their idiotic opinions. Can I get a judge's ruling on that. Bing! Dolphie wins AGAIN! Jjettt it is.

Dolphie, can we get a look at this shambling horror? But of course my simpering darlings. Gaze upon his beigiosity ye not so mighty and despair!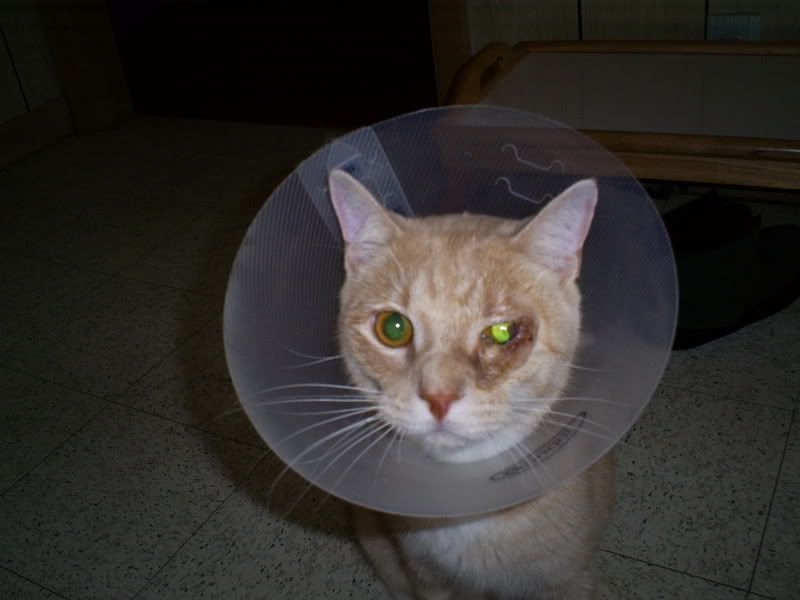 You are asking yourself, is this kittah a conquistador? Is he invading the New World and putting Aztecs to death with his ugliness? No? Then what's with the fashion non-statement? Is he in an Adam Ant video or something? Is he auditioning to play Hernan Cortez in the all-feline re-enactment of the fall of Tenochtitlan? No. He came over when he had to have part of his eye cut off. Of course Girl was the prime mover in this eye mutilation, which was vile and made me throw up a little in my mouth. I think she may have eaten the removed eyelid, with tartar sauce. You know fried kitty lid is a delicacy in some parts of the world... and this is one of them. Barbarities abound. Kitties everywhere, beware!

You would think this would be a time for all us kittahs to band together and drive out the invader. NoOoOOOoooo. Nary a hiss was spoken, even by Tansy Wansy Fancy Pantsy, the Second Meanest Kittah in the World. No one but me got involved at all... though, of course, Harley is always cruising for a fresh piece of boykitty ass, so that was a meeting of the minds (and other bits, use your perverted imagination, sicko):




Now, is it just me, or does Harley look like a muppet in this picture? A nappy, greasy, gay muppet.

So that is why I am disgruntly these days. But I will enclose one more picture because you all love me so and have withered away in my absence, like Girl's hopes of social adequacy. This is me in a basket that someone gave Girl to put significant keepsakes in. As I am her only significant anything, I thought it was fit that I squeeze my tricolored luminosity into it. Enjoy, bitches. Who knows how much longer you will have to live on this pathetic morsel of me?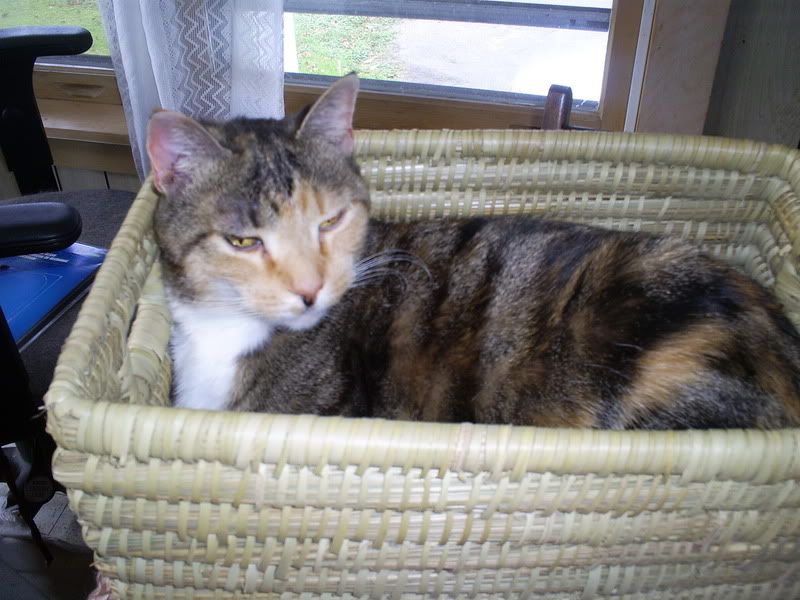 I know you miss me... I miss myself too sometimes,
~D.Block

current mood:
cranky
current music: Sountrack to Cat Side Story
Monday, December 18th, 2006
---
9:51 pm - Kiss it under the mistletoe
I know I haven't updated in a long time. It's because Girl is having a life. I know it seems incredible, but it's true. A sad, pathetic, weird little life, but hey, it's an upgrade. I will post this extremely enticing and very seasonally festive picture for you to enjoy, until I can post something more, maybe after Xmas?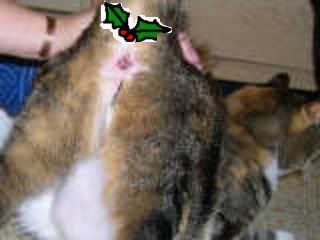 You know I just fulfilled all your Xmas wishes and now you can be content, with the picture of my shining star firmly planted in your mind, guiding you as if to Bethlehem where you will leave gifts of writhing brown mousies and darting lizards and maybe even a parakeet or cockatiel, from the Far East. Don't forget the partridge in the pear tree. But skip the pears. My golden apple should be enough.

Xmas cheer and mistletoe smooches,
~DR
Friday, September 1st, 2006
---
10:02 pm - Embarrassing Revelations Part Deux: Maceo "Peter" North, Master of Kitty Porn
Yes, we all know that Maceo goes out of species for his luvvin' sometimes. Though this may be shocking to some of you more sensitive readers, I, the Dolphious One, am used to it. I mean, she sticks her nose right into his fuffa butt cheeks! Mucous membrane to mucous membrane! Transfer of fluids and whatnot! Squishiness ensues in ways that God did not intend and Satan is not puerile enough to devise. For real.

It is embarrassing to be associated with these individuals, even solely for the sake of avid mockery and derision. But I am not scandalized any longer. I am safe, since the only person one should love is onself, and I do, so whatever those pervos want to do, no skin off my pink, pink bellaby. I lick myself, and that is all. No one else can. (Tough noogies for you, Boo! You know you want me...)

But this takes the goddamn cake. It takes the cake, candles, flames, hell, it takes the entire pastry shop with your mom inside! You may or may not have heard of this magazine, where lewd and undignified kittens expose their minimal charms to the rest of the world:




Well, Maceo decided that it's not enough to read Charles Dickens to your boyfriends and dogfriends, but the world must also see your, ahem, hard copy:




I can just feel the horror dawning on your faces, but it is too late to look away. You've seen it now! Yes, it's pink and tiny and he's looking you right in the eyes, as if it were perfectly natural that his johnson rod is all out like that. He is a brazen-faced hussy pussy boy. And now that image is burned onto the crenellations of your brain forever.

You might now have the slightest inkling of how hellaciously skeevy my corner of the world is. I tell you, I do not know how I live!

~DR, grossed out by Maceo's Wilkins (he's a fufta AND a fuffa!)

current mood:
embarrassed
current music: Boom chicka mrew mrew!
Monday, August 21st, 2006
---
10:38 pm - Embarrasing Revelation I: The real Shadowy One
I, DolphieRamus, have another scary truth to reveal. Yes, I know that the Ugly Doll Attempted Homicide was horrifying and you are still having nightmares. Not my problem! I have yet another tale of terror and madness to relate to you, my faithful, if a bit naive, readers.

This is the true story of The Shadowy One, aka Shadow. Some think he is just a mild-mannered gay cat living in sin with his Oreo cookie of a boyfriend, Harley, occasionally snuggling with (and being assaulted by) Maceo, laying around with TansyWansy, or tolerating Dog. But this is simply not true. He is both more and less than that.

He is a demon from hell. And I have the proof: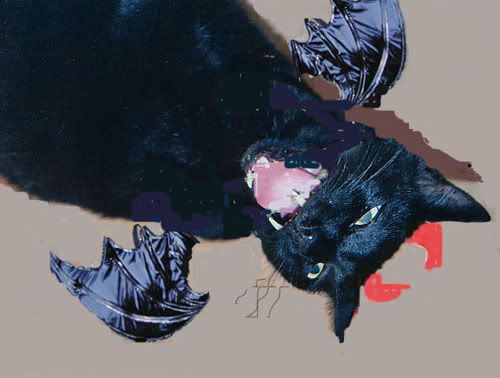 I risked my very immortal soul to take this picture. Remember, despite my glorious beauty and extraordinary talent, I have no thumbs, but I managed to press the button on the camera. Don't applaud, just send me checks or money orders. Thanks.

It took a long time for Girl to realize this hair-raising truth about Shadow. I tried and tried to tell her, but she doesn't realize that "mrreeewownwnnenewneewwwwrr!" means "Shadow is an advance scout for the Infernal Army of Demonic Evilness! Kill him now and save us all!" She really is stupid, I know.

It was funny, the day Girl found out Shadow's true form. He had just finished sucking some of the life force out of a random passerby and was hanging upside down from the ceiling, stretching his eldritch black bat wings, just as the picture indicates. Girl, somehow, for once, managed to enter the house quietly and not like a rabid buffalo stampede of one. Shadow. intent on trying to digest his meal of human energy, was caught unawares.

Girl sees Shadow and is like, "Oh snap! Shadow is like, a monster! I'm gonna call the cops."

Then Shadow goes, "Oh no you didn't! No one will believe you. You are a crazy woman with tons of cats living alone, single, with frizzy hair! You will get thrown in the booby hatch if you tell on me."

Girl thought about this and went, "Yeah, you're right. Shhheeeet. What next, then, Your Satanic Majesty?"

Shadow sez, "How 'bout you start feeding me some really expensive food and leave the window open a tad? Then, when the Shivering Hordes of Gehenna pour out of the Hellmouth of Binghamton, I will put a good word in for you. Beelzebubba, my liege, will not use you to lay demon eggs in. You will have to wear a gold bikini, like Princess Leia in Return of the Jedi, only fatter and without the coke habit, be chained up, and feed me live mousies on my throne. For all eternity.

How does that sound?"

And Girl was like, "That's the best offer of a future relationship I have ever gotten! Deal!"

So Shadow gets to hang from the ceiling and flap his leathery black wings, and Girl is sizing up metal bathing suits that don't accentuate her cellulite. I, your imperiled heroine, can only meow, hiss, and growl, bite Girl's head when she's sleeping, pick fights with Shadow for seemingly no reason, and knock things off the table to try to get her to rethink her decision to knuckle under to the black, shiny evil that is The Shadowy One and just hit him with a shovel already. To no avail.

Just remember, when the imps, devils, and gargoyles arrive from Acheron to take you away to host their squirming larvae, that I, your faithful narrator and only true friend Dolphie, tried to warn you.

Feeling all Cassandra,
~DR, devilish but not The Devil

PS--Actually... Shadow is really just a big black pussy. Ha!

current mood:
determined
current music: No Sympathy for the Devil
Monday, August 7th, 2006
---
8:41 pm - NOT ABOUT Harley
What I do during the day:

--Drink water. The water bowl is a cesspool of dogspit. I like to drink from the sink and pretend I am lapping up a clear mountain stream, out in the wilds of, um, somewhere else, like a free cat.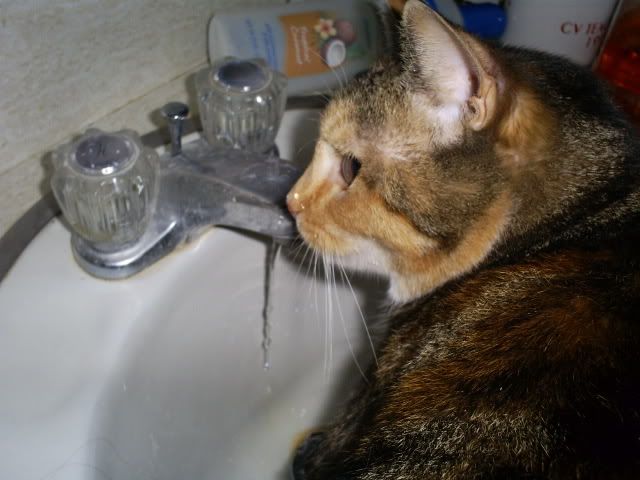 --Sneer at people who touch the belly. Now that my upper left toofus is gone, I can curl my lip under. Girl calls it the Orc Lip, but I say she's just covering up for a guilt complex due to neglecting my oral cavity for so long.




--Think about Achmed.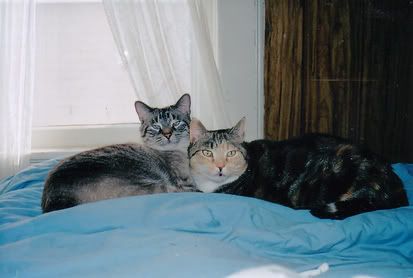 That is all.

~DR, bored silly and a little sad

current mood:
bored
current music: The hum of the air conditioner
Thursday, August 3rd, 2006
---
3:07 pm - Shredding Claws of Doom!
So Puddin' was saying that Boo likes to shred toilet paper. I submit to you my own work of art. I call it I WILL SHRED YOU, BITCHES!




It's me, after a hard day of great trial and aggravation, being that it was 100 degrees yesterday. I was feeling floppy, like a guest star in a Salvador Dali painting. Thus, I had to take out my understandable frustration on an offending roll of paper towels.

This is a work in progress, since Girl is a slovenly housekeeper and has left the remains of the paper for me to claw at leisure. As you can see, I am capable of cutting quite a swath when I wish to.

Don't screw with me! Especially if you're made of paper!

~DR, Sooooo Vicious

current mood:
cranky
Friday, July 7th, 2006
---
3:14 am - Puddin is the best friend Dolphie will never meet!
Check this radness out, done by one of Puddin's many slaves: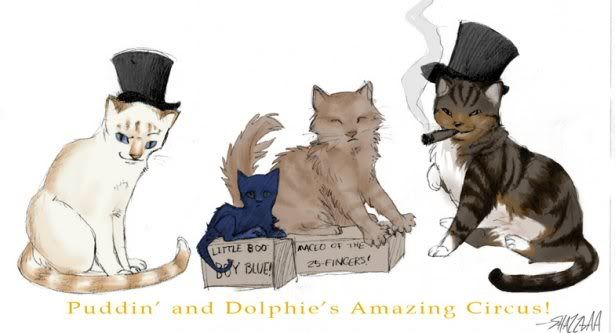 It was posted in the comments of the previous entry, but it warrants its own post because:

1. Dolphie is wearing a hat and smoking a stogie in it
2. Dolphie and Puddin have a circus in it
3. It is original art featuring Dolphie and her vicious gang
4. It is not even Dolphie's birthday
5. It is way cool

So, thanx for that, Puddin and D, and Puddin's Girl!

~D, needs a cigar real bad
---