Delle's Journal
Monday, March 31, 2008
11:26PM - Moved
I know I said I was still working on my new blog? Well I am, but I'm moving posting there. I still need to get the links into the side etc, but the posts will be there. Not that I'm deserting Blurty completely. I shall still come back here to read and comment, and I'll possibly still avail myself of those useful locked entry features, but mostly this will be my new home on the interweb.
Wednesday, March 26, 2008
10:32PM - New blog
I've not really moved over there yet, it's very much a work in progress, but I thought people might like to take a look.
Monday, March 24, 2008
10:48PM - Inexplicable?
This post has got me thinking. In it, Stephanie Pearl-McPhee (for the non-knitters who read this, and possibly for some of the knitters too, she is a "celebrity" knit blogger, who has also published books about knitting) is talking about the way non-knitters struggle to understand the things knitters do and the way you can't pigeon-hole them.

I don't think I agree. I mean, I agree that you can't pigeon-hole them, but a) that's hardly unique to knitters and b) I'm pretty sure there are a lot of non-knitters out there who would imagine that you can.

It's like anything really. Take people who watch a sci-fi show like Buffy. Most people who don't watch sci-fi, would guess that sci-fi watchers are male and geeky. That's the stereotype. Through being a sci-fi fan and a member of the WD, I've met people of different ages and genders. Ask a non-knitter about knitters and you'll find that they expect them to be older women. That's the knitter stereotype. It's why people get confused when they see younger people knitting and men knitting.

The thing is, knitters are not really any different to anyone else. Except they like to take yarn and needles and make fabric.
Monday, March 17, 2008
9:03AM - Monday Morning Knitblogging
My swap parcel has been collected from the post office!

I was very good and didn't immediately rip it open, so I could share the experience with you all. I took photos, including one of Ro diving into the box to retrieve the toy lamb (which was a present for him). Unfortunately, I'd forgotten to put the memory card into the camera, so the photos were taken on the camera's internal memory, which I don't have a cable to download. Instead, you have some pictures taken after Ro had gone into a wild frenzy of excitement.

( Pictures and descriptions in here )

I can't begin to put into words how wonderful this parcel was. I called this entry Monday Morning... but actually, it is early evening now. It has taken me all day (in between knitting and dealing with a grumpy boy who won't sleep) to get this written. I can't believe how generous and thoughtful Ruth has been in selecting these things for me. I really do love it all. I couldn't have asked for better swap partners (my downstream has been wonderful too). I've really enjoyed myself.
Tuesday, March 11, 2008
12:49PM
I should talk about the weekend, but I won't just now, because it was sucky. I might go back to it once it's finished off tomorrow (please note, I know the weekend is finished, but the repercussions continue until at least tomorrow - oh and probably for every visit ever again to my in-laws).

Instead I'm going to talk knitting. I like talking knitting. I also like shopping knitting, and that takes a lot of shopping. A few months ago, there were many knitting accoutrements which I didn't get. I had no idea why people wanted stitch markers, other than they were pretty. They are pretty, but when I discovered short row heels and toes, I was suddenly very grateful for the two I had (note: I tried to do the first short row toe without them and it was impossible - I made such a mess. I have managed to do one using the YO method without stitch markers, but the first one I did was a T&W toe and there just wasn't enough difference to pick out where I'd got to). Next, I started knitting a top down cardigan for Rhiannon. Suddenly I am in need of 4 stitch markers so I'm using the two I have and improvising the others.

I've also bought so many needles. I used to make do with my inherited metal and plastic needles. Then I discovered bamboo, so now I have a set of bamboo straights (bought on the cheap from ebay). Then I wanted to knit socks, so I have 3 differently sized sets of bamboo dpns. For the top down cardigan for Rhiannon I needed a circular needle. I've never used circs before, so more shopping. My collection now boasts a single set of Knitpicks Harmony Options (4.5mm needles with a 60cm cable). A full set are going to be on my birthday list, if I can wait as long as October before getting more. I suspect not.

So yes, knitting is an expensive hobby - and that's before the yarn (there is some lovely Fyberspates hand dyed bamboo sock yarn which is calling to me, but which won't be bought until I've at the very least finished my current socks and Rhiannon's cardigan). I'm really enjoying it though.
Thursday, March 6, 2008
10:29PM - Audit
Today at work I was audited. I never wish to be audited again. It wouldn't have been so bad, but after starting at about 10am, we realised at 4pm that we'd been doing the audit on the wrong files and had to start again from the beginning. Thankfully the right files were much easier to audit (because they were the correction of the mess we spent most of the day on) and we were done by 6.

Ugh. I wasn't even supposed to be at work today.
Tuesday, March 4, 2008
10:32PM - What kind of person walks past
... a women lying on her back in the middle of the path with a small child next to her? I wouldn't have thought anyone would, yet someone did that to my mum this afternoon. Rohan was OK, if a little shaken (she was carrying him when she fell), but mum really hurt herself as she focussed on saving Ro and didn't do anything to save herself. She had to call the man back to help her as she couldn't get up on her own.

For something cheerier, I'm hoping to get this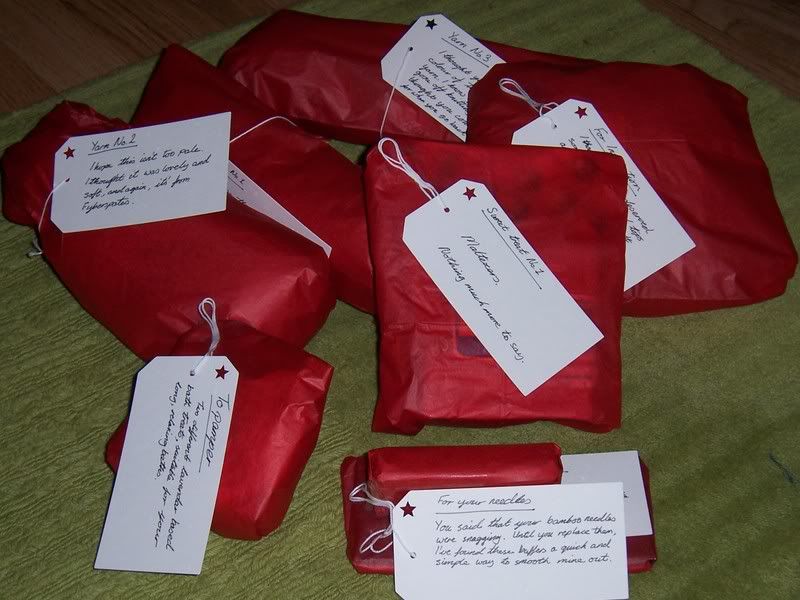 in the post in the next few days, it's my parcel for my swap partner. I've had so much fun putting it together, I just hope she enjoys it!
Friday, February 29, 2008
8:48PM - Topic of the Week #6: Swapping
Have possibly got internet back. Ridiculously slow, and intermittent, but it does exist.



Have you done a swap before (doesn't have to be a knitting swap)? What do you like best about swapping? Are there any personal "requirements" that a swap has to have before you will join?

I've never done a swap of any kind before, the closest I've got to a swap is the WD virtual Christmas presents. For that, you get a person to spoil and are spoiled by someone, it's just virtual, so budget isn't an issue (neither is reality). The present I remember most is the one Adam did for Lucretia. He got her John Lennon, by which I mean he found a picture of John and Yoko naked and superimposed a picture of Lucretia onto Yoko.

As for this swap, I'm loving it so far. I think that my upstream has a lot to do with that. She's been really friendly and, when she saw that I was playing detective, trying to work out who she is, she sent me a fabulous card, with 4 clues in it. Thanks to that, I'm now pretty sure I know who she is (there were 3 people I couldn't rule out, but one of them really fits the clues - and she's mentioned somewhere she's shopped for the swap on her blog, which made me squee with delight). What has surprised me about swapping is how much I'm loving the giving. Having clues as to things the recipient might like, and then finding things which with suit is my idea of shopping heaven. It makes me want to be a swap angel in future, something I was dubious about before I started.

In future I will join a swap again (although maybe not until after we've moved - house went on the market yesterday). I'd certainly do one which had been organised by Monnibo again, as she's been incredible. She's put a lot of thought and effort into organising things, and it shows. I do hope that she's rewarded by no swap participants going AWOL at final gifting time.
Monday, February 25, 2008
4:07PM - MIA
Firstly, if you don't see me around much, it's because I don't currently have internet access at home.

Sort of related, for UK readers, what ISP do you use, have you ever had to deal with Customer Service and would you recommend it?

Finally, I've decided to move on from Blurty. I want a blog with side bars. I want something I can put on my own web space. Any recommendations for that? (I did think about hiring Vicki to sort it out for me, but it's a bit out of my price range, so I'll be going with whatever I can do for myself - and possibly bribing my husband to do graphics for me).
Sunday, February 17, 2008
8:26AM - Topic of the Week #5 - Anticip...
... ation.

What kind of Spoilee are you? Are you paranoid that it's not being sent, or lost in the post? Do you want it to arrive quickly? OR Do you enjoy the anticipation? Sitting and pondering when it will arrive... and anxiously waiting for it, close to the deadline?

Well, not having done a swap before, I'm not entirely sure what kind of Spoilee I am. I have to say, thanks to my spoiler, who seems lovely and is asking lots of questions, I don't really have any fear of it not being sent. It seems silly for her to go into that much detail with me if she isn't going to send anything. I've had a good relationship with the post office, so I'm not unduly worried about anything getting lost. Do I want it to arrive quickly or do I enjoy the anticipation? Yes. Both. Absolutely. I'd rather not wait to the absolute deadline, but its fun to wait a little longer. I'm rather enjoying the whole thing. Then again, the sooner it arrives, the sooner there are presents!

I'm having so much fun in both directions with this. Picking out gifts and wondering where your spoiler is heading with their questions is all great fun.
Thursday, February 14, 2008
10:15PM - Topic of the Week #4
I know this isn't knitting related, but I thought I'd ask you to share your favourite Valentine's Day memory, or your current plans for this year. Just to share some love. :)

I thought the best answer to this was to relate my experience of Valentine's day today.

I should preface this with the fact that we are sick, all three of us. Though really, it didn't alter things much.

No mention of Valentine's day was mentioned until some point late this afternoon when I mentioned to my husband that I had got a card, I just hadn't written it yet. At this point, he tells me he's done the same, but didn't want to mention it in case I hadn't done anything.

I really do have the loveliest husband.
Sunday, February 3, 2008
7:42PM - Squeee!
I've just seen the new NHS breastfeeding advert on TV.

Sorry, I can't really think of anything sensible to say about it, it just makes me really happy.
8:40AM - NaBloCoMo
So, January is over. I was successful in my commenting daily.

You'll just have to trust me on it though, because I didn't keep a list (I meant to, but with all the illness we had this month it didn't happen).

What I've learnt from this is to change my attitude to commenting. It was actually nowhere near as difficult as I expected. Most days I made several comments. It's more about just making the comments, rather than overthinking them as I used to. Also, if I haven't got time to comment, I haven't got time to read, I leave entries on Google Reader until I am ready. No more read and runs for me.

So, what do others think? Did you notice a difference? Did you like it? Would you rather not get the "first thought in my head" style comments I've been making?
Tuesday, January 29, 2008
6:27PM - Topic of the week #2: Magazines
Do you subscribe to any magazines (knitting or otherwise)? Or do you prefer to purchase magazines at the news stand? Do you subscribe online to any knitting magazines/newsletters? What does a knitting magazine need to have to catch your fancy and get you to fork out that well-earned cash?

I don't subscribe. Yet. I have been buying Let's Knit!, but the last issue of that was pretty difficult to track down, so I might try subscribing. I've not actually read any others as that was the only one our Tesco stocked (and now they don't even have that). I subscribe to Knitting Daily and I read Knitty, Magknits and Knit on the Net. I don't subscribe because I wasn't aware I could. I think I may be looking into that now.
Friday, January 25, 2008
11:30PM - UK Swap questionnaire
Stash Swap Questionnaire.

Part One: Crafting

Do you knit, crochet, or both?
Both, but primarily knitting. I'm trying to become more adventurous with both, but I'm concentrating on knitting first.

What do you like to make? Do you have a favourite project?
Small things. I've just made my first sock, which I really enjoyed. With large projects I don't seem to finish.

Do you have a favourite type of fiber or brand of yarn?
Not really. I'm still fairly new to knitting, so anything that isn't acrylic is still a bit of a revelation.

Do you have a least favourite type of yarn?
I'm rather nervous of non-machine washable yarn. I have a husband who does the washing, which is great, but he's not good at remembering care instructions. I envision hand wash items getting shrunk and felted very speedily.

Do you do any other crafts?
No. Unless you count parentcraft. That takes up most of my time.

What knitting do you bring 'on the go'?
Any. I've taken a shawl with a 5ft diameter out and about with me. I usually think about what I want to be knitting, rather than the practicalities.

What do you carry your 'on the go' knitting in? Do you want something new?
Generally a Tesco carrier bag. Not the most practical, given my forgetfulness of point protectors. I tend to have points sticking out of the bag attacking me most of the time. I've been thinking of getting a dedicated bag, I just haven't found what I'm looking for yet (it might help if I knew what I was looking for).

Are there any knitting gifts (book, toy, yarn, item, tool) that you have been lusting over?
I'm thinking having something other than a carrier bag (this one a WH Smith one) would be better for the storage of my needles. Again, I've been looking but procrastinating about what to get.


Part Two: Your Favourites

What is your favourite colour? What is your least favourite colour?
I like reds, blues, purples, pinks and greens. Not so keen on oranges and yellows.

What scents/smells do you like? What don't you like?
I'm not a big scent person. Delicate, light fragrances are good, heavy scents are bad.

How do you like to pamper yourself? (bubble bath, hand creams, massage, manicure)
I have very dry skin (and eczema), so I love really thick hand cream, but can't use things like bubble bath.

What goodies to you like to treat your tummy with? (chocolate, biscuits, truffles, etc.)
Skittles. Actually, almost anything sweetie is good. Not a big biscuit fan though.

Do you prefer tea or coffee while you knit? Any particular kind? Favourite mug/cup?
I drink tea. These days mostly fennel tea and always from a fine bone china mug. It tastes better that way.

Do you listen to/watch anything while you knit? (TVshow-Along, movies, music, podcasts)
I watch lots of TV of all kinds whilst knitting. I don't listen to music a lot.


Part Three: Living & Past-times

Where do you live in the UK? (General idea not address)
Cambridgeshire.

Have you always lived here, or did you grow up somewhere else?
I grew up round here, moved away for a while (I lived in Birmingham and London for a while), then came back.

If you could visit anywhere in the world, where would you go?
Japan and Canada.

If you couldn't go to a knitting group, what other kind of gathering would you go to? (book club, tea party, yoga class, jewelery class, etc.)
A mother and toddler group. That's where I generally spend my time.

What's your style? (elegant, traditional, glamourous, girly, natural, sporty, outgoing, etc.)
Probably quite girly.


Final Part:

Any allergies/preferences (fiber-wise or treat-wise)?
I don't know if I'm allergic to things like alpaca, as I've never tried them. I am allergic to horses, dogs, cats etc. so would be wary of more unusual fibres. I'm definitely not allergic to wool though (the sheep on my father in law's small holding are the only animals I'm not allergic to).

Anything we missed that you'd like your partner to know?
Not that I can think of, but I'm happy to answer any questions posed.
Tuesday, January 22, 2008
8:24PM - UK Swap. Topic of the week #1.
This post is for the first weekly topic of the UK Stash Swap


With 2008 in full-swing, do you have any knit-years resolutions you are trying to keep to? Stash-busting? Knitting just for yourself? Gift-alongs or starting Christmas knitting early? Do your knit-years resolutions affect your other resolutions? Such as watching your spending, or putting yourself first, or even loosing weight (yarn weight....)?

I don't really have much in the way of knitterly resolutions. Branching out from my singular knitting project (the family baby shawl) and my only crochet project (a giant granny square), I'm working on getting some variations into my knitting (and crochet). So far, it isn't going so badly. I'm just finishing off my first sock, I've almost finished a crocheted dishcloth and I'm almost finished a Shaun the sheep for my son.

More that anything, I'm glad I don't have to worry about stash-busting. Being fairly new to knitting, I don't have much of a stash, though it's still too much for my husband, who is planning some more storage for my various WIPs.
Tuesday, January 15, 2008
12:46PM - 2008 - the smaller stuff
So, I'm reviving my love of knitting and crochet at the moment. I blame finally getting round to joining Ravelry. That place is seriously addicting. I think another thing that is really helping is that I'm knitting something(s) other than the same baby shawl and crocheting something other than the same old giant granny square (that was actually the most scary - I had to learn a different stitch! And simultaneously learn to read a crochet pattern and be bi-lingual as American patterns and British patterns use the same terms but mean different things).

I'm currently waiting for my first ball of sock yarn to arrive, to see what I think of sock knitting.

On a slightly larger scale, this year, also want to learn to spin. To be precise, come Spring, I will have the possibility of having a (or actually several, but we'll start with one, OK) Jacob's fleece. Of course, because this is straight off the sheep it means I'm going to have to do the whole lot. Pick, wash, sort, prep, spin then knit. The plan is to go from fleece to two pairs of fingerless gloves by Christmas. When I say slightly larger, obviously, I mean huge and scary and probably completely undoable.

I also still want to do the 366 pictures challenge that Helen set, which may seem unlikely, given that it's 15 January and I've yet to even dig my camera out, but I'm still planning on it. I've already been ill twice this year, so things aren't going too well, but hopefully that's me getting all my illness out of the way at once (says the woman whose child is about to start nursery [rolleyes]). Not having the camera out meant I missed a darling photo op when my son decided to curl up and sleep on the floor.

Talking of boy photos, allegedly my husband and his father have set up a website where they can trade Ro photos. I need to find out where so that I can link you all (if they are accessible), or get hold of some to upload here (if they aren't). Otherwise, he's going to be 16 and you're all still going to be thinking of the 9 month old I last posted pics of.
Sunday, January 6, 2008
10:23AM - Exercise
I need some. My promise to myself for 2008 is to strengthen my stomach muscles and hips and just get a bit fitter overall. My problem is, I don't know what to do. So what would be a good idea? I don't really do gyms, exercise classes are difficult to fit in around the boy, so I think some kind of exercise DVD would be best, but I need a recommendation of a good one.

I thought about trying yoga, but hate the only tape I have of that (I think it's the woman, rather than the type of excercise). I have one of the kickboxing ones, but think I need to at least start off a little more slowly.

Can anyone suggest anything? What they like and why. I need to get some momentum going.
Tuesday, January 1, 2008
5:43PM - 2008
This should be a big year for us. mUrt is hoping to change jobs and we are looking to buy a new home. Hopefully my job will get put on a more stable footing as well.
5:40PM - NaBloCoMo
This starts today!

As I didn't get on yesterday to remind people, if you missed 1 Jan, a comment on this post, made at any time, can count as your Jan 1 comment.
Navigate: (Previous 20 entries)